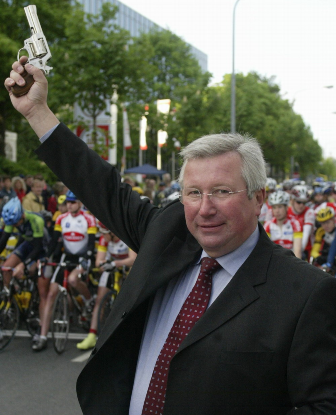 Henninger-Turm organiser Bernd Moos-Achenbach (© Henninger-Turm)
After 42 years the German stage race Tour of Rheinland-Pfalz will dissapear from the race calendar. The organising committee stopped all operations earlier this month. This year the race was won by German young gun Gerald Ciolek. The Tour of Rheinland-Pfalz was especially important for German and European continental teams. It isn't the first race which dissapeared and its a major setback as the continental teams are the talent schools for the Pro-Continental end Pro-Tour teams. Many pros have started their career with a continental team.
Other traditional German races are under increasing pressure. The 100th years anniversary of the Cologne Classic will take place on Easter-monday 2008 but race organiser Artur Tabat has a lot of work to do as main sponsor DEVK did not renew its contract with the race organisation. Tabat said: "Even when cycling is going through difficult times, we should bring a joint efford to cultivate and develop our beautiful sport." Tabat continued by saying: "Our previous main sponsor ended its commitmnet in May. So our first job is to fill up the financial gap. At the moment we are talking with several companies. We prepared various concepts for financing and solutions to maintain our cycling classic." The 2008 edition of the race will be held at March 24, 2008. Tabat still has a contract with German Radio and TV station WDR, so the race will be broadcasted on German television. In 2007 several Pro-Tour teams started at the Cologne Classic. CSC sprinter J.J. Haedo won this years edition of the race.
Another race which is in serious trouble is Frankfurts Rund um den Henninger-Turm. Asked if he thinks this years occurrences are negative or positive for the future of cycling, Henninger-Turm organiser Bernd Moos-Achenbach said: I see the developments positively. Cycling can sort itself new. Doping is an old problem, that we have to take serious. My father Hermann who founded Rund um den Henninger-Turm with his brother Erwin, already said 30 years ago that athletes doped in all sports. Now we have to cut the old ties and get the youth on board. We have to educate them. Until now we only did things by halves. Its about time that we solve our problems for real."
Title sponsor Henninger will not extend its contract which expires after the 2008 edition of the race. Asked how the search for a new sponsor is going, Moos-Achenbach said: "Bad. I hope that we will find a company before the 47. edition of Rund um den henninger-Turm in 2008." Moos-Achenbach also said that he doesn't know if the 2008 Henninger-Turm will be broadcasted on German television.
Related stories