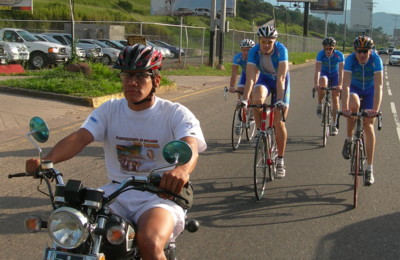 The Dutch team training in Venezuela (© Van Ruitenbeek)
Day 1: "The race is ready to start."
The race is ready to start. After 3 days of travelling and 2 short training rides in beautiful weather, we're getting ready for our first race day tomorrow. After travelling to Caracas on the 2nd of January, we flew and drove to San Cristobal on the 3rd. San Cristobal is the center of the race, in the middle of Táchira. We went for a short training and as it was rush hour, we were very fortunate to get our own motor chaperon. Nobody knew whether or not this guy had any traffic authority, or a driver's license for that matter, but the traing ride was as good as it gets in an overcrowded city. Today we had a six hour transfer to the start of the race, in Guasdualito. While we went for a nice 2 hour training, our team management attended the formal prerace briefing and they were especially impressed by the podium girls ;-) After tomorrow: the first real race news!
Join our forum and discuss the riders diary and interview with Malay van Ruitenbeek
Back to:
Special Coverage Vuelta Al Tachira
Related stories:
Read also - our interview with Malaya van Ruitenbeek
Malaya van Ruitenbeek
Born: December 12, 1982
Place of birth: Bonifacio, Philippines
Residence: Delft (Netherlands)
Height: 1.83 mtr
Weight: 73,5 Kg
Turned Pro: 2007
Team: Regiostrom-Senges (renamed in Kuota-Senges for 2008)
Palmares
2007
Stage 5 Tour of Thailand