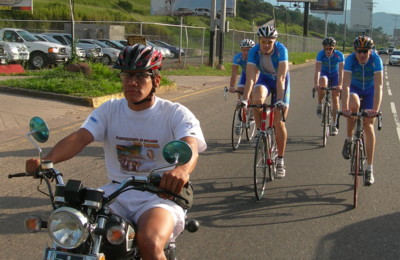 The Dutch team training in Venezuela (© Van Ruitenbeek)
Day 2: "They rather change bike than wheels."
Today we had a circuit race to start the Vuelta [Al Tachira, editor] with. It was a 5,5k lap through Guasdualito, for a total of 20 laps or 110k. There were a lot of spectators and everybody in our team was excited to finally start the competition. It's nice to travel to an unknown country and to get a feel of everyday life, but in the end we're here to race of course. It was a very fast race, with important intermediate sprints and no real breakaways. Too many teams were aiming on a bunch sprint and it was a controlled race from the start on. Still, Rijntjes managed to get some seconds in a intermediate sprint which places him 7th place now in the general classification. During the race we all were very surprised by the times the riders changed bikes. It seems that, in case of a puncture, they rather change bike than wheels. Every lap a couple of big bangs occured, but these were caused by the enhousiastic audience and not blowing tires. Other than that it was business as usual in the peloton. Three of us are decent sprinters, so we had to come up with good race plan to get our best man in the best possible place. It all worked out pretty well, with Kos finishing 4th in the stage. Everybody had a good day (although we all suffered a bit) and the team is willing to work together and we're looking forward to what the next stages will be like.
Join our forum and discuss the riders diary and interview with Malay van Ruitenbeek
Back to:
Special Coverage Vuelta Al Tachira
Related stories:
Read also - our interview with Malaya van Ruitenbeek
Malaya van Ruitenbeek
Born: December 12, 1982
Place of birth: Bonifacio, Philippines
Residence: Delft (Netherlands)
Height: 1.83 mtr
Weight: 73,5 Kg
Turned Pro: 2007
Team: Regiostrom-Senges (renamed in Kuota-Senges for 2008)
Palmares
2007
Stage 5 Tour of Thailand