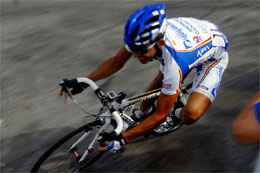 Josť Serpa surprised with a flat stage win (© Tour de Langkawi)
The romping finish for Serpa, who had dominated the climb up Genting Highlands in 2006 and 2007, was a little unexpected as he had to contend with having well-known sprinter Jeremy Hunt (Credit Agricole) in the front group.
But in the end, Serpa proved that he not only had the strength but also the ability to finish the 182.8km race well ahead of the others with a time of 4h26'43''.
"The manager (Gianni Savio) had a good look at the race route and we worked out a plan to interprete it when the moment comes," said the 29-year-old Serpa.
"It all depended on the surprise factor and in the last 500metres when I went round the corner, I was in front and I quickly took advantage when I realized that the others were behind me."
The undulating terrains through the Felda heartland made for some hard riding and even though Park Sung Baek (Seoul Cycling) took the first sprint, the reaction from the main group were quick as 15 other riders soon joined the early breakaway.
Apart from Park, Serpa and Hunt, the other known escapees were David George (South Africa) and Pavel Brutt (Tinkoff Credit Systems) as they built to an 8:21 minute lead at the 85km mark.
As they approached the first climb in the Tour this year in Jemaluang, the gap increased to more than nine minutes as Chris Meschenmoser (Team Ista) took the Red Jersey for the first time.
"There was good possibility to win the jersey and I seized the moment when the others hesitated," said Meschenmoser.
As the race wore on and with little reaction from the peloton, Jorg Lehmann (Team Ista) dropped off from the breakaway group as the others work in turn to drive forward to the finish line.
The gap was reduced to just 3:48 after the third sprint which was won by Peter McDonald (Drapac Porsche) but the excellent fight back from the front group made sure that a safe buffer was maintained as they raced back to a 5:48 minute advantage going into the last five kilometers.
As the riders started to gun for position, they failed to take into account of Serpa jumping ahead to the line in front of them as the Colombian emerged victorious in front of a roaring crowd of well over 30,000 spectators.
"I know that it will not be easy in the next two days but I will try hard to keep it (the Blue jersey) until Stage Eight," added Park, the new leader for the Asian Blue Jersey category.
Tour leader Matthieu Sprick is still in the Tour leader yellow jersey while team-mate Clerc is still in the green for the sprinters.
Join our forum and discuss the Tour de Langkawi 2008
Read also:
Special Coverage Tour de Langkawi 2008
Results Tour de Langkawi 2008
Stage 6
| | | | | | | | |
| --- | --- | --- | --- | --- | --- | --- | --- |
| 1 | 11 | COL | Serpa Perez,Jose | SDA | Serramenti PVC | 4h26'43" | |
| 2 | 71 | BLR | Usov,Alexandre | ALM | AG2R La Mondiale | 4h26'43" | |
| 3 | 136 | AUS | Walker,Johnnie | SAI | SouthAustralia.Com - AIS | 4h26'43" | |
| 4 | 131 | AUS | Clarke,Simon | SAI | SouthAustralia.Com - AIS | 4h26'43" | |
| 5 | 111 | ITA | Rossi,Enrico | NGC | NGC Medical - OTC | 4h26'43" | |
| 6 | 112 | ITA | Corsini,Marco | NGC | NGC Medical - OTC | 4h26'43" | |
| 7 | 64 | FRA | Martias,Rony | BTL | Bouygues Telecom | 4h26'43" | |
| 8 | 3 | GBR | Hunt,Jeremy | C.A | Credit Agricole | 4h26'43" | |
| 9 | 124 | GER | Meschenmoser,Chris. | ITA | Team Ista | 4h26'43" | |
| 10 | 26 | RSA | Van Niekerk,Dennis | RSA | South African N.T. | 4h26'43" | |
| 11 | 22 | RSA | George,David | RSA | South African N.T. | 4h26'43" | |
| 12 | 66 | SUI | Tschopp,Johann | BTL | Bouygues Telecom | 4h26'43" | |
| 13 | 196 | KOR | Kim,Gu Hyeon | SCT | Seoul Cycling | 4h26'43" | |
| 14 | 212 | AUS | McDonald,Peter | DPC | Drapac Porsche | 4h26'43" | |
| 15 | 41 | RUS | Brutt,Pavel | TCS | Tinkoff Credit Systems | 4h26'43" | |
| 16 | 155 | MAS | Loh,Sea Keong | MPC | Trek Marco Polo | 4h26'50" | @07" |
| 17 | 25 | RSA | Hoffman,Nolan | RSA | South African N.T. | 4h31'11" | @04'28" |
| 18 | 144 | JPN | Miyazawa,Takashi | EQA | Meitan Hompo - GDR | 4h31'11" | @ s/t |
| 19 | 16 | VEN | Rodriguez,Jackson | SDA | Serramenti PVC | 4h31'11" | @ s/t |
| 20 | 12 | GER | Hondo,Danilo | SDA | Serramenti PVC | 4h31'11" | @ s/t |
| 21 | 46 | RUS | Trusov,Nikolay | TCS | Tinkoff Credit Systems | 4h31'11" | @ s/t |
| 22 | 192 | KOR | Park,Seon Ho | SCT | Seoul Cycling | 4h31'11" | @ s/t |
| 23 | 6 | IRL | Roche,Nicolas | C.A | Credit Agricole | 4h31'11" | @ s/t |
| 24 | 92 | ESP | Cesar,Gustavo | KGZ | Karpin Galicia | 4h31'11" | @ s/t |
| 25 | 213 | AUS | Docker,Mitchell | DPC | Drapac Porsche | 4h31'11" | @ s/t |
| 26 | 204 | MAS | Salleh,Mohd Hariff | MCF | MNCF Cycling Team | 4h31'11" | @ s/t |
| 27 | 191 | KOR | Park,Sung Baek | SCT | Seoul Cycling | 4h31'11" | @ s/t |
| 28 | 241 | MAS | Hassan,Suhardi | MAS | Malaysia N.T. | 4h31'11" | @ s/t |
| 29 | 63 | SUI | Clerc,Aurlien | BTL | Bouygues Telecom | 4h31'11" | @ s/t |
| 30 | 145 | JPN | Shimizu,Miyataka | EQA | Meitan Hompo - GDR | 4h31'11" | @ s/t |
| 31 | 73 | FRA | Pineau,Cedric | ALM | AG2R La Mondiale | 4h31'11" | @ s/t |
| 32 | 202 | MAS | Ruslan,Mohd Jasmin | MCF | MNCF Cycling Team | 4h31'11" | @ s/t |
| 33 | 76 | BEL | Vandenbergh,Stijn | ALM | AG2R La Mondiale | 4h31'11" | @ s/t |
| 34 | 55 | JPN | Abe,Yoshiyuki | SKS | Skil - Shimano | 4h31'11" | @ s/t |
| 35 | 101 | AUS | Wilson,Matt | TT1 | Team Type 1 | 4h31'11" | @ s/t |
| 36 | 65 | FRA | Sprick,Matthieu | BTL | Bouygues Telecom | 4h31'11" | @ s/t |
| 37 | 132 | AUS | Dempster,Zakkari | SAI | SouthAustralia.Com - AIS | 4h31'11" | @ s/t |
| 38 | 172 | MAS | Manan,Anuar | L2A | Letua Cycling Team | 4h31'11" | @ s/t |
| 39 | 171 | MAS | Anuawar,Ahmad Haidar | L2A | Letua Cycling Team | 4h31'11" | @ s/t |
| 40 | 246 | MAS | Daud,M. Firdaus | MAS | Malaysia N.T. | 4h31'11" | @ s/t |
| 41 | 24 | RSA | Venter,Jacobus | RSA | South African N.T. | 4h31'11" | @ s/t |
| 42 | 91 | ESP | Garcia,David | KGZ | Karpin Galicia | 4h31'11" | @ s/t |
| 43 | 94 | ESP | Mouron,Juan | KGZ | Karpin Galicia | 4h31'11" | @ s/t |
| 44 | 234 | HKG | Tang,Wang Yip | HKG | Hong Kong N.T. | 4h31'11" | @ s/t |
| 45 | 4 | FRA | Marino,Jean-Marc | C.A | Credit Agricole | 4h31'11" | @ s/t |
| 46 | 221 | NZL | Yates,Jeremy | NZL | New Zealand N.T. | 4h31'11" | @ s/t |
| 47 | 61 | FRA | Claude,Mathieu | BTL | Bouygues Telecom | 4h31'11" | @ s/t |
| 48 | 243 | MAS | Saleh,Mohd Zamri | MAS | Malaysia N.T. | 4h31'11" | @ s/t |
| 49 | 244 | MAS | Nur Misbah,Mohd Rauf | MAS | Malaysia N.T. | 4h31'11" | @ s/t |
| 50 | 121 | GER | Hofbauer,Rolf | ITA | Team Ista | 4h31'11" | @ s/t |
| 51 | 126 | GER | Schwarz,Nikolai | ITA | Team Ista | 4h31'11" | @ s/t |
| 52 | 231 | HKG | Chan,Chun Hing | HKG | Hong Kong N.T. | 4h31'11" | @ s/t |
| 53 | 36 | TPE | Peng,Kuei Hsiang | GNT | Giant Asia Racing Team | 4h31'11" | @ s/t |
| 54 | 174 | MAS | M. Zahit,Mohd Sayuti | L2A | Letua Cycling Team | 4h31'11" | @ s/t |
| 55 | 95 | ESP | Paleo,Alejandro | KGZ | Karpin Galicia | 4h31'11" | @ s/t |
| 56 | 93 | ESP | Troncoso,Ramon | KGZ | Karpin Galicia | 4h31'11" | @ s/t |
| 57 | 123 | GER | Lehmann,Jorg | ITA | Team Ista | 4h31'11" | @ s/t |
| 58 | 21 | RSA | McCleod,Ian | RSA | South African N.T. | 4h31'11" | @ s/t |
| 59 | 14 | MDA | Ivanov,Ruslan | SDA | Serramenti PVC | 4h31'11" | @ s/t |
| 60 | 122 | GER | Keinath,Nico | ITA | Team Ista | 4h31'11" | @ s/t |
| 61 | 245 | MAS | Abd Razak,Mohd Faris | MAS | Malaysia N.T. | 4h31'11" | @ s/t |
| 62 | 182 | INA | Pahlavi,Abdullah Rizza | PSN | Polygon Sweet Nice | 4h31'11" | @ s/t |
| 63 | 45 | BLR | Sobal,Yauhen | TCS | Tinkoff Credit Systems | 4h31'11" | @ s/t |
| 64 | 176 | INA | Arihan,Ryan | L2A | Letua Cycling Team | 4h31'11" | @ s/t |
| 65 | 44 | COL | Pedraza,Walter | TCS | Tinkoff Credit Systems | 4h31'11" | @ s/t |
| 66 | 34 | NAM | Hoffmann,Erik | GNT | Giant Asia Racing Team | 4h31'11" | @ s/t |
| 67 | 42 | RUS | Klimov,Serguei | TCS | Tinkoff Credit Systems | 4h31'11" | @ s/t |
| 68 | 222 | NZL | Odlin,Paul | NZL | New Zealand N.T. | 4h31'11" | @ s/t |
| 69 | 72 | EST | Kangert,Tanel | ALM | AG2R La Mondiale | 4h31'11" | @ s/t |
| 70 | 105 | MEX | Aldape,Moises | TT1 | Team Type 1 | 4h31'11" | @ s/t |
| 71 | 33 | GBR | Coutts,Alex | GNT | Giant Asia Racing Team | 4h31'11" | @ s/t |
| 72 | 51 | JPN | Nodera,Hidenori | SKS | Skil - Shimano | 4h31'11" | @ s/t |
| 73 | 103 | AUS | Calabria,Fabio | TT1 | Team Type 1 | 4h31'11" | @ s/t |
| 74 | 211 | AUS | Shaw,Stuart | DPC | Drapac Porsche | 4h31'11" | @ s/t |
| 75 | 143 | JPN | Fukushima,Shinichi | EQA | Meitan Hompo - GDR | 4h31'11" | @ s/t |
| 76 | 165 | IRI | Sohrabi,Mehdi | IAU | Islamic Azad University | 4h31'11" | @ s/t |
| 77 | 1 | AUS | Gerrans,Simon | C.A | Credit Agricole | 4h31'11" | @ s/t |
| 78 | 96 | RUS | Isaychev,Vladimir | KGZ | Karpin Galicia | 4h31'11" | @ s/t |
| 79 | 175 | INA | Susanto,Tonton | L2A | Letua Cycling Team | 4h31'11" | @ s/t |
| 80 | 186 | INA | Santoso,Budi | PSN | Polygon Sweet Nice | 4h31'11" | @ s/t |
| 81 | 75 | FRA | Sonnery,Blaise | ALM | AG2R La Mondiale | 4h31'11" | @ s/t |
| 82 | 185 | COL | Lopez,Vladimir | PSN | Polygon Sweet Nice | 4h31'11" | @ s/t |
| 83 | 235 | HKG | Ko,Siu Wai | HKG | Hong Kong N.T. | 4h31'11" | @ s/t |
| 84 | 62 | NED | Clement,Stef | BTL | Bouygues Telecom | 4h31'11" | @ s/t |
| 85 | 162 | IRI | Zargari,Amir | IAU | Islamic Azad University | 4h31'11" | @ s/t |
| 86 | 15 | VEN | Ochoa,Carlos Jos | SDA | Serramenti PVC | 4h31'11" | @ s/t |
| 87 | 232 | HKG | Wu,Kin San | HKG | Hong Kong N.T. | 4h31'11" | @ s/t |
| 88 | 104 | NZL | Chadwick,Glen | TT1 | Team Type 1 | 4h31'11" | @ s/t |
| 89 | 114 | ITA | Nosotti,Diego | NGC | NGC Medical - OTC | 4h31'11" | @ s/t |
| 90 | 164 | IRI | Fahridi,Kovij Mehdi | IAU | Islamic Azad University | 4h31'11" | @ s/t |
| 91 | 134 | AUS | King,Benjamin | SAI | SouthAustralia.Com - AIS | 4h31'11" | @ s/t |
| 92 | 166 | IRI | Salehian,Farshad | IAU | Islamic Azad University | 4h31'11" | @ s/t |
| 93 | 2 | FRA | Hinault,Sebastien | C.A | Credit Agricole | 4h31'11" | @ s/t |
| 94 | 52 | JPN | Kano,Tomoya | SKS | Skil - Shimano | 4h31'11" | @ s/t |
| 95 | 153 | CHN | Li,Fuyu | MPC | Trek Marco Polo | 4h31'11" | @ s/t |
| 96 | 163 | IRI | Maleki,Mizan Hassan | IAU | Islamic Azad University | 4h31'11" | @ s/t |
| 97 | 154 | CHN | Xing,Yan Dong | MPC | Trek Marco Polo | 4h31'11" | @ s/t |
| 98 | 17 | ITA | Bertolini,Denis | SDA | Serramenti PVC | 4h31'11" | @ s/t |
| 99 | 5 | FRA | Mederel,Maxime | C.A | Credit Agricole | 4h31'11" | @ s/t |
| 100 | 141 | JPN | Arashiro,Yukiya | EQA | Meitan Hompo - GDR | 4h31'11" | @ s/t |
| 101 | 146 | MAS | Ng,Yong Li | EQA | Meitan Hompo - GDR | 4h31'11" | @ s/t |
| 102 | 173 | AUS | Sulzberger,Bernard | L2A | Letua Cycling Team | 4h31'11" | @ s/t |
| 103 | 142 | JPN | Fukushima,Koji | EQA | Meitan Hompo - GDR | 4h31'11" | @ s/t |
| 104 | 102 | AUS | Brooks,Ben | TT1 | Team Type 1 | 4h31'11" | @ s/t |
| 105 | 135 | AUS | Sulzberger,Wesley | SAI | SouthAustralia.Com - AIS | 4h31'11" | @ s/t |
| 106 | 83 | ARG | Richeze,Mauro Abel | CSF | CSF Group-Navigare | 4h31'11" | @ s/t |
| 107 | 216 | AUS | O'Brien,Mark | DPC | Drapac Porsche | 4h31'11" | @ s/t |
| 108 | 53 | JPN | Hirose,Yoshimasa | SKS | Skil - Shimano | 4h31'11" | @ s/t |
| 109 | 85 | ITA | Tomei,Francesco | CSF | CSF Group-Navigare | 4h31'11" | @ s/t |
| 110 | 161 | IRI | Saeidi,Tanha Abbass | IAU | Islamic Azad University | 4h31'11" | @ s/t |
| 111 | 242 | MAS | Ahmad Lutfi,M. Fauzan | MAS | Malaysia N.T. | 4h31'11" | @ s/t |
| 112 | 181 | INA | Fitrianto,Hari | PSN | Polygon Sweet Nice | 4h31'11" | @ s/t |
| 113 | 206 | MAS | Mustarudin,M. Zamani | MCF | MNCF Cycling Team | 4h31'11" | @ s/t |
| 114 | 226 | NZL | Chapman,Joseph | NZL | New Zealand N.T. | 4h31'11" | @ s/t |
| 115 | 184 | INA | Jaya,Herwin | PSN | Polygon Sweet Nice | 4h31'11" | @ s/t |
| 116 | 23 | RSA | Woolcock,Waylon | RSA | South African N.T. | 4h31'11" | @ s/t |
| 117 | 183 | KAZ | Dyadichkin,Vyacheslav | PSN | Polygon Sweet Nice | 4h31'11" | @ s/t |
| 118 | 54 | JPN | Hatanaka,Yusuke | SKS | Skil - Shimano | 4h31'11" | @ s/t |
| 119 | 223 | NZL | Whitehead,Ashley | NZL | New Zealand N.T. | 4h31'11" | @ s/t |
| 120 | 201 | MAS | Rusli,Amir Mustafa | MCF | MNCF Cycling Team | 4h31'11" | @ s/t |
| 121 | 193 | KOR | Gong,Hyo Suk | SCT | Seoul Cycling | 4h31'11" | @ s/t |
| 122 | 225 | NZL | Lyttle,Scott | NZL | New Zealand N.T. | 4h31'11" | @ s/t |
| 123 | 203 | MAS | Aziz,Mohd Saiful Anuar | MCF | MNCF Cycling Team | 4h31'11" | @ s/t |
| 124 | 86 | ITA | Priamo,Matteo | CSF | CSF Group-Navigare | 4h31'11" | @ s/t |
| 125 | 195 | KOR | Yoo,Ki Hong | SCT | Seoul Cycling | 4h31'11" | @ s/t |
| 126 | 152 | RUS | Kudentsov,Sergey | MPC | Trek Marco Polo | 4h31'34" | @04'51" |
| 127 | 156 | JPN | Onodera,Ken | MPC | Trek Marco Polo | 4h31'34" | @ s/t |
| 128 | 215 | AUS | Bates,Gene | DPC | Drapac Porsche | 4h31'34" | @ s/t |
| 129 | 224 | NZL | Kerr,Justin | NZL | New Zealand N.T. | 4h31'34" | @ s/t |
| 130 | 151 | AUS | Crawford,Jai | MPC | Trek Marco Polo | 4h31'34" | @ s/t |
| 131 | 35 | TPE | Lai,Kuan Hua | GNT | Giant Asia Racing Team | 4h31'34" | @ s/t |
| 132 | 115 | SUI | Trafelet,Stefan | NGC | NGC Medical - OTC | 4h31'34" | @ s/t |
| 133 | 84 | ITA | Savini,Filippo | CSF | CSF Group-Navigare | 4h31'34" | @ s/t |
| 134 | 133 | AUS | Ford,William | SAI | SouthAustralia.Com - AIS | 4h31'34" | @ s/t |
| 135 | 194 | KOR | Lee,Won Jae | SCT | Seoul Cycling | 4h31'34" | @ s/t |
| 136 | 113 | ITA | Maisto,Massimiliano | NGC | NGC Medical - OTC | 4h31'53" | @05'10" |
| 137 | 43 | ITA | Loddo,Alberto | TCS | Tinkoff Credit Systems | 4h33'17" | @06'34" |
| 138 | 74 | FRA | Senac,Jean-Charles | ALM | AG2R La Mondiale | 4h34'47" | @08'04" |
General Classification after stage 6
| | | | | | | | |
| --- | --- | --- | --- | --- | --- | --- | --- |
| 1 | 65 | FRA | Sprick,Matthieu | BTL | Bouygues Telecom | 23h43'16" | |
| 2 | 213 | AUS | Docker,Mitchell | DPC | Drapac Porsche | 23h43'17" | @01" |
| 3 | 92 | ESP | Cesar,Gustavo | KGZ | Karpin Galicia | 23h43'19" | @03" |
| 4 | 114 | ITA | Nosotti,Diego | NGC | NGC Medical - OTC | 23h43'20" | @04" |
| 5 | 101 | AUS | Wilson,Matt | TT1 | Team Type 1 | 23h43'22" | @06" |
| 6 | 173 | AUS | Sulzberger,Bernard | L2A | Letua Cycling Team | 23h43'22" | = s/t |
| 7 | 191 | KOR | Park,Sung Baek | SCT | Seoul Cycling | 23h43'23" | @07" |
| 8 | 16 | VEN | Rodriguez,Jackson | SDA | Serramenti PVC | 23h43'23" | = s/t |
| 9 | 221 | NZL | Yates,Jeremy | NZL | New Zealand N.T. | 23h43'23" | = s/t |
| 10 | 143 | JPN | Fukushima,Shinichi | EQA | Meitan Hompo - GDR | 23h43'24" | @08" |
| 11 | 4 | FRA | Marino,Jean-Marc | C.A | Credit Agricole | 23h43'27" | @11" |
| 12 | 132 | AUS | Dempster,Zakkari | SAI | SouthAustralia.Com - AIS | 23h43'28" | @12" |
| 13 | 14 | MDA | Ivanov,Ruslan | SDA | Serramenti PVC | 23h43'29" | @13" |
| 14 | 51 | JPN | Nodera,Hidenori | SKS | Skil - Shimano | 23h43'29" | = s/t |
| 15 | 45 | BLR | Sobal,Yauhen | TCS | Tinkoff Credit Systems | 23h43'29" | = s/t |
| 16 | 21 | RSA | McCleod,Ian | RSA | South African N.T. | 23h43'29" | = s/t |
| 17 | 33 | GBR | Coutts,Alex | GNT | Giant Asia Racing Team | 23h43'29" | = s/t |
| 18 | 104 | NZL | Chadwick,Glen | TT1 | Team Type 1 | 23h43'29" | = s/t |
| 19 | 52 | JPN | Kano,Tomoya | SKS | Skil - Shimano | 23h43'29" | = s/t |
| 20 | 3 | GBR | Hunt,Jeremy | C.A | Credit Agricole | 24h01'53" | @18'37" |
| 21 | 11 | COL | Serpa Perez,Jose | SDA | Serramenti PVC | 24h01'59" | @18'43" |
| 22 | 71 | BLR | Usov,Alexandre | ALM | AG2R La Mondiale | 24h02'00" | @18'44" |
| 23 | 124 | GER | Meschenmoser,Chris. | ITA | Team Ista | 24h02'01" | @18'45" |
| 24 | 112 | ITA | Corsini,Marco | NGC | NGC Medical - OTC | 24h02'05" | @18'49" |
| 25 | 136 | AUS | Walker,Johnnie | SAI | SouthAustralia.Com - AIS | 24h02'05" | = s/t |
| 26 | 22 | RSA | George,David | RSA | South African N.T. | 24h02'05" | = s/t |
| 27 | 111 | ITA | Rossi,Enrico | NGC | NGC Medical - OTC | 24h02'07" | @18'51" |
| 28 | 26 | RSA | Van Niekerk,Dennis | RSA | South African N.T. | 24h02'09" | @18'53" |
| 29 | 196 | KOR | Kim,Gu Hyeon | SCT | Seoul Cycling | 24h02'09" | = s/t |
| 30 | 41 | RUS | Brutt,Pavel | TCS | Tinkoff Credit Systems | 24h02'09" | = s/t |
| 31 | 131 | AUS | Clarke,Simon | SAI | SouthAustralia.Com - AIS | 24h02'09" | = s/t |
| 32 | 66 | SUI | Tschopp,Johann | BTL | Bouygues Telecom | 24h02'09" | = s/t |
| 33 | 212 | AUS | McDonald,Peter | DPC | Drapac Porsche | 24h02'23" | @19'07" |
| 34 | 155 | MAS | Loh,Sea Keong | MPC | Trek Marco Polo | 24h02'49" | @19'33" |
| 35 | 172 | MAS | Manan,Anuar | L2A | Letua Cycling Team | 24h05'06" | @21'50" |
| 36 | 244 | MAS | Nur Misbah,Mohd Rauf | MAS | Malaysia N.T. | 24h05'14" | @21'58" |
| 37 | 142 | JPN | Fukushima,Koji | EQA | Meitan Hompo - GDR | 24h05'27" | @22'11" |
| 38 | 242 | MAS | Ahmad Lutfi,M. Fauzan | MAS | Malaysia N.T. | 24h05'29" | @22'13" |
| 39 | 64 | FRA | Martias,Rony | BTL | Bouygues Telecom | 24h05'40" | @22'24" |
| 40 | 194 | KOR | Lee,Won Jae | SCT | Seoul Cycling | 24h05'41" | @22'25" |
| 41 | 63 | SUI | Clerc,Aurlien | BTL | Bouygues Telecom | 24h06'13" | @22'57" |
| 42 | 12 | GER | Hondo,Danilo | SDA | Serramenti PVC | 24h06'18" | @23'02" |
| 43 | 83 | ARG | Richeze,Mauro Abel | CSF | CSF Group-Navigare | 24h06'25" | @23'09" |
| 44 | 86 | ITA | Priamo,Matteo | CSF | CSF Group-Navigare | 24h06'25" | = s/t |
| 45 | 211 | AUS | Shaw,Stuart | DPC | Drapac Porsche | 24h06'28" | @23'12" |
| 46 | 204 | MAS | Salleh,Mohd Hariff | MCF | MNCF Cycling Team | 24h06'29" | @23'13" |
| 47 | 144 | JPN | Miyazawa,Takashi | EQA | Meitan Hompo - GDR | 24h06'29" | = s/t |
| 48 | 231 | HKG | Chan,Chun Hing | HKG | Hong Kong N.T. | 24h06'29" | = s/t |
| 49 | 171 | MAS | Anuawar,Ahmad Haidar | L2A | Letua Cycling Team | 24h06'29" | = s/t |
| 50 | 245 | MAS | Abd Razak,Mohd Faris | MAS | Malaysia N.T. | 24h06'29" | = s/t |
| 51 | 192 | KOR | Park,Seon Ho | SCT | Seoul Cycling | 24h06'29" | = s/t |
| 52 | 234 | HKG | Tang,Wang Yip | HKG | Hong Kong N.T. | 24h06'29" | = s/t |
| 53 | 46 | RUS | Trusov,Nikolay | TCS | Tinkoff Credit Systems | 24h06'29" | = s/t |
| 54 | 36 | TPE | Peng,Kuei Hsiang | GNT | Giant Asia Racing Team | 24h06'29" | = s/t |
| 55 | 174 | MAS | M. Zahit,Mohd Sayuti | L2A | Letua Cycling Team | 24h06'29" | = s/t |
| 56 | 103 | AUS | Calabria,Fabio | TT1 | Team Type 1 | 24h06'29" | = s/t |
| 57 | 206 | MAS | Mustarudin,M. Zamani | MCF | MNCF Cycling Team | 24h06'29" | = s/t |
| 58 | 17 | ITA | Bertolini,Denis | SDA | Serramenti PVC | 24h06'29" | = s/t |
| 59 | 54 | JPN | Hatanaka,Yusuke | SKS | Skil - Shimano | 24h06'29" | = s/t |
| 60 | 105 | MEX | Aldape,Moises | TT1 | Team Type 1 | 24h06'31" | @23'15" |
| 61 | 166 | IRI | Salehian,Farshad | IAU | Islamic Azad University | 24h06'31" | = s/t |
| 62 | 161 | IRI | Saeidi,Tanha Abbass | IAU | Islamic Azad University | 24h06'31" | = s/t |
| 63 | 2 | FRA | Hinault,Sebastien | C.A | Credit Agricole | 24h06'33" | @23'17" |
| 64 | 44 | COL | Pedraza,Walter | TCS | Tinkoff Credit Systems | 24h06'34" | @23'18" |
| 65 | 61 | FRA | Claude,Mathieu | BTL | Bouygues Telecom | 24h06'34" | = s/t |
| 66 | 25 | RSA | Hoffman,Nolan | RSA | South African N.T. | 24h06'37" | @23'21" |
| 67 | 243 | MAS | Saleh,Mohd Zamri | MAS | Malaysia N.T. | 24h06'37" | = s/t |
| 68 | 94 | ESP | Mouron,Juan | KGZ | Karpin Galicia | 24h06'37" | = s/t |
| 69 | 246 | MAS | Daud,M. Firdaus | MAS | Malaysia N.T. | 24h06'37" | = s/t |
| 70 | 95 | ESP | Paleo,Alejandro | KGZ | Karpin Galicia | 24h06'37" | = s/t |
| 71 | 235 | HKG | Ko,Siu Wai | HKG | Hong Kong N.T. | 24h06'37" | = s/t |
| 72 | 163 | IRI | Maleki,Mizan Hassan | IAU | Islamic Azad University | 24h06'37" | = s/t |
| 73 | 185 | COL | Lopez,Vladimir | PSN | Polygon Sweet Nice | 24h06'37" | = s/t |
| 74 | 102 | AUS | Brooks,Ben | TT1 | Team Type 1 | 24h06'37" | = s/t |
| 75 | 232 | HKG | Wu,Kin San | HKG | Hong Kong N.T. | 24h06'37" | = s/t |
| 76 | 76 | BEL | Vandenbergh,Stijn | ALM | AG2R La Mondiale | 24h06'37" | = s/t |
| 77 | 184 | INA | Jaya,Herwin | PSN | Polygon Sweet Nice | 24h06'37" | = s/t |
| 78 | 34 | NAM | Hoffmann,Erik | GNT | Giant Asia Racing Team | 24h06'37" | = s/t |
| 79 | 123 | GER | Lehmann,Jorg | ITA | Team Ista | 24h06'37" | = s/t |
| 80 | 91 | ESP | Garcia,David | KGZ | Karpin Galicia | 24h06'37" | = s/t |
| 81 | 226 | NZL | Chapman,Joseph | NZL | New Zealand N.T. | 24h06'37" | = s/t |
| 82 | 24 | RSA | Venter,Jacobus | RSA | South African N.T. | 24h06'37" | = s/t |
| 83 | 165 | IRI | Sohrabi,Mehdi | IAU | Islamic Azad University | 24h06'37" | = s/t |
| 84 | 96 | RUS | Isaychev,Vladimir | KGZ | Karpin Galicia | 24h06'37" | = s/t |
| 85 | 202 | MAS | Ruslan,Mohd Jasmin | MCF | MNCF Cycling Team | 24h06'37" | = s/t |
| 86 | 93 | ESP | Troncoso,Ramon | KGZ | Karpin Galicia | 24h06'37" | = s/t |
| 87 | 186 | INA | Santoso,Budi | PSN | Polygon Sweet Nice | 24h06'37" | = s/t |
| 88 | 73 | FRA | Pineau,Cedric | ALM | AG2R La Mondiale | 24h06'37" | = s/t |
| 89 | 193 | KOR | Gong,Hyo Suk | SCT | Seoul Cycling | 24h06'37" | = s/t |
| 90 | 121 | GER | Hofbauer,Rolf | ITA | Team Ista | 24h06'37" | = s/t |
| 91 | 146 | MAS | Ng,Yong Li | EQA | Meitan Hompo - GDR | 24h06'37" | = s/t |
| 92 | 195 | KOR | Yoo,Ki Hong | SCT | Seoul Cycling | 24h06'37" | = s/t |
| 93 | 55 | JPN | Abe,Yoshiyuki | SKS | Skil - Shimano | 24h06'37" | = s/t |
| 94 | 126 | GER | Schwarz,Nikolai | ITA | Team Ista | 24h06'37" | = s/t |
| 95 | 72 | EST | Kangert,Tanel | ALM | AG2R La Mondiale | 24h06'37" | = s/t |
| 96 | 225 | NZL | Lyttle,Scott | NZL | New Zealand N.T. | 24h06'37" | = s/t |
| 97 | 75 | FRA | Sonnery,Blaise | ALM | AG2R La Mondiale | 24h06'37" | = s/t |
| 98 | 15 | VEN | Ochoa,Carlos Jos | SDA | Serramenti PVC | 24h06'37" | = s/t |
| 99 | 153 | CHN | Li,Fuyu | MPC | Trek Marco Polo | 24h06'37" | = s/t |
| 100 | 42 | RUS | Klimov,Serguei | TCS | Tinkoff Credit Systems | 24h06'37" | = s/t |
| 101 | 5 | FRA | Mederel,Maxime | C.A | Credit Agricole | 24h06'37" | = s/t |
| 102 | 134 | AUS | King,Benjamin | SAI | SouthAustralia.Com - AIS | 24h06'37" | = s/t |
| 103 | 222 | NZL | Odlin,Paul | NZL | New Zealand N.T. | 24h06'37" | = s/t |
| 104 | 23 | RSA | Woolcock,Waylon | RSA | South African N.T. | 24h06'37" | = s/t |
| 105 | 162 | IRI | Zargari,Amir | IAU | Islamic Azad University | 24h06'37" | = s/t |
| 106 | 201 | MAS | Rusli,Amir Mustafa | MCF | MNCF Cycling Team | 24h06'37" | = s/t |
| 107 | 203 | MAS | Aziz,Mohd Saiful Anuar | MCF | MNCF Cycling Team | 24h06'37" | = s/t |
| 108 | 135 | AUS | Sulzberger,Wesley | SAI | SouthAustralia.Com - AIS | 24h06'37" | = s/t |
| 109 | 223 | NZL | Whitehead,Ashley | NZL | New Zealand N.T. | 24h06'37" | = s/t |
| 110 | 183 | KAZ | Dyadichkin,Vyacheslav | PSN | Polygon Sweet Nice | 24h06'37" | = s/t |
| 111 | 164 | IRI | Fahridi,Kovij Mehdi | IAU | Islamic Azad University | 24h06'37" | = s/t |
| 112 | 216 | AUS | O'Brien,Mark | DPC | Drapac Porsche | 24h06'37" | = s/t |
| 113 | 175 | INA | Susanto,Tonton | L2A | Letua Cycling Team | 24h06'37" | = s/t |
| 114 | 181 | INA | Fitrianto,Hari | PSN | Polygon Sweet Nice | 24h06'37" | = s/t |
| 115 | 1 | AUS | Gerrans,Simon | C.A | Credit Agricole | 24h06'54" | @23'38" |
| 116 | 241 | MAS | Hassan,Suhardi | MAS | Malaysia N.T. | 24h06'56" | @23'40" |
| 117 | 141 | JPN | Arashiro,Yukiya | EQA | Meitan Hompo - GDR | 24h06'57" | @23'41" |
| 118 | 53 | JPN | Hirose,Yoshimasa | SKS | Skil - Shimano | 24h06'59" | @23'43" |
| 119 | 152 | RUS | Kudentsov,Sergey | MPC | Trek Marco Polo | 24h07'00" | @23'44" |
| 120 | 115 | SUI | Trafelet,Stefan | NGC | NGC Medical - OTC | 24h07'00" | = s/t |
| 121 | 182 | INA | Pahlavi,Abdullah Rizza | PSN | Polygon Sweet Nice | 24h07'00" | = s/t |
| 122 | 35 | TPE | Lai,Kuan Hua | GNT | Giant Asia Racing Team | 24h07'00" | = s/t |
| 123 | 224 | NZL | Kerr,Justin | NZL | New Zealand N.T. | 24h07'00" | = s/t |
| 124 | 156 | JPN | Onodera,Ken | MPC | Trek Marco Polo | 24h07'00" | = s/t |
| 125 | 151 | AUS | Crawford,Jai | MPC | Trek Marco Polo | 24h07'00" | = s/t |
| 126 | 113 | ITA | Maisto,Massimiliano | NGC | NGC Medical - OTC | 24h07'19" | @24'03" |
| 127 | 85 | ITA | Tomei,Francesco | CSF | CSF Group-Navigare | 24h07'23" | @24'07" |
| 128 | 176 | INA | Arihan,Ryan | L2A | Letua Cycling Team | 24h07'40" | @24'24" |
| 129 | 215 | AUS | Bates,Gene | DPC | Drapac Porsche | 24h08'09" | @24'53" |
| 130 | 43 | ITA | Loddo,Alberto | TCS | Tinkoff Credit Systems | 24h08'25" | @25'09" |
| 131 | 6 | IRL | Roche,Nicolas | C.A | Credit Agricole | 24h09'41" | @26'25" |
| 132 | 74 | FRA | Senac,Jean-Charles | ALM | AG2R La Mondiale | 24h10'13" | @26'57" |
| 133 | 84 | ITA | Savini,Filippo | CSF | CSF Group-Navigare | 24h10'38" | @27'22" |
| 134 | 62 | NED | Clement,Stef | BTL | Bouygues Telecom | 24h11'14" | @27'58" |
| 135 | 133 | AUS | Ford,William | SAI | SouthAustralia.Com - AIS | 24h12'16" | @29'00" |
| 136 | 145 | JPN | Shimizu,Miyataka | EQA | Meitan Hompo - GDR | 24h14'27" | @31'11" |
| 137 | 154 | CHN | Xing,Yan Dong | MPC | Trek Marco Polo | 24h22'38" | @39'22" |
| 138 | 122 | GER | Keinath,Nico | ITA | Team Ista | 24h27'11" | @43'55" |