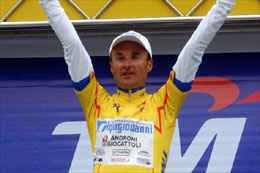 Ruslan Ivanov took over the overall lead (© Tour de Langkawi)
And with a 29-second lead going into tomorrow's KL Criterium, Ivanov and Serramenti are all set to claim the silverware at the Dataran Merdeka tomorrow evening.
Serramenti, which won the pivotal climb up Genting Highlands in 2006 and 2007 but failed to win the General Classification, had their fortunes reversed this time round when they sacrificed the stage to Savini (CSF Group Navigare) to concentrate on winning the overall title.
"We explained to the riders this morning that we are faced with a choice since we have two riders in the GC - we can either allow Jose Serpa (the climber who had won in 2006 and 2007) to win in Fraser's Hill or we concentrate on the GC. The team chose the latter," said Serramenti PVC team manager Gianni Savio after the race.
"And since Jackson (Rodriguez) was not in the best of conditions, it was up to Ruslan to win the GC and he did a fantastic job."
Added Ivanov: "the last three or four kilometers was all Serpa when he stopped (in the breakaway with Savini) to help me. I gained 40 seconds from his pace and I dedicate this win to the whole team."
The first hour of the race out of Temerloh saw Li Fuyu (Trek Marco Polo) in front and even though he managed a lead of over a minute lead over the peloton, the hard work by Drapac Porsche and Serramenti PVC made sure that they were all together before the climb up Fraser's Hill.
Jai Crawford (Trek Marco Polo) was the first to be away but was caught by the AG2R-led bunch as Serpa, Rodriguez, Johann Tschopp (Bouygues Telecom) and Savini went off.
Rodriguez then dropped off as Savini went off at the one kilometer mark to claim his first win.
"The tactic was to stay in front and making sure that there are no dangerous breakaways," added Savini, who also took the red jersey for the king of the mountain classification.
"The climb was not too hard and it suited me. So when Serpa went ahead, I responded before going solo.
Aurelien Clerc (Bouygues Telecom) extended his hold of the sprinter's green jersey to 83 points while Shinichi Fukushima (Meitan Hompo) regained the blue jersey for the best Asian rider.
"I am very happy to win this jersey back but the climb was very hard and I thought that I did not win because I had dropped off at one time," added Shinichi.
Picture gallery: Tour de Langkawi, Stage 7, February 15, 2008.
Join our forum and discuss the Tour de Langkawi 2008
Read also:
Special Coverage Tour de Langkawi 2008
Results Tour de Langkawi 2008
Stage 8
| | | | | | | | |
| --- | --- | --- | --- | --- | --- | --- | --- |
| 1 | 84 | ITA | Savini,Filippo | CSF | CSF Group-Navigare | 3h12'32" | |
| 2 | 14 | MDA | Ivanov,Ruslan | SDA | Serramenti PVC | 3h12'47" | @15" |
| 3 | 11 | COL | Serpa Perez,Jose | SDA | Serramenti PVC | 3h12'47" | @ s/t |
| 4 | 15 | VEN | Ochoa,Carlos Jos | SDA | Serramenti PVC | 3h13'15" | @43" |
| 5 | 44 | COL | Pedraza,Walter | TCS | Tinkoff Credit Systems | 3h13'15" | @ s/t |
| 6 | 221 | NZL | Yates,Jeremy | NZL | New Zealand N.T. | 3h13'23" | @51" |
| 7 | 92 | ESP | Cesar,Gustavo | KGZ | Karpin Galicia | 3h13'23" | @ s/t |
| 8 | 65 | FRA | Sprick,Matthieu | BTL | Bouygues Telecom | 3h13'23" | @ s/t |
| 9 | 164 | IRI | Fahridi,Kovij Mehdi | IAU | Islamic Azad University | 3h13'23" | @ s/t |
| 10 | 62 | NED | Clement,Stef | BTL | Bouygues Telecom | 3h13'27" | @55" |
| 11 | 175 | INA | Susanto,Tonton | L2A | Letua Cycling Team | 3h13'27" | @ s/t |
| 12 | 22 | RSA | George,David | RSA | South African N.T. | 3h13'29" | @57" |
| 13 | 45 | BLR | Sobal,Yauhen | TCS | Tinkoff Credit Systems | 3h13'29" | @ s/t |
| 14 | 193 | KOR | Gong,Hyo Suk | SCT | Seoul Cycling | 3h13'50" | @01'18" |
| 15 | 73 | FRA | Pineau,Cedric | ALM | AG2R La Mondiale | 3h13'50" | @ s/t |
| 16 | 151 | AUS | Crawford,Jai | MPC | Trek Marco Polo | 3h13'50" | @ s/t |
| 17 | 16 | VEN | Rodriguez,Jackson | SDA | Serramenti PVC | 3h13'50" | @ s/t |
| 18 | 4 | FRA | Marino,Jean-Marc | C.A | Credit Agricole | 3h13'52" | @01'20" |
| 19 | 213 | AUS | Docker,Mitchell | DPC | Drapac Porsche | 3h13'52" | @ s/t |
| 20 | 23 | RSA | Woolcock,Waylon | RSA | South African N.T. | 3h14'25" | @01'53" |
| 21 | 21 | RSA | McCleod,Ian | RSA | South African N.T. | 3h14'25" | @ s/t |
| 22 | 1 | AUS | Gerrans,Simon | C.A | Credit Agricole | 3h14'25" | @ s/t |
| 23 | 93 | ESP | Troncoso,Ramon | KGZ | Karpin Galicia | 3h14'25" | @ s/t |
| 24 | 42 | RUS | Klimov,Serguei | TCS | Tinkoff Credit Systems | 3h14'25" | @ s/t |
| 25 | 146 | MAS | Ng,Yong Li | EQA | Meitan Hompo - GDR | 3h14'25" | @ s/t |
| 26 | 72 | EST | Kangert,Tanel | ALM | AG2R La Mondiale | 3h14'25" | @ s/t |
| 27 | 161 | IRI | Saeidi,Tanha Abbass | IAU | Islamic Azad University | 3h14'36" | @02'04" |
| 28 | 101 | AUS | Wilson,Matt | TT1 | Team Type 1 | 3h14'36" | @ s/t |
| 29 | 26 | RSA | Van Niekerk,Dennis | RSA | South African N.T. | 3h14'36" | @ s/t |
| 30 | 143 | JPN | Fukushima,Shinichi | EQA | Meitan Hompo - GDR | 3h14'36" | @ s/t |
| 31 | 86 | ITA | Priamo,Matteo | CSF | CSF Group-Navigare | 3h14'39" | @02'07" |
| 32 | 141 | JPN | Arashiro,Yukiya | EQA | Meitan Hompo - GDR | 3h14'39" | @ s/t |
| 33 | 75 | FRA | Sonnery,Blaise | ALM | AG2R La Mondiale | 3h14'39" | @ s/t |
| 34 | 162 | IRI | Zargari,Amir | IAU | Islamic Azad University | 3h14'39" | @ s/t |
| 35 | 41 | RUS | Brutt,Pavel | TCS | Tinkoff Credit Systems | 3h14'39" | @ s/t |
| 36 | 105 | MEX | Aldape,Moises | TT1 | Team Type 1 | 3h14'43" | @02'11" |
| 37 | 52 | JPN | Kano,Tomoya | SKS | Skil - Shimano | 3h14'48" | @02'16" |
| 38 | 123 | GER | Lehmann,Jorg | ITA | Team Ista | 3h15'03" | @02'31" |
| 39 | 66 | SUI | Tschopp,Johann | BTL | Bouygues Telecom | 3h15'06" | @02'34" |
| 40 | 231 | HKG | Chan,Chun Hing | HKG | Hong Kong N.T. | 3h15'22" | @02'50" |
| 41 | 166 | IRI | Salehian,Farshad | IAU | Islamic Azad University | 3h15'25" | @02'53" |
| 42 | 195 | KOR | Yoo,Ki Hong | SCT | Seoul Cycling | 3h15'29" | @02'57" |
| 43 | 104 | NZL | Chadwick,Glen | TT1 | Team Type 1 | 3h15'29" | @ s/t |
| 44 | 225 | NZL | Lyttle,Scott | NZL | New Zealand N.T. | 3h15'44" | @03'12" |
| 45 | 91 | ESP | Garcia,David | KGZ | Karpin Galicia | 3h15'48" | @03'16" |
| 46 | 55 | JPN | Abe,Yoshiyuki | SKS | Skil - Shimano | 3h15'48" | @ s/t |
| 47 | 173 | AUS | Sulzberger,Bernard | L2A | Letua Cycling Team | 3h15'48" | @ s/t |
| 48 | 181 | INA | Fitrianto,Hari | PSN | Polygon Sweet Nice | 3h15'48" | @ s/t |
| 49 | 241 | MAS | Hassan,Suhardi | MAS | Malaysia N.T. | 3h15'54" | @03'22" |
| 50 | 196 | KOR | Kim,Gu Hyeon | SCT | Seoul Cycling | 3h15'54" | @ s/t |
| 51 | 95 | ESP | Paleo,Alejandro | KGZ | Karpin Galicia | 3h15'57" | @03'25" |
| 52 | 165 | IRI | Sohrabi,Mehdi | IAU | Islamic Azad University | 3h15'57" | @ s/t |
| 53 | 5 | FRA | Mederel,Maxime | C.A | Credit Agricole | 3h15'57" | @ s/t |
| 54 | 176 | INA | Arihan,Ryan | L2A | Letua Cycling Team | 3h15'57" | @ s/t |
| 55 | 135 | AUS | Sulzberger,Wesley | SAI | SouthAustralia.Com - AIS | 3h16'01" | @03'29" |
| 56 | 132 | AUS | Dempster,Zakkari | SAI | SouthAustralia.Com - AIS | 3h16'01" | @ s/t |
| 57 | 133 | AUS | Ford,William | SAI | SouthAustralia.Com - AIS | 3h16'01" | @ s/t |
| 58 | 136 | AUS | Walker,Johnnie | SAI | SouthAustralia.Com - AIS | 3h16'01" | @ s/t |
| 59 | 51 | JPN | Nodera,Hidenori | SKS | Skil - Shimano | 3h16'01" | @ s/t |
| 60 | 35 | TPE | Lai,Kuan Hua | GNT | Giant Asia Racing Team | 3h16'06" | @03'34" |
| 61 | 232 | HKG | Wu,Kin San | HKG | Hong Kong N.T. | 3h16'39" | @04'07" |
| 62 | 154 | CHN | Xing,Yan Dong | MPC | Trek Marco Polo | 3h16'39" | @ s/t |
| 63 | 184 | INA | Jaya,Herwin | PSN | Polygon Sweet Nice | 3h16'39" | @ s/t |
| 64 | 124 | GER | Meschenmoser,Chris. | ITA | Team Ista | 3h16'39" | @ s/t |
| 65 | 114 | ITA | Nosotti,Diego | NGC | NGC Medical - OTC | 3h16'39" | @ s/t |
| 66 | 223 | NZL | Whitehead,Ashley | NZL | New Zealand N.T. | 3h16'39" | @ s/t |
| 67 | 244 | MAS | Nur Misbah,Mohd Rauf | MAS | Malaysia N.T. | 3h16'39" | @ s/t |
| 68 | 111 | ITA | Rossi,Enrico | NGC | NGC Medical - OTC | 3h16'52" | @04'20" |
| 69 | 182 | INA | Pahlavi,Abdullah Rizza | PSN | Polygon Sweet Nice | 3h16'52" | @ s/t |
| 70 | 222 | NZL | Odlin,Paul | NZL | New Zealand N.T. | 3h17'10" | @04'38" |
| 71 | 33 | GBR | Coutts,Alex | GNT | Giant Asia Racing Team | 3h17'10" | @ s/t |
| 72 | 185 | COL | Lopez,Vladimir | PSN | Polygon Sweet Nice | 3h17'18" | @04'46" |
| 73 | 212 | AUS | McDonald,Peter | DPC | Drapac Porsche | 3h18'07" | @05'35" |
| 74 | 242 | MAS | Ahmad Lutfi,M. Fauzan | MAS | Malaysia N.T. | 3h18'27" | @05'55" |
| 75 | 96 | RUS | Isaychev,Vladimir | KGZ | Karpin Galicia | 3h18'38" | @06'06" |
| 76 | 191 | KOR | Park,Sung Baek | SCT | Seoul Cycling | 3h18'41" | @06'09" |
| 77 | 34 | NAM | Hoffmann,Erik | GNT | Giant Asia Racing Team | 3h19'02" | @06'30" |
| 78 | 24 | RSA | Venter,Jacobus | RSA | South African N.T. | 3h19'02" | @ s/t |
| 79 | 103 | AUS | Calabria,Fabio | TT1 | Team Type 1 | 3h20'03" | @07'31" |
| 80 | 245 | MAS | Abd Razak,Mohd Faris | MAS | Malaysia N.T. | 3h20'20" | @07'48" |
| 81 | 134 | AUS | King,Benjamin | SAI | SouthAustralia.Com - AIS | 3h20'24" | @07'52" |
| 82 | 145 | JPN | Shimizu,Miyataka | EQA | Meitan Hompo - GDR | 3h20'42" | @08'10" |
| 83 | 2 | FRA | Hinault,Sebastien | C.A | Credit Agricole | 3h20'45" | @08'13" |
| 84 | 6 | IRL | Roche,Nicolas | C.A | Credit Agricole | 3h20'45" | @ s/t |
| 85 | 76 | BEL | Vandenbergh,Stijn | ALM | AG2R La Mondiale | 3h20'45" | @ s/t |
| 86 | 3 | GBR | Hunt,Jeremy | C.A | Credit Agricole | 3h20'45" | @ s/t |
| 87 | 63 | SUI | Clerc,Aurelien | BTL | Bouygues Telecom | 3h20'52" | @08'20" |
| 88 | 85 | ITA | Tomei,Francesco | CSF | CSF Group-Navigare | 3h20'52" | @ s/t |
| 89 | 61 | FRA | Claude,Mathieu | BTL | Bouygues Telecom | 3h20'52" | @ s/t |
| 90 | 64 | FRA | Martias,Rony | BTL | Bouygues Telecom | 3h20'52" | @ s/t |
| 91 | 12 | GER | Hondo,Danilo | SDA | Serramenti PVC | 3h20'52" | @ s/t |
| 92 | 71 | BLR | Usov,Alexandre | ALM | AG2R La Mondiale | 3h20'52" | @ s/t |
| 93 | 74 | FRA | Senac,Jean-Charles | ALM | AG2R La Mondiale | 3h20'52" | @ s/t |
| 94 | 215 | AUS | Bates,Gene | DPC | Drapac Porsche | 3h20'52" | @ s/t |
| 95 | 216 | AUS | O'Brien,Mark | DPC | Drapac Porsche | 3h20'52" | @ s/t |
| 96 | 53 | JPN | Hirose,Yoshimasa | SKS | Skil - Shimano | 3h21'53" | @09'21" |
| 97 | 102 | AUS | Brooks,Ben | TT1 | Team Type 1 | 3h21'53" | @ s/t |
| 98 | 171 | MAS | Anuawar,Ahmad Haidar | L2A | Letua Cycling Team | 3h21'53" | @ s/t |
| 99 | 46 | RUS | Trusov,Nikolay | TCS | Tinkoff Credit Systems | 3h21'53" | @ s/t |
| 100 | 172 | MAS | Manan,Anuar | L2A | Letua Cycling Team | 3h22'55" | @10'23" |
| 101 | 94 | ESP | Mouron,Juan | KGZ | Karpin Galicia | 3h23'03" | @10'31" |
| 102 | 246 | MAS | Daud,M. Firdaus | MAS | Malaysia N.T. | 3h23'23" | @10'51" |
| 103 | 201 | MAS | Rusli,Amir Mustafa | MCF | MNCF Cycling Team | 3h23'49" | @11'17" |
| 104 | 174 | MAS | M. Zahit,Mohd Sayuti | L2A | Letua Cycling Team | 3h24'54" | @12'22" |
| 105 | 243 | MAS | Saleh,Mohd Zamri | MAS | Malaysia N.T. | 3h24'54" | @ s/t |
| 106 | 17 | ITA | Bertolini,Denis | SDA | Serramenti PVC | 3h24'59" | @12'27" |
| 107 | 202 | MAS | Ruslan,Mohd Jasmin | MCF | MNCF Cycling Team | 3h25'45" | @13'13" |
| 108 | 206 | MAS | Mustarudin,M. Zamani | MCF | MNCF Cycling Team | 3h25'45" | @ s/t |
| 109 | 54 | JPN | Hatanaka,Yusuke | SKS | Skil - Shimano | 3h25'45" | @ s/t |
| 110 | 144 | JPN | Miyazawa,Takashi | EQA | Meitan Hompo - GDR | 3h25'45" | @ s/t |
| 111 | 226 | NZL | Chapman,Joseph | NZL | New Zealand N.T. | 3h25'45" | @ s/t |
| 112 | 115 | SUI | Trafelet,Stefan | NGC | NGC Medical - OTC | 3h25'45" | @ s/t |
| 113 | 186 | INA | Santoso,Budi | PSN | Polygon Sweet Nice | 3h25'45" | @ s/t |
| 114 | 112 | ITA | Corsini,Marco | NGC | NGC Medical - OTC | 3h25'45" | @ s/t |
| 115 | 211 | AUS | Shaw,Stuart | DPC | Drapac Porsche | 3h25'45" | @ s/t |
| 116 | 183 | KAZ | Dyadichkin,Vyacheslav | PSN | Polygon Sweet Nice | 3h25'45" | @ s/t |
| 117 | 36 | TPE | Peng,Kuei Hsiang | GNT | Giant Asia Racing Team | 3h25'45" | @ s/t |
| 118 | 25 | RSA | Hoffman,Nolan | RSA | South African N.T. | 3h25'45" | @ s/t |
| 119 | 224 | NZL | Kerr,Justin | NZL | New Zealand N.T. | 3h25'45" | @ s/t |
| 120 | 234 | HKG | Tang,Wang Yip | HKG | Hong Kong N.T. | 3h25'45" | @ s/t |
| 121 | 155 | MAS | Loh,Sea Keong | MPC | Trek Marco Polo | 3h25'45" | @ s/t |
| 122 | 203 | MAS | Aziz,Mohd Saiful Anuar | MCF | MNCF Cycling Team | 3h25'45" | @ s/t |
| 123 | 156 | JPN | Onodera,Ken | MPC | Trek Marco Polo | 3h25'45" | @ s/t |
| 124 | 194 | KOR | Lee,Won Jae | SCT | Seoul Cycling | 3h25'45" | @ s/t |
| 125 | 121 | GER | Hofbauer,Rolf | ITA | Team Ista | 3h25'45" | @ s/t |
| 126 | 122 | GER | Keinath,Nico | ITA | Team Ista | 3h25'45" | @ s/t |
| 127 | 192 | KOR | Park,Seon Ho | SCT | Seoul Cycling | 3h25'45" | @ s/t |
| 128 | 83 | ARG | Richeze,Mauro Abel | CSF | CSF Group-Navigare | 3h26'27" | @13'55" |
| 129 | 153 | CHN | Li,Fuyu | MPC | Trek Marco Polo | 3h29'03" | @16'31" |
| 130 | 142 | JPN | Fukushima,Koji | EQA | Meitan Hompo - GDR | 3h30'56" | @18'24" |
| 131 | 163 | IRI | Maleki,Mizan Hassan | IAU | Islamic Azad University | 3h30'56" | @ s/t |
| 132 | 204 | MAS | Salleh,Mohd Hariff | MCF | MNCF Cycling Team | 3h31'47" | @19'15" |
| 133 | 152 | RUS | Kudentsov,Sergey | MPC | Trek Marco Polo | 3h32'43" | @20'11" |
| 134 | 235 | HKG | Ko,Siu Wai | HKG | Hong Kong N.T. | 3h33'29" | @20'57" |
General Classification after stage 8
| | | | | | | | |
| --- | --- | --- | --- | --- | --- | --- | --- |
| 1 | 14 | MDA | Ivanov,Ruslan | SDA | Serramenti PVC | 29h49'06" | |
| 2 | 65 | FRA | Sprick,Matthieu | BTL | Bouygues Telecom | 29h49'35" | @29" |
| 3 | 92 | ESP | Cesar,Gustavo | KGZ | Karpin Galicia | 29h49'38" | @32" |
| 4 | 221 | NZL | Yates,Jeremy | NZL | New Zealand N.T. | 29h49'42" | @36" |
| 5 | 45 | BLR | Sobal,Yauhen | TCS | Tinkoff Credit Systems | 29h49'54" | @48" |
| 6 | 213 | AUS | Docker,Mitchell | DPC | Drapac Porsche | 29h50'02" | @56" |
| 7 | 16 | VEN | Rodriguez,Jackson | SDA | Serramenti PVC | 29h50'09" | @01'03" |
| 8 | 4 | FRA | Marino,Jean-Marc | C.A | Credit Agricole | 29h50'15" | @01'09" |
| 9 | 21 | RSA | McCleod,Ian | RSA | South African N.T. | 29h50'50" | @01'44" |
| 10 | 101 | AUS | Wilson,Matt | TT1 | Team Type 1 | 29h50'54" | @01'48" |
| 11 | 143 | JPN | Fukushima,Shinichi | EQA | Meitan Hompo - GDR | 29h50'56" | @01'50" |
| 12 | 52 | JPN | Kano,Tomoya | SKS | Skil - Shimano | 29h51'13" | @02'07" |
| 13 | 104 | NZL | Chadwick,Glen | TT1 | Team Type 1 | 29h51'54" | @02'48" |
| 14 | 173 | AUS | Sulzberger,Bernard | L2A | Letua Cycling Team | 29h52'06" | @03'00" |
| 15 | 132 | AUS | Dempster,Zakkari | SAI | SouthAustralia.Com - AIS | 29h52'25" | @03'19" |
| 16 | 51 | JPN | Nodera,Hidenori | SKS | Skil - Shimano | 29h52'26" | @03'20" |
| 17 | 114 | ITA | Nosotti,Diego | NGC | NGC Medical - OTC | 29h52'55" | @03'49" |
| 18 | 33 | GBR | Coutts,Alex | GNT | Giant Asia Racing Team | 29h53'35" | @04'29" |
| 19 | 191 | KOR | Park,Sung Baek | SCT | Seoul Cycling | 29h55'00" | @05'54" |
| 20 | 11 | COL | Serpa Perez,Jose | SDA | Serramenti PVC | 30h07'38" | @18'32" |
| 21 | 22 | RSA | George,David | RSA | South African N.T. | 30h08'30" | @19'24" |
| 22 | 26 | RSA | Van Niekerk,Dennis | RSA | South African N.T. | 30h09'41" | @20'35" |
| 23 | 41 | RUS | Brutt,Pavel | TCS | Tinkoff Credit Systems | 30h09'44" | @20'38" |
| 24 | 66 | SUI | Tschopp,Johann | BTL | Bouygues Telecom | 30h10'11" | @21'05" |
| 25 | 196 | KOR | Kim,Gu Hyeon | SCT | Seoul Cycling | 30h10'56" | @21'50" |
| 26 | 136 | AUS | Walker,Johnnie | SAI | SouthAustralia.Com - AIS | 30h11'02" | @21'56" |
| 27 | 124 | GER | Meschenmoser,Chris. | ITA | Team Ista | 30h11'36" | @22'30" |
| 28 | 111 | ITA | Rossi,Enrico | NGC | NGC Medical - OTC | 30h12'15" | @23'09" |
| 29 | 44 | COL | Pedraza,Walter | TCS | Tinkoff Credit Systems | 30h12'45" | @23'39" |
| 30 | 15 | VEN | Ochoa,Carlos Jos | SDA | Serramenti PVC | 30h12'48" | @23'42" |
| 31 | 164 | IRI | Fahridi,Kovij Mehdi | IAU | Islamic Azad University | 30h12'56" | @23'50" |
| 32 | 175 | INA | Susanto,Tonton | L2A | Letua Cycling Team | 30h13'00" | @23'54" |
| 33 | 73 | FRA | Pineau,Cedric | ALM | AG2R La Mondiale | 30h13'23" | @24'17" |
| 34 | 193 | KOR | Gong,Hyo Suk | SCT | Seoul Cycling | 30h13'23" | = s/t |
| 35 | 212 | AUS | McDonald,Peter | DPC | Drapac Porsche | 30h13'26" | @24'20" |
| 36 | 151 | AUS | Crawford,Jai | MPC | Trek Marco Polo | 30h13'46" | @24'40" |
| 37 | 93 | ESP | Troncoso,Ramon | KGZ | Karpin Galicia | 30h13'58" | @24'52" |
| 38 | 146 | MAS | Ng,Yong Li | EQA | Meitan Hompo - GDR | 30h13'58" | = s/t |
| 39 | 72 | EST | Kangert,Tanel | ALM | AG2R La Mondiale | 30h13'58" | = s/t |
| 40 | 42 | RUS | Klimov,Serguei | TCS | Tinkoff Credit Systems | 30h13'58" | = s/t |
| 41 | 23 | RSA | Woolcock,Waylon | RSA | South African N.T. | 30h13'58" | = s/t |
| 42 | 86 | ITA | Priamo,Matteo | CSF | CSF Group-Navigare | 30h14'00" | @24'54" |
| 43 | 161 | IRI | Saeidi,Tanha Abbass | IAU | Islamic Azad University | 30h14'03" | @24'57" |
| 44 | 105 | MEX | Aldape,Moises | TT1 | Team Type 1 | 30h14'10" | @25'04" |
| 45 | 75 | FRA | Sonnery,Blaise | ALM | AG2R La Mondiale | 30h14'12" | @25'06" |
| 46 | 162 | IRI | Zargari,Amir | IAU | Islamic Azad University | 30h14'12" | = s/t |
| 47 | 1 | AUS | Gerrans,Simon | C.A | Credit Agricole | 30h14'15" | @25'09" |
| 48 | 141 | JPN | Arashiro,Yukiya | EQA | Meitan Hompo - GDR | 30h14'32" | @25'26" |
| 49 | 123 | GER | Lehmann,Jorg | ITA | Team Ista | 30h14'36" | @25'30" |
| 50 | 231 | HKG | Chan,Chun Hing | HKG | Hong Kong N.T. | 30h14'47" | @25'41" |
| 51 | 244 | MAS | Nur Misbah,Mohd Rauf | MAS | Malaysia N.T. | 30h14'49" | @25'43" |
| 52 | 166 | IRI | Salehian,Farshad | IAU | Islamic Azad University | 30h14'52" | @25'46" |
| 53 | 195 | KOR | Yoo,Ki Hong | SCT | Seoul Cycling | 30h15'01" | @25'55" |
| 54 | 225 | NZL | Lyttle,Scott | NZL | New Zealand N.T. | 30h15'17" | @26'11" |
| 55 | 91 | ESP | Garcia,David | KGZ | Karpin Galicia | 30h15'21" | @26'15" |
| 56 | 55 | JPN | Abe,Yoshiyuki | SKS | Skil - Shimano | 30h15'21" | = s/t |
| 57 | 181 | INA | Fitrianto,Hari | PSN | Polygon Sweet Nice | 30h15'21" | = s/t |
| 58 | 95 | ESP | Paleo,Alejandro | KGZ | Karpin Galicia | 30h15'30" | @26'24" |
| 59 | 165 | IRI | Sohrabi,Mehdi | IAU | Islamic Azad University | 30h15'30" | = s/t |
| 60 | 5 | FRA | Mederel,Maxime | C.A | Credit Agricole | 30h15'30" | = s/t |
| 61 | 3 | GBR | Hunt,Jeremy | C.A | Credit Agricole | 30h15'34" | @26'28" |
| 62 | 135 | AUS | Sulzberger,Wesley | SAI | SouthAustralia.Com - AIS | 30h15'34" | = s/t |
| 63 | 71 | BLR | Usov,Alexandre | ALM | AG2R La Mondiale | 30h15'38" | @26'32" |
| 64 | 241 | MAS | Hassan,Suhardi | MAS | Malaysia N.T. | 30h15'46" | @26'40" |
| 65 | 84 | ITA | Savini,Filippo | CSF | CSF Group-Navigare | 30h15'56" | @26'50" |
| 66 | 35 | TPE | Lai,Kuan Hua | GNT | Giant Asia Racing Team | 30h16'02" | @26'56" |
| 67 | 232 | HKG | Wu,Kin San | HKG | Hong Kong N.T. | 30h16'12" | @27'06" |
| 68 | 184 | INA | Jaya,Herwin | PSN | Polygon Sweet Nice | 30h16'12" | = s/t |
| 69 | 223 | NZL | Whitehead,Ashley | NZL | New Zealand N.T. | 30h16'12" | = s/t |
| 70 | 176 | INA | Arihan,Ryan | L2A | Letua Cycling Team | 30h16'33" | @27'27" |
| 71 | 222 | NZL | Odlin,Paul | NZL | New Zealand N.T. | 30h16'43" | @27'37" |
| 72 | 182 | INA | Pahlavi,Abdullah Rizza | PSN | Polygon Sweet Nice | 30h16'48" | @27'42" |
| 73 | 185 | COL | Lopez,Vladimir | PSN | Polygon Sweet Nice | 30h16'51" | @27'45" |
| 74 | 242 | MAS | Ahmad Lutfi,M. Fauzan | MAS | Malaysia N.T. | 30h16'52" | @27'46" |
| 75 | 62 | NED | Clement,Stef | BTL | Bouygues Telecom | 30h17'37" | @28'31" |
| 76 | 96 | RUS | Isaychev,Vladimir | KGZ | Karpin Galicia | 30h18'11" | @29'05" |
| 77 | 34 | NAM | Hoffmann,Erik | GNT | Giant Asia Racing Team | 30h18'35" | @29'29" |
| 78 | 24 | RSA | Venter,Jacobus | RSA | South African N.T. | 30h18'35" | = s/t |
| 79 | 103 | AUS | Calabria,Fabio | TT1 | Team Type 1 | 30h19'28" | @30'22" |
| 80 | 64 | FRA | Martias,Rony | BTL | Bouygues Telecom | 30h19'28" | = s/t |
| 81 | 245 | MAS | Abd Razak,Mohd Faris | MAS | Malaysia N.T. | 30h19'45" | @30'39" |
| 82 | 63 | SUI | Clerc,Aurelien | BTL | Bouygues Telecom | 30h19'53" | @30'47" |
| 83 | 134 | AUS | King,Benjamin | SAI | SouthAustralia.Com - AIS | 30h19'57" | @30'51" |
| 84 | 12 | GER | Hondo,Danilo | SDA | Serramenti PVC | 30h20'06" | @31'00" |
| 85 | 2 | FRA | Hinault,Sebastien | C.A | Credit Agricole | 30h20'14" | @31'08" |
| 86 | 76 | BEL | Vandenbergh,Stijn | ALM | AG2R La Mondiale | 30h20'18" | @31'12" |
| 87 | 61 | FRA | Claude,Mathieu | BTL | Bouygues Telecom | 30h20'22" | @31'16" |
| 88 | 216 | AUS | O'Brien,Mark | DPC | Drapac Porsche | 30h20'25" | @31'19" |
| 89 | 112 | ITA | Corsini,Marco | NGC | NGC Medical - OTC | 30h20'46" | @31'40" |
| 90 | 172 | MAS | Manan,Anuar | L2A | Letua Cycling Team | 30h20'52" | @31'46" |
| 91 | 85 | ITA | Tomei,Francesco | CSF | CSF Group-Navigare | 30h21'11" | @32'05" |
| 92 | 133 | AUS | Ford,William | SAI | SouthAustralia.Com - AIS | 30h21'13" | @32'07" |
| 93 | 171 | MAS | Anuawar,Ahmad Haidar | L2A | Letua Cycling Team | 30h21'16" | @32'10" |
| 94 | 46 | RUS | Trusov,Nikolay | TCS | Tinkoff Credit Systems | 30h21'18" | @32'12" |
| 95 | 102 | AUS | Brooks,Ben | TT1 | Team Type 1 | 30h21'26" | @32'20" |
| 96 | 155 | MAS | Loh,Sea Keong | MPC | Trek Marco Polo | 30h21'30" | @32'24" |
| 97 | 53 | JPN | Hirose,Yoshimasa | SKS | Skil - Shimano | 30h21'48" | @32'42" |
| 98 | 215 | AUS | Bates,Gene | DPC | Drapac Porsche | 30h21'57" | @32'51" |
| 99 | 94 | ESP | Mouron,Juan | KGZ | Karpin Galicia | 30h22'36" | @33'30" |
| 100 | 246 | MAS | Daud,M. Firdaus | MAS | Malaysia N.T. | 30h22'56" | @33'50" |
| 101 | 6 | IRL | Roche,Nicolas | C.A | Credit Agricole | 30h23'22" | @34'16" |
| 102 | 201 | MAS | Rusli,Amir Mustafa | MCF | MNCF Cycling Team | 30h23'22" | = s/t |
| 103 | 74 | FRA | Senac,Jean-Charles | ALM | AG2R La Mondiale | 30h24'01" | @34'55" |
| 104 | 174 | MAS | M. Zahit,Mohd Sayuti | L2A | Letua Cycling Team | 30h24'19" | @35'13" |
| 105 | 194 | KOR | Lee,Won Jae | SCT | Seoul Cycling | 30h24'22" | @35'16" |
| 106 | 17 | ITA | Bertolini,Denis | SDA | Serramenti PVC | 30h24'24" | @35'18" |
| 107 | 243 | MAS | Saleh,Mohd Zamri | MAS | Malaysia N.T. | 30h24'25" | @35'19" |
| 108 | 144 | JPN | Miyazawa,Takashi | EQA | Meitan Hompo - GDR | 30h25'06" | @36'00" |
| 109 | 192 | KOR | Park,Seon Ho | SCT | Seoul Cycling | 30h25'08" | @36'02" |
| 110 | 211 | AUS | Shaw,Stuart | DPC | Drapac Porsche | 30h25'09" | @36'03" |
| 111 | 234 | HKG | Tang,Wang Yip | HKG | Hong Kong N.T. | 30h25'10" | @36'04" |
| 112 | 36 | TPE | Peng,Kuei Hsiang | GNT | Giant Asia Racing Team | 30h25'10" | = s/t |
| 113 | 206 | MAS | Mustarudin,M. Zamani | MCF | MNCF Cycling Team | 30h25'10" | = s/t |
| 114 | 54 | JPN | Hatanaka,Yusuke | SKS | Skil - Shimano | 30h25'10" | = s/t |
| 115 | 25 | RSA | Hoffman,Nolan | RSA | South African N.T. | 30h25'18" | @36'12" |
| 116 | 226 | NZL | Chapman,Joseph | NZL | New Zealand N.T. | 30h25'18" | = s/t |
| 117 | 202 | MAS | Ruslan,Mohd Jasmin | MCF | MNCF Cycling Team | 30h25'18" | = s/t |
| 118 | 121 | GER | Hofbauer,Rolf | ITA | Team Ista | 30h25'18" | = s/t |
| 119 | 186 | INA | Santoso,Budi | PSN | Polygon Sweet Nice | 30h25'18" | = s/t |
| 120 | 203 | MAS | Aziz,Mohd Saiful Anuar | MCF | MNCF Cycling Team | 30h25'18" | = s/t |
| 121 | 183 | KAZ | Dyadichkin,Vyacheslav | PSN | Polygon Sweet Nice | 30h25'18" | = s/t |
| 122 | 115 | SUI | Trafelet,Stefan | NGC | NGC Medical - OTC | 30h25'41" | @36'35" |
| 123 | 224 | NZL | Kerr,Justin | NZL | New Zealand N.T. | 30h25'41" | = s/t |
| 124 | 156 | JPN | Onodera,Ken | MPC | Trek Marco Polo | 30h25'41" | = s/t |
| 125 | 83 | ARG | Richeze,Mauro Abel | CSF | CSF Group-Navigare | 30h26'18" | @37'12" |
| 126 | 145 | JPN | Shimizu,Miyataka | EQA | Meitan Hompo - GDR | 30h28'05" | @38'59" |
| 127 | 153 | CHN | Li,Fuyu | MPC | Trek Marco Polo | 30h28'27" | @39'21" |
| 128 | 142 | JPN | Fukushima,Koji | EQA | Meitan Hompo - GDR | 30h29'19" | @40'13" |
| 129 | 163 | IRI | Maleki,Mizan Hassan | IAU | Islamic Azad University | 30h30'23" | @41'17" |
| 130 | 204 | MAS | Salleh,Mohd Hariff | MCF | MNCF Cycling Team | 30h31'31" | @42'25" |
| 131 | 154 | CHN | Xing,Yan Dong | MPC | Trek Marco Polo | 30h32'13" | @43'07" |
| 132 | 152 | RUS | Kudentsov,Sergey | MPC | Trek Marco Polo | 30h32'39" | @43'33" |
| 133 | 235 | HKG | Ko,Siu Wai | HKG | Hong Kong N.T. | 30h33'02" | @43'56" |
| 134 | 122 | GER | Keinath,Nico | ITA | Team Ista | 30h45'52" | @56'46" |