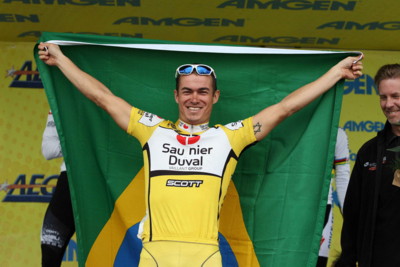 Luciano Pagliarini during the ceremony (© Saunier Duval - Scott)
Mark Cavendish (GBR) of High Road, who was originally declared the stage winner, recovered from a late crash during the first circuit lap and seemed to deliver a powerful sprint victory for High Road. However, officials would later relegate the sprinter for sheltering behind or falling into the slipstream of a vehicle. This decision gave the win to Brazilian sprinter Luciano Pagliarini (Saunier Duval - Scott).
"I´m very happy, this is a big accomplishment in my career," Pagliarini said after the race. "I´m so sorry about what happened to Cavendish, but in my opinion it was the right decision, disqualifying him because he crashed with five kilometres to go and we came into the circuit at a very high speed. This is not a big win for me, it´s not like a win with your hands up. But I´m very happy anyway. Now I´ll ride in Tirreno-Adriatico and Milan-San Remo, and then in the Giro d´Italia. A stage win at the Italian grand tour is one of my two main goals this season. The other one is getting a medal at the Olympic Games."
"Officials saw Mark (Cavendish) hang on to a car for an extended period of time," said Jim Birrell, race director. "It's unfortunate because he put in such a good effort today, but those are the rules."
Team CSC's J.J. Haedo was third in the sprint, but ended up being noted for a second place after Luciano André Pagliarini (Saunier Duval) was celebrated as the new winner of the sixth stage.

"My team mates made sure I was positioned perfectly for the sprint, but I couldn't get far enough up front after the final turn. I should've sprinted all the way to the finish line, but I stopped, when I realized I wouldn't be able to pass Cavendish. That might have meant a victory for me, but it's no good thinking like that now. I have to give it one last try tomorrow and see if we can round off this race with a victory," said Haedo after the somewhat untraditional finish.

Despite the chaos and challenges that came late in the race, Astana managed to keep Leipheimer in the overall race lead, with an advantage of 49 seconds going into tomorrow's race.

"It's sweet to be near the prize, but it's never over until we cross the finish line," said Leipheimer. "The Amgen Tour of California is the best in the world right now and has the best riders. I feel privileged and proud to be the guy that has led the race for the past couple of years, but I've worked hard to earn it."

In cloudy but dry conditions, the field rolled out of Santa Barbara for this 105-mile penultimate stage. The course featured several small climbs and many expected attacks from several teams. An early move on the second climb put six riders up the road.

This significant breakaway featured Steven Cozza (USA) of Slipstream Chipotle Presented by H30, Rory Sutherland (AUS) of HealthNet Presented by Maxxis, Christophe Le Mevel (FRA) of Credit Agricole, Alexandre Pichot (FRA) of Bouygues Telecom, Karsten Kroon (NED) of Team CSC and David Canada (ESP) of Saunier Duval-Scott.

Riding smoothly, the break built up a lead of seven minutes over the field. After the final climb of the day, Astana gave the front to the teams of sprinters and allowed them to chase down a stage win.

As the breakaway reached the streets of Santa Clarita, the leaders only had a dwindling two minute advantage. At the front of the field rode a train of Quick Step riders, with its two sprinters, Bettini and Tom Boonen (USA), in tow. Following close behind was High Road with its aces, Cavendish and Gerald Ciolek (GER), and Rock Racing's sprint duo of Mario Cipollini (ITA) and Fred Rodriguez (USA).

But in that fight for position, wheels touched and down went Cipollini, Rodriguez and Cavendish in a heap.

"Coming into the last two laps, I had Cipollini in front of me and Cavendish in front of him," said Rodriguez. "Cavendish swerved and took out Mario. I had no where to go. I basically t-boned Mario and then went head first into the pavement." Cavendish and Cipollini both remounted and chased back up through the cars to the field and then advanced for the sprint.

Just as the breakaway dissolved, the rider sitting in second overall, David Millar (GBR) of Slipstream Chipotle Presented by H30, blasted off the front with Thomas Voeckler (FRA) of Bouygues Telecom in tow. Saunier Duval rider Iker Camano (ESP) went with the move as well.

"I was trying to look around for him and that's when he went," said Leipheimer. "My teammates Chris (Horner) and Chechu (Rubiero) got to the front - even in the midst of the Quick Step lead out - and brought him back."

With that, the field prepared itself for a bunch sprint. As the riders leapt out of their saddles, Dominique Rollin (CAN) of the Toyota-United Pro Cycling Team pounced first and opened a margin.

He would be swarmed by the field, with Cavendish, bleeding from his crash, hitting the line first, followed by Pagliarini, Haedo and Bettini.

Today's stage brought few changes to the jersey leaders. Rory Sutherland was awarded the Tachyon Most Aggressive Rider Jersey. Sutherland was very active in the break away of the day. "Everyone in the break worked really well together," Sutherland said. "It was a good group. Everyone was happy and prepared to work. There were good teams represented, and everyone worked equally hard."

Their work was made a bit harder by a constant headwind. "I think there was one time when we turned and we got out the wind," Sutherland commented, "but them we turned soon after and it was back into it."

The break lasted longer as Sutherland had expected. "Honestly I didn't think we'd last that long," Sutherland said. "But if you're in a break like that, you can't sit there and think that you're not going to make it to the finish. You just have to keep working."
Scott Nydam (USA) from Team BMC claimed the California Travel and Tourism King of the Mountains Jersey for the fourth consecutive day. Rollin retained the Herbalife Sprint Leader Jersey for a third day. Robert Gesink (NED) of Rabobank held onto the Union Bank of California Best Young Rider Jersey. Slipstream Chipotle Presented by H30 is still leading the team classification.
Join our forum and discuss the Tour of California
Picture gallery: Tour of California, Stage 3, February 20, 2008
Back to:
Special Coverage Tour of California 2008
Results Tour of California 2008
Stage 6
1 Luciano André Pagliarini Mendonca (Bra) Saunier Duval-Scott 4.18.31 (40.616 km/h)
2 Juan Jose Haedo (Arg) Team CSC
3 Paolo Bettini (Ita) Quick Step
4 Gerald Ciolek (Ger) High Road
5 Oscar Freire Gomez (Spa) Rabobank
6 Dominique Rollin (Can) Toyota - United Pro Cycling Team
7 Alexander Candelario (USA) Kelly Benefit Strategies / Medifast
8 Markus Zberg (Swi) Gerolsteiner
9 Danilo Wyss (Swi) BMC Racing Team
10 Pedro Horrillo Munoz (Spa) Rabobank
11 Nicholas Sanderson (Aus) Jelly Belly Cycling Team
12 John Murphy (USA) Health Net presented by Maxxis
13 Angel Gomez Gomez (Spa) Saunier Duval-Scott
14 Sébastien Turgot (Fra) Bouygues Telecom
15 Pipp K Frank (USA) Health Net presented by Maxxis
16 Garrett Peltonen (USA) Bissell Pro Cycling
17 David Millar (GBr) Slipstream Chipotle Presented by H30
18 Taylor Tolleson (USA) BMC Racing Team
19 Christian Vandevelde (USA) Slipstream Chipotle Presented by H30
20 Levi Leipheimer (USA) Astana
21 Mathew Hayman (Aus) Rabobank
22 Bobby Julich (USA) Team CSC
23 Bernhard Kohl (Aut) Gerolsteiner
24 Victor Hugo Pena Grisales (Col) Rock Racing
25 Benjamin Jacques-Maynes (USA) Bissell Pro Cycling
26 Jurgen Vandewalle (Bel) Quick Step
27 Oliver Zaugg (Swi) Gerolsteiner
28 Iker Camano Ortuzar (Spa) Saunier Duval-Scott
29 Gustav Larsson (Swe) Team CSC
30 Ignatas Konovalovas (Ltu) Credit Agricole
31 Christopher Horner (USA) Astana
32 Hendricus Vogels (Aus) Toyota - United Pro Cycling Team
33 Ermanno Capelli (Ita) Saunier Duval-Scott
34 Alexandre Moos (Swi) BMC Racing Team
35 George Hincapie (USA) High Road
36 Nicholas Reistad (USA) Jelly Belly Cycling Team
37 Raivis Belohvosciks (Lat) Saunier Duval-Scott
38 Tom Boonen (Bel) Quick Step
39 Robert Gesink (Ned) Rabobank
40 Aaron Kemps (Aus) Astana
41 Fabian Cancellara (Swi) Team CSC
42 Kevin Seeldraeyers (Bel) Quick Step
43 Yannick Talabardon (Fra) Credit Agricole
44 Janez Brajkovic (Slo) Astana
45 David Canada Gracia (Spa) Saunier Duval-Scott
46 Perrig Quemeneur (Fra) Bouygues Telecom
47 Christophe Le Mevel (Fra) Credit Agricole
48 Julien Simon (Fra) Credit Agricole
49 David Zabriskie (USA) Slipstream Chipotle Presented by H30
50 Mauricio Alberto Ardila Cano (Col) Rabobank
51 Thomas Peterson (USA) Slipstream Chipotle Presented by H30
52 Michael Lange (USA) Jelly Belly Cycling Team
53 Stuart O'Grady (Aus) Team CSC
54 Nicholas Waite (USA) Kelly Benefit Strategies / Medifast
55 Jeff Louder (USA) BMC Racing Team
56 Rubens Bertogliati (Swi) Saunier Duval-Scott
57 Scott Nydam (USA) BMC Racing Team
58 Aaron Barry Tuckerman (NZl) Jelly Belly Cycling Team
59 Timothy Johnson (USA) Health Net presented by Maxxis
60 Tom Zirbel (USA) Bissell Pro Cycling
61 Matteo Tosatto (Ita) Quick Step
62 Jason Mccartney (USA) Team CSC
63 Jens Voigt (Ger) Team CSC
64 Sergey Ivanov (Rus) Astana
65 Aaron Olson (USA) Bissell Pro Cycling
66 Edward King (USA) Bissell Pro Cycling
67 Karsten Kroon (Ned) Team CSC
68 Andrey Mizurov (Kaz) Astana
69 Heath Blackgrove (NZl) Toyota - United Pro Cycling Team
70 Jonathan Mumford (USA) Kelly Benefit Strategies / Medifast
71 Danny Pate (USA) Slipstream Chipotle Presented by H30
72 Andrea Tonti (Ita) Quick Step
73 Kevin Hulsmans (Bel) Quick Step
74 Mark Cavendish (GBr) High Road 0.20
75 Mario Cipollini (Ita) Rock Racing
76 Dimitri Champion (Fra) Bouygues Telecom 0.22
77 José Luis Rubiera Vigil (Spa) Astana 0.43
78 Rory Sutherland (Aus) Health Net presented by Maxxis 1.13
79 Thomas Voeckler (Fra) Bouygues Telecom
80 Bauke Mollema (Ned) Rabobank 2.05
81 Steven Cozza (USA) Slipstream Chipotle Presented by H30 2.44
82 Alexandre Pichot (Fra) Bouygues Telecom
83 Paul Martens (Ger) Rabobank 5.00
84 Michael Creed (USA) Rock Racing
85 Dan Bowman (USA) Kelly Benefit Strategies / Medifast
86 Scott Zwizanski (USA) Bissell Pro Cycling
87 Doug Ollerenshaw (USA) Rock Racing
88 Thomas Lövkvist (Swe) High Road 5.36
89 Bradley Wiggins (GBr) High Road
90 Justin Spinelli (USA) Kelly Benefit Strategies / Medifast 7.31
91 Freddie Rodriguez (USA) Rock Racing 12.10
DNF Philip Zajicek (USA) Health Net presented by Maxxis
DNF Roman Kilun (USA) Health Net presented by Maxxis
General Classification after stage 6
1 Levi Leipheimer (USA) Astana 25.33.23
2 David Millar (GBr) Slipstream Chipotle Presented by H30 0.49
3 Christian Vandevelde (USA) Slipstream Chipotle Presented by H30 1.08
4 Fabian Cancellara (Swi) Team CSC 1.18
5 Gustav Larsson (Swe) Team CSC 1.19
6 David Zabriskie (USA) Slipstream Chipotle Presented by H30 1.36
7 Christopher Horner (USA) Astana 2.07
8 Jurgen Vandewalle (Bel) Quick Step 2.11
9 Robert Gesink (Ned) Rabobank 2.18
10 Alexandre Moos (Swi) BMC Racing Team 2.27
11 Thomas Peterson (USA) Slipstream Chipotle Presented by H30 2.58
12 Victor Hugo Pena Grisales (Col) Rock Racing 3.17
13 Bernhard Kohl (Aut) Gerolsteiner 3.34
14 Kevin Seeldraeyers (Bel) Quick Step 3.40
15 Iker Camano Ortuzar (Spa) Saunier Duval-Scott 5.06
16 Benjamin Jacques-Maynes (USA) Bissell Pro Cycling 5.48
17 Matteo Tosatto (Ita) Quick Step 6.49
18 George Hincapie (USA) High Road 7.30
19 Mauricio Alberto Ardila Cano (Col) Rabobank 7.48
20 Oscar Freire Gomez (Spa) Rabobank 8.08
21 Ignatas Konovalovas (Ltu) Credit Agricole 8.50
22 Oliver Zaugg (Swi) Gerolsteiner 9.24
23 Janez Brajkovic (Slo) Astana 9.58
24 David Canada Gracia (Spa) Saunier Duval-Scott 10.05
25 Jeff Louder (USA) BMC Racing Team 10.46
26 Jens Voigt (Ger) Team CSC 11.11
27 Bobby Julich (USA) Team CSC 11.49
28 Rubens Bertogliati (Swi) Saunier Duval-Scott 12.02
29 Yannick Talabardon (Fra) Credit Agricole 15.01
30 Karsten Kroon (Ned) Team CSC 15.41
31 Christophe Le Mevel (Fra) Credit Agricole 15.47
32 Jason Mccartney (USA) Team CSC
33 José Luis Rubiera Vigil (Spa) Astana 18.21
34 Aaron Olson (USA) Bissell Pro Cycling 18.45
35 Michael Lange (USA) Jelly Belly Cycling Team 19.22
36 Rory Sutherland (Aus) Health Net presented by Maxxis 19.32
37 Heath Blackgrove (NZl) Toyota - United Pro Cycling Team 19.33
38 Thomas Lövkvist (Swe) High Road 20.05
39 Doug Ollerenshaw (USA) Rock Racing 20.16
40 Angel Gomez Gomez (Spa) Saunier Duval-Scott 20.46
41 Tom Zirbel (USA) Bissell Pro Cycling 22.39
42 Paolo Bettini (Ita) Quick Step 24.14
43 Dominique Rollin (Can) Toyota - United Pro Cycling Team 26.10
44 Gerald Ciolek (Ger) High Road 26.57
45 Andrey Mizurov (Kaz) Astana 28.29
46 Pedro Horrillo Munoz (Spa) Rabobank 28.34
47 Juan Jose Haedo (Arg) Team CSC 28.47
48 Bauke Mollema (Ned) Rabobank 29.08
49 Dimitri Champion (Fra) Bouygues Telecom 31.43
50 Danny Pate (USA) Slipstream Chipotle Presented by H30 31.51
51 Mathew Hayman (Aus) Rabobank 32.06
52 Stuart O'Grady (Aus) Team CSC 32.10
53 Tom Boonen (Bel) Quick Step 32.11
54 Markus Zberg (Swi) Gerolsteiner 32.36
55 Aaron Kemps (Aus) Astana 32.44
56 Kevin Hulsmans (Bel) Quick Step 32.52
57 Perrig Quemeneur (Fra) Bouygues Telecom 33.28
58 Julien Simon (Fra) Credit Agricole 33.30
59 Mark Cavendish (GBr) High Road 33.37
60 Timothy Johnson (USA) Health Net presented by Maxxis 33.47
61 Alexandre Pichot (Fra) Bouygues Telecom 34.22
62 Mario Cipollini (Ita) Rock Racing 35.05
63 Alexander Candelario (USA) Kelly Benefit Strategies / Medifast 35.15
64 Sébastien Turgot (Fra) Bouygues Telecom 35.23
65 Bradley Wiggins (GBr) High Road 35.29
66 Luciano André Pagliarini Mendonca (Bra) Saunier Duval-Scott 35.44
67 Raivis Belohvosciks (Lat) Saunier Duval-Scott 35.53
68 Garrett Peltonen (USA) Bissell Pro Cycling 36.14
69 John Murphy (USA) Health Net presented by Maxxis 37.49
70 Edward King (USA) Bissell Pro Cycling 37.51
71 Paul Martens (Ger) Rabobank 38.03
72 Ermanno Capelli (Ita) Saunier Duval-Scott 38.06
73 Sergey Ivanov (Rus) Astana 38.17
74 Pipp K Frank (USA) Health Net presented by Maxxis 38.26
75 Steven Cozza (USA) Slipstream Chipotle Presented by H30 38.52
76 Nicholas Reistad (USA) Jelly Belly Cycling Team
77 Taylor Tolleson (USA) BMC Racing Team 39.11
78 Justin Spinelli (USA) Kelly Benefit Strategies / Medifast 39.19
79 Andrea Tonti (Ita) Quick Step 39.45
80 Nicholas Sanderson (Aus) Jelly Belly Cycling Team 39.59
81 Freddie Rodriguez (USA) Rock Racing 40.06
82 Hendricus Vogels (Aus) Toyota - United Pro Cycling Team 40.19
83 Thomas Voeckler (Fra) Bouygues Telecom 41.04
84 Scott Zwizanski (USA) Bissell Pro Cycling 41.58
85 Jonathan Mumford (USA) Kelly Benefit Strategies / Medifast 42.27
86 Danilo Wyss (Swi) BMC Racing Team 44.08
87 Dan Bowman (USA) Kelly Benefit Strategies / Medifast 44.22
88 Aaron Barry Tuckerman (NZl) Jelly Belly Cycling Team 44.25
89 Nicholas Waite (USA) Kelly Benefit Strategies / Medifast 45.08
90 Scott Nydam (USA) BMC Racing Team 45.54
91 Michael Creed (USA) Rock Racing 52.29