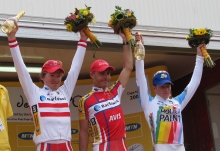 The ceremony (© Team Barloworld)
At the beginning of the Category 1 climb at Bains Kloof and riding directly into a strong head-wind, a breakaway containing the full contingent of Team Barloworld cyclists, started to pull away from the chasing peloton and establish a strong lead which was retained up until the end of the race. This lead resulted in a nail-biting sprint finish by the riders of the breakaway group, won by Team Barloworld's Christian Pfannberger and followed closely by Robert Hunter (2nd, Barloworld), Hanco Kackelhoffer (3rd, House of Paints) and Daryl Impey (4th, Barloworld).

This impressive performance by Team Barloworld not only saw Pfannberger come first, and Hunter second, but Hunter (2nd) also take home the King of the Mountain's jersey, Pfannberger (1st), with a 1 minute lead, the coveted Pink Leaders jersey and the team take the overall team standing award.

Barloworld's team manager Claudio Corti said: "I am very happy with the team's performance today. The wind played a huge factor and the team showed their good condition by working together to control the breakaway and attack. Despite the wind and strong competition from the other cyclists, Pfannberger showed very impressive form on both the hills and flats and he and the rest of the team are very motivated to do well at the Giro, in the home country of our sponsor."
Join our forum and discuss the Giro del Capo
Back to:
Results Giro del Capo 2008
Stage 1
1 Christian Pfannberger (Aut) Barloworld 2.32.45 (41.24 km/h)
2 Robert Hunter (RSA) Barloworld 0.52
3 Johannes Kackelhoffer (RSA) House of Paints
4 Daryl Impey (RSA) Barloworld
5 Jacques J van Rensburg (RSA) Team Neotel
6 Felix Cardenas (Col) Barloworld
7 Christopher Froome (Ken) Barloworld
8 Hugo Sabido (Por) Barloworld 2.18
9 David George (RSA) Team MTN 2.24
10 Luke Roberts (Aus) Team Kuota - Senges 2.38
11 Ciarán Power (Irl) Pezula Racing
12 Macolm Lange (RSA) Team MTN
13 Nicholas White (RSA) Team MTN 3.54
14 Ian McLeod (RSA) Team MTN
15 Bart Brentjens (Ned) Trek - Marco Polo Cycling Team
16 Dominique Cornu (Bel) Belgian National Team 8.10
17 Johann Rabie (RSA) Team Neotel 8.28
18 Malaya van Ruitenbeek (Ned) Team Kuota - Senges 8.29
19 Daniel Kreutzfeldt (Den) Danish National Team
20 Burry Stander (RSA) Pro Mr Price WP
21 Stian Remme (Nor) Team Sparebanken Vest
22 Michael Morkov (Den) Danish National Team 9.33
23 Stefan Ganser (Ger) Team Kuota - Senges
24 Arran Brown (RSA) House of Paints
25 Derek Burke (Irl) Pezula Racing
26 Jai Crawford (Aus) Trek - Marco Polo Cycling Team
27 Hichem Chabane (Alg) Team Konica Minolta - Bizhub
28 Jay Thomson (RSA) Team MTN
29 Michael Van Staden (RSA) Southeby's Cosmetek
30 Michael Sowerby (RSA) Cyclelab Supercycling
31 Dan Craven (Nam) Namibia
32 Reinardt J Van Rensburg (RSA) Cyclelab Supercycling
33 Waldo Bergh (RSA) Cyclelab Supercycling
34 Sergiu Cioban (Mda) UCI World Cycling Centre
35 Cameron Jennings (Aus) Pezula Racing
36 Shaun Davel (RSA) Pro Mr Price WP
37 Nico Bell (RSA) Cyclelab Supercycling
38 Arno Vijoen (Nam) Namibia
39 Juraj Sagan (Svk) UCI World Cycling Centre
40 Kenny De Ketele (Bel) Belgian National Team
41 Morten Hegreberg (Nor) Team Sparebanken Vest
42 Waylon Woolcock (RSA) Team MTN
43 Mannie Heymans (Nam) Namibia
44 Jaco Venter (RSA) Team Neotel
45 James Perry (RSA) Team Neotel
46 Sorren Petersen (Den) Team Kuota - Senges
47 Bjorn Glasner (Ger) Team Kuota - Senges
48 Fuyu Li (Chn) Trek - Marco Polo Cycling Team
49 Armand Snyman (RSA) Tekton Kitchens 11.13
50 Oliver Munnik (RSA) Club 100
51 Davy Tuytens (Bel) Belgian National Team
52 Havard Nybo (Nor) Team Sparebanken Vest
53 Jaco Cronje (RSA) Liqui Moly
54 Travys Wilkins (RSA) CSC/Marcello
55 Yannick Lincoln (Mri) Velo Club (Mauritius)
56 Christoff Van Heerden (RSA) Team Konica Minolta - Bizhub
57 Dean Edwards (RSA) House of Paints 12.32
58 Nolan Hoffmann (RSA) Team Neotel
59 Johan Scheepers (RSA) Liqui Moly
60 Tim Klessa (Ger) Team Kuota - Senges
61 Dennis Van Niekerk (RSA) Team Konica Minolta - Bizhub
62 Tim Mertens (Bel) Belgian National Team 13.25
63 Iljo Keisse (Bel) Belgian National Team
64 Alex Rasmussen (Den) Danish National Team
65 Jens-Erik Madsen (Den) Danish National Team 13.27
66 Martyn Irvine (Irl) Pezula Racing
67 Morgan Fox (Irl) Pezula Racing
68 Michael F Christensen (Den) Danish National Team
69 Casper Jorgensen (Den) Danish National Team
70 Max Knox (RSA) USN - Fulimput Clothing
71 Christophe Lincoln (Mri) Velo Club (Mauritius)
72 Anton Wynand (RSA) Venezia
73 Leon Van Bon (Ned) Trek - Marco Polo Cycling Team
74 Michael Pepper (RSA) House of Paints
75 Brandon Stewart (RSA) USN - Fulimput Clothing 15.00
76 Luthando Kaka (RSA) ACSIS
77 Pieter Henning (RSA) Computer-Smith
78 Martin Wesemann (RSA) Southeby's Cosmetek 15.36
79 Barend Burger (RSA) Computer-Smith 15.38
80 Evgeny Panayotov (Bul) UCI World Cycling Centre
81 Victor Mironov (Mda) UCI World Cycling Centre 15.59
82 Steffan Elzinga (Can) Club 100
83 Kurt Arendse (RSA) ACSIS 16.01
84 Verdi Farao (RSA) ACSIS
85 Siyabonga Mnqwazi (RSA) ACSIS
86 Dylon Girdlestone (RSA) Cyclelab Supercycling
87 Magnus Gouws (RSA) Tekton Kitchens
88 Peter Strydom (RSA) Computer-Smith
89 Loic Mamet (Mri) Velo Club (Mauritius)
90 Dean Hopf (RSA) Pro Mr Price WP
91 James Tennent (RSA) Southeby's Cosmetek
92 Tamas Lengyel (Hun) Team Sparebanken Vest
93 Jason Du Preez (RSA) Computer-Smith
94 Anders Lund (Nor) Team Sparebanken Vest
95 Peter Seyffert (RSA) Team Konica Minolta - Bizhub
96 Herman Fouche (RSA) Team Konica Minolta - Bizhub
97 Erik Kleinhans (RSA) GT Maties
98 Ryan Kemp (RSA) Pro Mr Price WP
99 Richard Baxter (RSA) House of Paints
100 Matthew Funnell (RSA) House of Paints
101 Ruan Benson (RSA) Cyclelab Supercycling
102 Jeremy Maertens (RSA) Team Neotel
103 Alistair Davies (RSA) Club 100
104 Sondre Sortveit (Nor) Team Sparebanken Vest
105 Jaco Ferreira (RSA) Computer-Smith
106 Matthew Haydock (NZl) UCI World Cycling Centre
107 David O'Loughlin (Irl) Pezula Racing
108 Andrew Briggs (RSA) Club 100
109 Alex Pavlov (RSA) Liqui Moly 16.32
110 Gary Rabie (RSA) Liqui Moly
111 Neil Timm (RSA) Liqui Moly
112 Lotto Petrus (Nam) Namibia 17.40
113 Marc Bassingthwaighte (Nam) Namibia 18.49
114 David Leiman (RSA) USN - Fulimput Clothing
115 Travis Allen (RSA) Team Konica Minolta - Bizhub
116 Alex Milner (RSA) GT Maties 19.28
117 Werner Moolman (RSA) Venezia 19.49
118 Dawid Griessel (RSA) CSC/Marcello
119 Jean Robert Francois (Mri) Velo Club (Mauritius)
120 Cornelius Muller (RSA) GT Maties 20.52
121 Dusty Day (RSA) Tekton Kitchens 21.10
122 Gilbert Quevauviluers (RSA) CSC/Marcello
123 Matt Goetsh (RSA) USN - Fulimput Clothing
124 Clinton Avery (NZl) UCI World Cycling Centre
125 Roan Exleby (RSA) USN - Fulimput Clothing 22.09
126 Alexander Lambets (RSA) Computer-Smith 22.18
127 Gavin Rossouw (RSA) Venezia
128 Abdel Basat Hanachi (Alg) CSC/Marcello
General Classification after stage 1
1 Christian Pfannberger (Aut) Barloworld 2.32.35
2 Robert Hunter (RSA) Barloworld 0.54
3 Johannes Kackelhoffer (RSA) House of Paints 0.58
4 Daryl Impey (RSA) Barloworld 0.59
5 Jacques J van Rensburg (RSA) Team Neotel 1.02
6 Felix Cardenas (Col) Barloworld
7 Christopher Froome (Ken) Barloworld
8 Hugo Sabido (Por) Barloworld 2.27
9 David George (RSA) Team MTN 2.34
10 Luke Roberts (Aus) Team Kuota - Senges 2.48
11 Ciarán Power (Irl) Pezula Racing
12 Macolm Lange (RSA) Team MTN
13 Nicholas White (RSA) Team MTN 4.04
14 Ian McLeod (RSA) Team MTN
15 Bart Brentjens (Ned) Trek - Marco Polo Cycling Team
16 Dominique Cornu (Bel) Silence - Lotto (Bel) Belgian National Team 8.20
17 Johann Rabie (RSA) Team Neotel 8.38
18 Malaya van Ruitenbeek (Ned) Team Kuota - Senges 8.39
19 Daniel Kreutzfeldt (Den) Danish National Team
20 Burry Stander (RSA) Pro Mr Price WP
21 Stian Remme (Nor) Team Sparebanken Vest
22 Michael Morkov (Den) Danish National Team 9.43
23 Stefan Ganser (Ger) Team Kuota - Senges
24 Arran Brown (RSA) House of Paints
25 Derek Burke (Irl) Pezula Racing
26 Jai Crawford (Aus) Trek - Marco Polo Cycling Team
27 Hichem Chabane (Alg) Team Konica Minolta - Bizhub
28 Jay Thomson (RSA) Team MTN
29 Michael Van Staden (RSA) Southeby's Cosmetek
30 Michael Sowerby (RSA) Cyclelab Supercycling
31 Dan Craven (Nam) Namibia
32 Reinardt J Van Rensburg (RSA) Cyclelab Supercycling
33 Waldo Bergh (RSA) Cyclelab Supercycling
34 Sergiu Cioban (Mda) UCI World Cycling Centre
35 Cameron Jennings (Aus) Pezula Racing
36 Shaun Davel (RSA) Pro Mr Price WP
37 Nico Bell (RSA) Cyclelab Supercycling
38 Arno Vijoen (Nam) Namibia
39 Juraj Sagan (Svk) UCI World Cycling Centre
40 Kenny De Ketele (Bel) Belgian National Team
41 Morten Hegreberg (Nor) Team Sparebanken Vest
42 Waylon Woolcock (RSA) Team MTN
43 Mannie Heymans (Nam) Namibia
44 Jaco Venter (RSA) Team Neotel
45 James Perry (RSA) Team Neotel
46 Sorren Petersen (Den) Team Kuota - Senges
47 Bjorn Glasner (Ger) Team Kuota - Senges
48 Fuyu Li (Chn) Trek - Marco Polo Cycling Team
49 Armand Snyman (RSA) Tekton Kitchens 11.23
50 Oliver Munnik (RSA) Club 100
51 Davy Tuytens (Bel) Belgian National Team
52 Havard Nybo (Nor) Team Sparebanken Vest
53 Jaco Cronje (RSA) Liqui Moly
54 Travys Wilkins (RSA) CSC/Marcello
55 Yannick Lincoln (Mri) Velo Club (Mauritius)
56 Christoff Van Heerden (RSA) Team Konica Minolta - Bizhub
57 Dean Edwards (RSA) House of Paints 12.42
58 Nolan Hoffmann (RSA) Team Neotel
59 Johan Scheepers (RSA) Liqui Moly
60 Tim Klessa (Ger) Team Kuota - Senges
61 Dennis Van Niekerk (RSA) Team Konica Minolta - Bizhub
62 Tim Mertens (Bel) Belgian National Team 13.35
63 Iljo Keisse (Bel) Belgian National Team
64 Alex Rasmussen (Den) Danish National Team
65 Jens-Erik Madsen (Den) Danish National Team 13.37
66 Martyn Irvine (Irl) Pezula Racing
67 Morgan Fox (Irl) Pezula Racing
68 Michael F Christensen (Den) Danish National Team
69 Casper Jorgensen (Den) Danish National Team
70 Max Knox (RSA) USN - Fulimput Clothing
71 Christophe Lincoln (Mri) Velo Club (Mauritius)
72 Anton Wynand (RSA) Venezia
73 Leon Van Bon (Ned) Trek - Marco Polo Cycling Team
74 Michael Pepper (RSA) House of Paints
75 Brandon Stewart (RSA) USN - Fulimput Clothing 15.10
76 Luthando Kaka (RSA) ACSIS
77 Pieter Henning (RSA) Computer-Smith
78 Martin Wesemann (RSA) Southeby's Cosmetek 15.46
79 Barend Burger (RSA) Computer-Smith 15.48
80 Evgeny Panayotov (Bul) UCI World Cycling Centre
81 Victor Mironov (Mda) UCI World Cycling Centre 16.09
82 Steffan Elzinga (Can) Club 100
83 Kurt Arendse (RSA) ACSIS 16.11
84 Verdi Farao (RSA) ACSIS
85 Siyabonga Mnqwazi (RSA) ACSIS
86 Dylon Girdlestone (RSA) Cyclelab Supercycling
87 Magnus Gouws (RSA) Tekton Kitchens
88 Peter Strydom (RSA) Computer-Smith
89 Loic Mamet (Mri) Velo Club (Mauritius)
90 Dean Hopf (RSA) Pro Mr Price WP
91 James Tennent (RSA) Southeby's Cosmetek
92 Tamas Lengyel (Hun) Team Sparebanken Vest
93 Jason Du Preez (RSA) Computer-Smith
94 Anders Lund (Nor) Team Sparebanken Vest
95 Peter Seyffert (RSA) Team Konica Minolta - Bizhub
96 Herman Fouche (RSA) Team Konica Minolta - Bizhub
97 Erik Kleinhans (RSA) GT Maties
98 Ryan Kemp (RSA) Pro Mr Price WP
99 Richard Baxter (RSA) House of Paints
100 Matthew Funnell (RSA) House of Paints
101 Ruan Benson (RSA) Cyclelab Supercycling
102 Jeremy Maertens (RSA) Team Neotel
103 Alistair Davies (RSA) Club 100
104 Sondre Sortveit (Nor) Team Sparebanken Vest
105 Jaco Ferreira (RSA) Computer-Smith
106 Matthew Haydock (NZl) UCI World Cycling Centre
107 David O'Loughlin (Irl) Pezula Racing
108 Andrew Briggs (RSA) Club 100
109 Alex Pavlov (RSA) Liqui Moly 16.42
110 Gary Rabie (RSA) Liqui Moly
111 Neil Timm (RSA) Liqui Moly
112 Lotto Petrus (Nam) Namibia 17.50
113 Marc Bassingthwaighte (Nam) Namibia 18.59
114 David Leiman (RSA) USN - Fulimput Clothing
115 Travis Allen (RSA) Team Konica Minolta - Bizhub
116 Alex Milner (RSA) GT Maties 19.38
117 Werner Moolman (RSA) Venezia 19.59
118 Dawid Griessel (RSA) CSC/Marcello
119 Jean Robert Francois (Mri) Velo Club (Mauritius)
120 Cornelius Muller (RSA) GT Maties 21.02
121 Dusty Day (RSA) Tekton Kitchens 21.20
122 Gilbert Quevauviluers (RSA) CSC/Marcello
123 Matt Goetsh (RSA) USN - Fulimput Clothing
124 Clinton Avery (NZl) UCI World Cycling Centre
125 Roan Exleby (RSA) USN - Fulimput Clothing 22.19
126 Alexander Lambets (RSA) Computer-Smith 22.28
127 Gavin Rossouw (RSA) Venezia
128 Abdel Basat Hanachi (Alg) CSC/Marcello