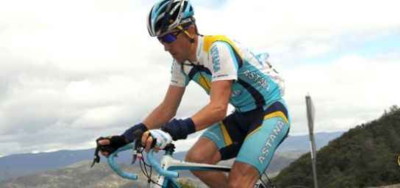 José Luis Robiera took the second stage.. (© Team Astana)
The Spanish riders dominated the second stage of Vuelta Ciclista a Murcia.

The 152-kilometer long stage from Calasparra to Totana was won by José Luis Rubiera (Astana), who came first in a group, which escaped towards the end of the hilly route with two Category 1 climbs. The group initially counted 12 riders but was later reduced to three. Aitor Pérez Arrieta came in second and Tinkoff's Vasili Kiryienka came in third.

"We had Cuesta in there, but he couldn't keep up and unfortunately Sastre didn't make the break as he suffered a flat just as the group made the attempt. A shame because he really wanted to test himself on the climb and the team worked hard to help him reach the front again. He did, but by then it was too late. Tomorrow we should have a chance to get Haedo in position for the sprint if the peloton stays together," said CSC sports director Dan Frost after the stage.
Aitor Pérez Arrieta (Extremadura) took over the leader's jersey from Rabobank's Graeme Brown. The Dutch team knew Brown wouldn't be able to keep the jersey and did not came to Murcia to win the overall. "It was alright, but the conditions made it extremely tough," said Rabobank's sports director Frans Maassen. Three riders went on the attack after that test, after which Caisse d'Epargne took charge of the chase. They did that in such a high pace that only 45 men started the final climb.
Last years Tour de l'Avenir winner Bauke Mollema was the only Rabo rider in that group, but he had to fold as well when the big favorites got involved. Denis Menchov and Thomas Dekker are not yet in top shape. "They are not yet good enough in this phase of the season, but that time will come." Tom Leezer – who suffered from diarrhea – and Dmitriy Kozontchuk lost much time. "Hopefully those two did not finish too late. We could really use them tomorrow." Then, Rabobank is hoping to strike again in a possible mass sprint with Graeme Brown.
Join our forum and discuss the Vuelta a Murcia
Back to:
Results Vuelta a Murcia 2008
Stage 2
1 José Luis Rubiera Vigil (Spa) Astana 4.18.14
2 Aitor Perez Arrieta (Spa) Extremadura-Gruppo Gallardo
3 Vasili Kiryienka (Blr) Tinkoff Credit Systems 0.02
4 Alejandro Valverde Belmonte (Spa) Caisse d'Epargne 0.06
5 Stefano Garzelli (Ita) Acqua Sapone - Caffe Mokambo
6 Ricardo Serrano González (Spa) Tinkoff Credit Systems
7 Alberto Contador Velasco (Spa) Astana
8 Ezequiel Mosquera Miguez (Spa) Karpin Galicia
9 Antonio Colom Mas (Spa) Astana
10 Manuel Vazquez Hueso (Spa) Contentpolis - Murcia
11 Javier Etxarri Marin (Spa) Contentpolis - Murcia
12 Massimiliano Gentili (Ita) Acqua Sapone - Caffe Mokambo 0.26
13 Luis Pasamontes Rodriguez (Spa) Caisse d'Epargne 1.10
14 José Luis Carrasco Gamiz (Spa) Andalucía - Cajasur
15 Maxim Iglinskiy (Kaz) Astana
16 José Herrada Lopez (Spa) Contentpolis - Murcia
17 Julian Sanchez Pimienta (Spa) Contentpolis - Murcia
18 Hernani Broco (Por) Liberty Seguros
19 Mikel Astarloza Chaurreau (Spa) Euskaltel - Euskadi
20 Francisco Perez Sanchez (Spa) Caisse d'Epargne
21 Branislau Samoilau (Blr) Acqua Sapone - Caffe Mokambo
22 Nuno Ribeiro (Por) Liberty Seguros
23 Massimo Codol (Ita) Acqua Sapone - Caffe Mokambo
24 Carlos Sastre Candil (Spa) Team CSC
25 Francesco Masciarelli (Ita) Acqua Sapone - Caffe Mokambo
26 Iñigo Cuesta López (Spa) Team CSC
27 Adrian Palomares Villaplana (Spa) Contentpolis - Murcia
28 Isidro Nozal Vega (Spa) Liberty Seguros 3.07
29 Inaki Isasi Flores (Spa) Euskaltel - Euskadi 4.23
30 Rui Miguel Sousa (Por) Liberty Seguros 4.56
31 Walter Fernando Pedraza Morales (Col) Tinkoff Credit Systems 5.03
32 Joan Horrach Rippoll (Spa) Caisse d'Epargne 6.08
33 Giuseppe Palumbo (Ita) Acqua Sapone - Caffe Mokambo
34 Samuel Sanchez Gonzalez (Spa) Euskaltel - Euskadi
35 Serguei Klimov (Rus) Tinkoff Credit Systems
36 Oleg Chuzhda (Ukr) Contentpolis - Murcia 7.50
37 Eloy Teruel Rovira (Spa) Contentpolis - Murcia
38 David Herrero Llorente (Spa) Karpin Galicia
39 Volodymir Gustov (Ukr) Team CSC
40 Enrique Salgueiro Alonso (Spa) Extremadura-Gruppo Gallardo
41 Jose Ruiz Sanchez (Spa) Andalucía - Cajasur
42 Vladimir Karpets (Rus) Caisse d'Epargne
43 Iban Mayoz (Spa) Karpin Galicia
44 Evgeny Petrov (Rus) Tinkoff Credit Systems
45 Gustavo Dominguez Lemos (Spa) Karpin Galicia
46 Bauke Mollema (Ned) Rabobank
47 Sergio Domínguez Muñoz (Spa) Contentpolis - Murcia 12.15
48 José Rujano Guillen (Ven) Caisse d'Epargne
49 Daniel Navarro Garcia (Spa) Astana
50 Gonzalo Zambrano Calderon (Spa) Extremadura-Gruppo Gallardo
51 Jorge Azanza Soto (Spa) Euskaltel - Euskadi
52 Jurgen Van Goolen (Bel) Team CSC
53 Sergio Miguel Moreira Paulinho (Por) Astana 15.09
54 Thomas Dekker (Ned) Rabobank
55 José Antonio Redondo Ramos (Spa) Karpin Galicia
56 Delio Fernández Cruz (Spa) Karpin Galicia
57 Claudio José Casas Gallego (Spa) Andalucía - Cajasur 18.05
58 César Quiteiro (Por) Liberty Seguros 19.23
59 Josu Mondelo (Spa) Extremadura-Gruppo Gallardo
60 Graeme Brown (Aus) Rabobank 21.27
61 Xabat Otxotorena (Spa) Extremadura-Gruppo Gallardo
62 Juan José Haedo (Arg) Team CSC
63 Francisco José Ventoso Alberdi (Spa) Andalucía - Cajasur
64 Michael Blaudzun (Den) Team CSC
65 Alexander Khatuntsev (Rus) Tinkoff Credit Systems
66 Denis Menchov (Rus) Rabobank
67 Javier Moreno Bazan (Spa) Andalucía - Cajasur
68 Carlos Castano Panadero (Spa) Karpin Galicia
69 David Garcia Dapena (Spa) Karpin Galicia
70 Alexander Serov (Rus) Tinkoff Credit Systems
71 Nikolay Trusov (Rus) Tinkoff Credit Systems
72 Jesus Rosendo Prado (Spa) Andalucía - Cajasur
73 Kasper Klostergaard Larsen (Den) Team CSC
74 Yon Bru Pascal (Spa) Euskaltel - Euskadi
75 Dario Andriotto (Ita) Acqua Sapone - Caffe Mokambo
76 Iban Velasco Murillo (Spa) Euskaltel - Euskadi
77 Ignacio Sarabia Diaz (Mex) Extremadura-Gruppo Gallardo
78 Arnaud Coyot (Fra) Caisse d'Epargne
79 Janez Brajkovic (Slo) Astana
80 Josu Agirre Aseginolaza (Spa) Euskaltel - Euskadi
81 Jan Boven (Ned) Rabobank
82 Fabien Patanchon (Fra) Caisse d'Epargne
83 Benjamin Noval Gonzalez (Spa) Astana
84 José Antonio Lopez Gil (Spa) Andalucía - Cajasur
85 Koldo Fernández (Spa) Euskaltel - Euskadi
86 Nicki Sørensen (Den) Team CSC
87 Diego Milán Jiménez (Spa) Acqua Sapone - Caffe Mokambo 21.33
88 Francisco Terciado Sacedo (Spa) Extremadura-Gruppo Gallardo
89 Pablo Urtasun Perez (Spa) Liberty Seguros 27.15
90 Antonio Jesús (Por) Liberty Seguros
91 Jesus Cobelo Fojo (Spa) Karpin Galicia 28.56
92 Tom Leezer (Ned) Rabobank
93 Dimitri Kozontchuk (Rus) Rabobank
94 Jesus Ramirez Torres (Spa) Extremadura-Gruppo Gallardo
95 Koldo Gil Perez (Spa) Liberty Seguros 29.00
General Classification after stage 2
1 Aitor Perez Arrieta (Spa) Extremadura-Gruppo Gallardo 9.18.25
2 José Luis Rubiera Vigil (Spa) Astana
3 Vasili Kiryienka (Blr) Tinkoff Credit Systems 0.02
4 Alberto Contador Velasco (Spa) Astana 0.06
5 Alejandro Valverde Belmonte (Spa) Caisse d'Epargne
6 Manuel Vazquez Hueso (Spa) Contentpolis - Murcia
7 Stefano Garzelli (Ita) Acqua Sapone - Caffe Mokambo
8 Antonio Colom Mas (Spa) Astana
9 Ezequiel Mosquera Miguez (Spa) Karpin Galicia
10 Ricardo Serrano González (Spa) Tinkoff Credit Systems
11 Javier Etxarri Marin (Spa) Contentpolis - Murcia
12 Massimiliano Gentili (Ita) Acqua Sapone - Caffe Mokambo 0.26
13 Maxim Iglinskiy (Kaz) Astana 1.10
14 José Herrada Lopez (Spa) Contentpolis - Murcia
15 Luis Pasamontes Rodriguez (Spa) Caisse d'Epargne
16 Mikel Astarloza Chaurreau (Spa) Euskaltel - Euskadi
17 Francisco Perez Sanchez (Spa) Caisse d'Epargne
18 Massimo Codol (Ita) Acqua Sapone - Caffe Mokambo
19 José Luis Carrasco Gamiz (Spa) Andalucía - Cajasur
20 Nuno Ribeiro (Por) Liberty Seguros
21 Hernani Broco (Por) Liberty Seguros
22 Adrian Palomares Villaplana (Spa) Contentpolis - Murcia
23 Julian Sanchez Pimienta (Spa) Contentpolis - Murcia
24 Francesco Masciarelli (Ita) Acqua Sapone - Caffe Mokambo
25 Branislau Samoilau (Blr) Acqua Sapone - Caffe Mokambo
26 Carlos Sastre Candil (Spa) Team CSC
27 Iñigo Cuesta López (Spa) Team CSC
28 Isidro Nozal Vega (Spa) Liberty Seguros 3.07
29 Inaki Isasi Flores (Spa) Euskaltel - Euskadi 4.23
30 Rui Miguel Sousa (Por) Liberty Seguros 4.56
31 Walter Fernando Pedraza Morales (Col) Tinkoff Credit Systems 5.03
32 Giuseppe Palumbo (Ita) Acqua Sapone - Caffe Mokambo 6.08
33 Serguei Klimov (Rus) Tinkoff Credit Systems
34 Joan Horrach Rippoll (Spa) Caisse d'Epargne
35 Samuel Sanchez Gonzalez (Spa) Euskaltel - Euskadi
36 Oleg Chuzhda (Ukr) Contentpolis - Murcia 7.50
37 Gustavo Dominguez Lemos (Spa) Karpin Galicia
38 Eloy Teruel Rovira (Spa) Contentpolis - Murcia
39 David Herrero Llorente (Spa) Karpin Galicia
40 Vladimir Karpets (Rus) Caisse d'Epargne
41 Evgeny Petrov (Rus) Tinkoff Credit Systems
42 Enrique Salgueiro Alonso (Spa) Extremadura-Gruppo Gallardo
43 Iban Mayoz (Spa) Karpin Galicia
44 Volodymir Gustov (Ukr) Team CSC
45 Bauke Mollema (Ned) Rabobank
46 Jose Ruiz Sanchez (Spa) Andalucía - Cajasur
47 Jorge Azanza Soto (Spa) Euskaltel - Euskadi 12.15
48 Jurgen Van Goolen (Bel) Team CSC
49 José Rujano Guillen (Ven) Caisse d'Epargne
50 Sergio Domínguez Muñoz (Spa) Contentpolis - Murcia
51 Daniel Navarro Garcia (Spa) Astana
52 Gonzalo Zambrano Calderon (Spa) Extremadura-Gruppo Gallardo
53 Sergio Miguel Moreira Paulinho (Por) Astana 15.09
54 Thomas Dekker (Ned) Rabobank
55 José Antonio Redondo Ramos (Spa) Karpin Galicia
56 Claudio José Casas Gallego (Spa) Andalucía - Cajasur 18.05
57 César Quiteiro (Por) Liberty Seguros 19.23
58 Josu Mondelo (Spa) Extremadura-Gruppo Gallardo
59 Graeme Brown (Aus) Rabobank 21.27
60 Francisco José Ventoso Alberdi (Spa) Andalucía - Cajasur
61 Juan José Haedo (Arg) Team CSC
62 Xabat Otxotorena (Spa) Extremadura-Gruppo Gallardo
63 Nikolay Trusov (Rus) Tinkoff Credit Systems
64 Koldo Fernández (Spa) Euskaltel - Euskadi
65 Alexander Serov (Rus) Tinkoff Credit Systems
66 Arnaud Coyot (Fra) Caisse d'Epargne
67 Yon Bru Pascal (Spa) Euskaltel - Euskadi
68 David Garcia Dapena (Spa) Karpin Galicia
69 Ignacio Sarabia Diaz (Mex) Extremadura-Gruppo Gallardo
70 Alexander Khatuntsev (Rus) Tinkoff Credit Systems
71 Carlos Castano Panadero (Spa) Karpin Galicia
72 Michael Blaudzun (Den) Team CSC
73 Iban Velasco Murillo (Spa) Euskaltel - Euskadi
74 Javier Moreno Bazan (Spa) Andalucía - Cajasur
75 Denis Menchov (Rus) Rabobank
76 Benjamin Noval Gonzalez (Spa) Astana
77 Josu Agirre Aseginolaza (Spa) Euskaltel - Euskadi
78 Nicki Sørensen (Den) Team CSC
79 Diego Milán Jiménez (Spa) Acqua Sapone - Caffe Mokambo 21.33
80 Dario Andriotto (Ita) Acqua Sapone - Caffe Mokambo 21.43
81 Kasper Klostergaard Larsen (Den) Team CSC 22.13
82 Delio Fernández Cruz (Spa) Karpin Galicia 22.33
83 José Antonio Lopez Gil (Spa) Andalucía - Cajasur 23.05
84 Jan Boven (Ned) Rabobank 23.55
85 Pablo Urtasun Perez (Spa) Liberty Seguros 27.15
86 Antonio Jesús (Por) Liberty Seguros
87 Jesus Rosendo Prado (Spa) Andalucía - Cajasur 28.51
88 Janez Brajkovic (Slo) Astana
89 Fabien Patanchon (Fra) Caisse d'Epargne
90 Tom Leezer (Ned) Rabobank 28.56
91 Jesus Ramirez Torres (Spa) Extremadura-Gruppo Gallardo
92 Francisco Terciado Sacedo (Spa) Extremadura-Gruppo Gallardo 28.57
93 Jesus Cobelo Fojo (Spa) Karpin Galicia 36.20
94 Dimitri Kozontchuk (Rus) Rabobank
95 Koldo Gil Perez (Spa) Liberty Seguros 36.24