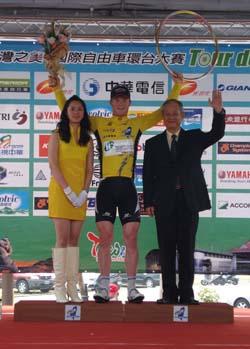 John Murphy during the ceremony (© Casey Gibson)
Stage 5
American Shawn Milne scored his first win in a field sprint in nearly two years at Thursday's fifth stage of the Tour de Taiwan, earning Team Type 1 its inaugural victory as a professional cycling team.

Milne picked up a 10-second bonus at the end of the 92-mile (148 km) Hsinchu City Circuit Race to climb into second place overall, seven seconds behind John Murphy (Health Net presented by Maxxis) with three stages left in the eight-day race. Last year, Milne won the Tour de Taiwan while racing for Health Net.

"As they have done so well all week, the Merida'squad took control of the final 10 kilometers to set up the sprint, but our guys played it nearly perfectly at the end," Team Type 1 Sports Director Ed Beamon said. "This win will certainly be one for Shawn and the entire team to remember."

Team Type 1 is in its first season as a professional cycling team. It was founded in 2004 by racers Phil Southerland and Joe Eldridge to inspire people living with diabetes to take a proactive approach to managing their health and overcoming obstacles often associated with the condition. The past two years, Team Type 1 has won the eight-rider corporate division of the Race Across America (RAAM). All 11 racers on its elite/developmental team have Type 1 diabetes, as do four of its 15 pro riders.

"This victory is definitely a big day – not only for all of us on the team – but for everyone who is affected by diabetes," Southerland said. "It shows that people with diabetes can compete on the highest of levels and also be a part of a winning team. We could not have accomplished today's win without the tremendous support of all of our friends and sponsors along the way. This victory takes us one step closer to our ultimate goal of someday racing in the Tour de France."
Wesoly Marek (Merida Europe Team) finished second and Sung Baek Park (Seoul City Cycling Team) was third as Murphy placed sixth to keep the race lead he seized on Stage 2. The pancake-flat stage was completed at an average speed of 28 miles an hour (45.3 kph).

Beamon said without an individual time trial, the Tour de Taiwan has shaped up to be a battle for the sprinters. Up until Thursday's stage, Murphy had held a commanding lead and was beginning to look impenetrable.

"We really wanted to put pressure on Health Net since today and tomorrow were the only semi long stages left," Beamon said. "The roads are flat, but we were hoping for some wind, and we feel we have the endurance to race hard and put pressure on the other teams."
Strong and savvy riding by the Japanese teams of Team Meitan Hompo-GDR, Skill Shimano, and the very fast AISAN Racing Team have kept the action hot, and the Australian Drapac Porsche team has made certain that the southern hemisphere has been well represented. The Polish Merida Europe team has reflected its CCCP roots by coordinating spectacular late race attacks and strong, coordinated lead-outs while their Taiwan-based bike sponsor is sure to be proud of their wins on Stages 2 and 4.

Milne came into Stage 5 in sixth place, 16 seconds behind Murphy. But at the first bonus sprint at mile 32, the Beverly, Mass., resident picked up one second by finishing third. Taiji Nischitani (AISAN Racing Team), who now lies third overall, also closed the gap on Murphy with second place in the sprint.

Twenty miles later, Team Type 1 launched an attack after the second bonus sprint that sprung Valeriy Kobzarenko and Emile Abraham into a 12-man breakaway.

"Health Net and AISAN were forced to chase hard for one-and-a-half laps," Beamon said. "As the break was caught Milne and Erik Hoffman (Giant Asia Racing Team) continued to turn the screws by escaping in a group of five. That break lasted less than a lap, but Health Net was starting to show fatigue, and the race was nearing the finish."
"The finish was a bit of a mess," noted Health Net's sports directeur sportif Mike Tamayo. "Coming to the line, Merida took control early, but they went too early and ran out of gas. Type 1 took over from there and brought it to the line."

The stage was marked by numerous early attacks, Tamayo said. "Kyle Gritters did a great job of covering moves all day."
After that break was brought back by several of the Asian teams, another larger break went, this time with Gritters in it. "We didn't like the make-up of that group because there were a few GC threats in it," Tamayo explained, "so we chased for five or six kilometers and brought it back."
Stage 6

The rolling, 127 km stage was chaotic, according to Health Net's sports directeur sportif Mike Tamayo, due in large part to the rainy, windy conditions affecting the race. But he said things got really interesting in the latter part of the stage.

After a series of breaks – including one of 20 riders that included all the race leaders – came and went, Taiji Nishitani (Asian Racing Team), who came into the day sitting third overall, slipped off the front with another rider who posed a GC threat. As he had for the first main break of the day, Kyle Gritters (Health Net) covered and made the group, which ended up at six riders, including Valeriy Kobzarenko (Team Type 1), who had been in the early break as well.

The break opened a gap of close to a minute. Behind them, a group of seven riders, including overall race and points leader John Murphy of Health Net Presented by Maxxis, his teammate Roman Kilun and yesterday's stage winner and second overall Shawn Milne (Type 1), were giving chase.

The chase group closed to within 30 seconds of the break, with another 30 seconds back to the main bunch. Going through a corner on the wet course, Kilun slipped out on a manhole cover, leaving Murphy alone in the chase group.

"We didn't like the odds with that situation, so we had Murphy sit up and wait for the main bunch," Tamayo explained. Health Net Presented by Maxxis then put Kilun, Kirk O'Bee and Corey Collier on the front to bring things back together.

With Health Net Presented by Maxxis leading the chase, the gap had dropped to about 40 seconds. Then a bit of human-induced chaos ensued. Entering a round-about, the lead car in the race caravan led the break straight when they should have gone left. Four members of the break followed the lead car. Gritters, ever attentive, saw the red arrows marking the course pointing left and chose to follow the arrows. Kobzarenko wisely followed Gritters.

Suddenly, with five kilometers to go, Gritters and Kobzarenko, the former Navigators Insurance standout, found themselves alone on the road racing for the stage win, with the main bunch chasing them. Meanwhile, the four other break members were chasing back to the main bunch after the unintended deviation.

Gritters, who is a former U23 national criterium champion,outsprinted Kobzarenko to earn the stage

Stage 7

Kam Po Wong (Hong Kong Pro Cycling Team) won the mass sprint. Team Type 1 was on the attack during the stage but the race was stopped after a massive bunch crash. When the race was started again Health Net managed to control the race and the Hong Kong rider won the sprint. John Murphy was able to defend his overall lead.

Stage 8

A number of riders were well within striking distance of the race lead coming into Stage 8, a 60 km criterium in central Taipei, including last year's winner, former Health Net Presented by Maxxis teammate Shawn Milne (Team Type 1), who was just nine seconds behind.

Once again, it meant that the team had to be attentive in either keeping Milne out of the points and time bonuses in the intermediate sprints, or putting Murphy in them. The team, in fact, did both.

For the first sprint, with 36 laps remaining, a small group got off the front, taking the first two spots in the sprint, while Milne was able to grab third and a one-second time bonus.

When the first break came back, Kirk O'Bee of Health Net Presented by Maxxis countered and took three others with him. The group opened up a gap that reached 30 seconds, and O'Bee successfully took first in the second intermediate sprint with 24 laps to go.

At that point, the Giant Asia Team went to work on the front to bring back the break to protect their 15-second lead in the team general classification. With the gap down to 10 seconds, O'Bee attacked solo in an effort to stay away and scoop up the top time bonus and points on the final intermediate sprint. But the field swallowed up O'Bee on the sprint lap – with 12 to go. However, Kyle Gritters was there to shepherd Murphy through the final turn, 120 meters from the line, and perfectly set up the race and points leader for the win of the intermediate sprint, with Milne third.

This put last year's winner 10 seconds behind, with a 10-second bonus awaiting the stage winner. A victory by Milne and a finish outside the top three by Murphy would put Milne on the top step by virtue of his stage wins even though they would be tied on time.

In the closing laps, a series of attackers tried to get away, including Roman Kilun of Health Net Presented by Maxxis with four to go, but everything got chased down, setting up a sprint finish.

Kilun and Gritters were set up to take Murphy to the line. "Things got pretty sketchy on the last lap," said Health Net's sports director Mike Tamayo. "Roman hit the deck pretty hard, but Murphy was able to keep it upright. The finish turned into a big swarm."

Merida Europe rider Wesoly Marek took his second stage win of the race, while Murphy finished safely in eighth place, securing both the overall classification by 10 seconds, and the points title by a comfortable 22-point margin.

Race notes

Giant Asia protected its team GC win, but Health Net Presented by Maxxis finished third in the competition, earning yet another trip to the podium. In all, the team's riders appeared on the podium 19 times during the eight-day race, including Gritters' Stage 6 win, and Murphy's daily double of receiving his race and points leaders jersey's for last seven of the race's eight days. Murphy held the points lead from start to finish. In all, Murphy collected eight green jerseys and seven yellow jerseys.

For the second day in a row, representatives of presenting sponsor Maxxis got to witness the double jersey presentation, and celebrate the final overall win with the team.

For complete race results, visit the race website:
http://www.khhtri.org.tw/tourdetaiwan/english/results.htm

For videos of all stages of the race,visit the race website:
http://www.khhtri.org.tw/tourdetaiwan/english/raceupdate.htm
Join our forum and discuss the Tour de Taiwan 2008
Back to: