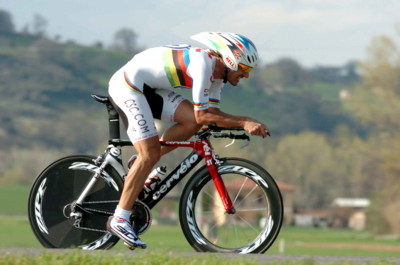 Fabian Cancellara won todays time trial and took over the blue leaders jersey (© Sirotti)
We already published stage winner Fabian Cancellara's post race comments in our race report of stage 5 of the Tirreno – Adriatico.
High Road's Linus Gerdeman broke his thigh bone after he crashed in a curve. Gerdemann will have surgery in a hospital in Innsbruck (Austria). Gerdemann will not be able to ride his bike for at least six weeks, so his Tour de France start is in danger. Gerdemann told German based website radsport-news.com: "After I inspected the course I thought I could take the curve with my steering wheel. I rode about 60 Km/h and just slipped away." At that moment Gerdemann was about to take over the overall lead. Gerdemann said: "If you look at the intermediate times I probebly would have come in second behind Cancellara. That would have been enough to win the overall. And that without a proper preparation."
Robbie McEwen (Silence – Lotto) took a day off yesterday. Of course he did ride but that was about it. McEwen started at Tirreno – Adriatico to test himself at the bunch sprints and collect some racing kilometres for next weekends classic Milano – San Remo.

McEwen takes off his earphones as he finshed the ITT. McEwen told sportwerled.nl: "Sneaky Sound System, in Australia a top band at the moment." McEwen added: "Nice music to do a little ride."

McEwens teammate Maarten Tjallingi said: "Today I was definitly not the slowest rider. That sprinter from Lampre, Napolitano, needed 40 minutes. But at the moment I don't have to be in top form."

"Later, at Flanders and Roubaix I have to be ready. Well and Saturday I will of course help Robbie," Tjallingi said.
Tjallingi came from Skil – Shimano. The 30 year old and McEwen have to get used to each other. "What Maarten can do for me on the way to San Remo?. Actually I have no idea. Its the first time we race together," McEwen said. "Of course I hope that he can keep me out of the wind for 250 kilometres and brings me to the start of the Cipressa as good as possible Although Maarten learnes fast, he will need some time to understand how I ride through the peloton. Sometimes its easier for him to wait at the front, I ride to the front just as easy when I do it alone."

Tjallingi reacts: "I am learning every day from guys who are part of the peloton for twelve, thireteen years."

With its captains Erik Zabel and Alessandro Petacchi, Team Milram is geared towards bunch sprints and so it is hardly surprising that the riders achieved average results in the individual time trial, the fifth stage of the Italian stage race. The sprinters took a day off, just like McEwen did. Milram is also preparing for Saturdays showdown in San Remo.

"We are using this stage race as the most important test for Milan-San Remo, the first major highlight of the season," said Alessandro Petacchi. "Erik Zabel is in great shape. He led me into a perfect position yesterday. In the next two stages, we will try to continue improving our co-operation in the sprints. Then, everything will be possible on the finishing straight in San Remo."
Rabobank is preparing for Milano – San remo as well. Best placed Rabobank rider was new signing Paul Martens. Sports director Erik Breukink could live with it. "The men did really try to make something out of it. But, after losing Joost Posthuma, we no longer had a specialist. You just don't play a role anymore then. It is a shame," judged Breukink, who did express his mood of disappointment on Sunday in regards to Posthuma's absence. "When I saw the track's profile, his abandonment was additionally bitter. This was a beautiful track for time trial riders. I would have liked to see Joost take on world-class riders here." Some extra photos will again be made of Posthuma's shoulder in the Netherlands on Tuesday, after which more can be revealed about his recovery process. The objective for the remaining part of the Tirreno will be to prepare for the first spring classic, Milan-SanRemo, which will be ridden this Saturday. Captain Oscar Freire has already demonstrated that he is in good condition. On Saturday, he showed that the damage he sustained during the crash on Friday is limited. Breukink: "We must try to stay healthy during the upcoming days. Monday might be considered another interesting test. The finale, with five times the same pesky climb, is somewhat similar to the one we will see next week Saturday. Let's see what that is going to bring us."

Lampre's Alessandro Ballan came in 16th, 1' 33" behind stage winner Cancellara. Balllan is 9th overall now. Lampre's sports director Fabrizio Bontempi said: "Ballan was very good in the plane part. This means that his legs were good. Then, he lost some position in the last climb. However, our target was entering in the top ten: we got it."
Join our forum and discuss Tirreno - Adriatico 2008
Picture gallery: Tirreno - Adriatico , Stage 5, March 16, 2008.
Back to:
Special Coverage Tirreno - Adriatico 2008