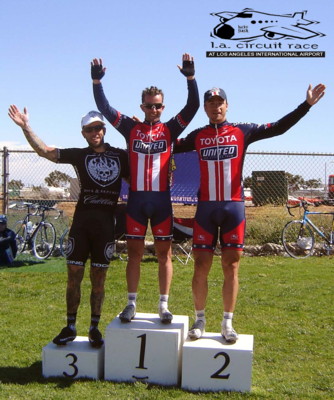 Toyota - United dominated the LA crit. (© Brad House www.backontrackproductions.com)
Toyota-United Pro Cycling Team fielded five riders in Sunday's LA Circuit Race around the Los Angeles International Airport and finished with Hilton Clarke taking 1st and Dominique Rollin taking 2nd. It was a great team effort in the field sprint with all five members assisting Hilton to the victory. Dominique Rollin finished on the wheel of Hilton Clarke for a Toyota-United one-two punch.
Rollin said, "It was a great team effort all day. During the final field sprint we really pulled away on the final 1km and Hilton had a great finish with me on his wheel and no one behind us for 10 meters."
Clarke said "It was cool to have the chance to follow as all our guys took turns with the lead out. The last 1.5 km, I just had to hold on to the wheel of my teammates, which was the hardest thing. First, I had Chepe, then Caleb, followed by Dominguez, then Rollin at the end. All I had to do was to hold on to their sprint for the finish. When Rollin launched his sprint I looked back and there was no one left behind and I just had the legs to pull by and finish just ahead of him." The conditions were fast, on the way out the wind was in the racers faces, but on the way back there was a strong tailwind with the Toyota-United boys reaching speeds of 45mph as they approached the finish line.


At Del Mar Criterium earlier in the week, the race was held in twilight conditions on a short half mile course. It was a very tricky and technical track that did not really allow the riders to reach high speeds. Caleb Manion and Hilton Clarke worked together and lapped the field with one other rider, but it was Hilton Clarke winning the race and teammate Caleb Manion in 3rd.
Next stop for the Toyota - Untited team is the Tour of Redlands in Southern California April 3rd – 6th.
Join our forum and discuss the Toyota - Unted team 2008
Back to: