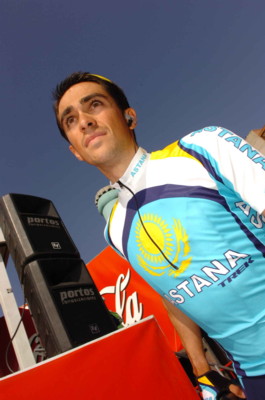 Alberto Contador took the first stage (© Sirotti)
Last year's Tour de France winner, Alberto Contador (Astana), was the quickest rider over rolling terrain. He was four seconds faster than his teammate Levi Leipheimer and thirteen ticks quicker than Rabobank's Thomas Dekker.
The 9.7 kilometres long race against the clock took place under cloudy skies and temperatures around 12C (54F). Early fast times belonged to American rider Jason McCartney (CSC) with 11.54 which was enough for fourth place. Team CSC also had Inigo Cuesta in 14th place and Carlos Sastre just outside the top-15.
"It was a good start for us with some decent results. The route was both technically difficult and also quite hilly for a prologue and of course this gave the type of riders, we have in our line-up for this race, an advantage compared to other prologues," said CSC sports director Dan Frost after the stage.
Thomas Dekker clocked 11.51 which was enough for third place. Dekker's teammate Denis Menchov lost 29 seconds on stage winner Contador.
"Thomas's third place is a small surprise. For him as well," responded Rabobank's sports director Adri van Houwelingen. "Denis Menchov's ninth place is somewhat conform the expectations and his potential at the moment. But, Thomas himself could not really disclose anything about his current shape. Obviously, a third place in this strong field of contesters is a wonderful boost for him."
As defending champion of the race, Contador was last on course and did not disappoint. Riding well within himself and showing that hard work on his time trialing position is beginning to pay off, the race-favorite stormed the course and took the stage win as well as race lead after stage one. Contador clocked a time of 11.39 and Leipheimer came in second, 4 seconds behind his teammate.
Join our forum and discuss the Vuelta a Castilla y Leon 2008
Back to:
Results Vuelta a Castilla y Leon 2008
Stage 1
1 Alberto Contador Velasco (Spa) Astana 11.39 (49.957 km/h)
2 Levi Leipheimer (USA) Astana 0.04
3 Thomas Dekker (Ned) Rabobank 0.13
4 Jason McCartney (USA) Team CSC 0.15
5 Samuel Sanchez Gonzalez (Spa) Euskaltel - Euskadi 0.19
6 Christian Vande Velde (USA) Slipstream Chipotle Presented By H30 0.22
7 Steven Cozza (USA) Slipstream Chipotle Presented By H30 0.25
8 Moises Duenas Nevado (Spa) Barloworld 0.28
9 Denis Menchov (Rus) Rabobank
10 Mauricio Soler (Col) Barloworld
11 Tyler Farrar (USA) Slipstream Chipotle Presented By H30 0.30
12 Andreas Klöden (Ger) Astana
13 Chris Horner (USA) Astana 0.32
14 Iñigo Cuesta Lopez De Castro (Spa) Team CSC 0.34
15 Daniel Navarro Garcia (Spa) Astana 0.35
16 Ruben Plaza (Spa) Benfica
17 Huub Duyn (Ned) Slipstream Chipotle Presented By H30 0.36
18 Marlon Alirio Perez Arango (Col) Caisse d'Epargne 0.38
19 Koos Moerenhout (Ned) Rabobank
20 Francisco Perez Sanchez (Spa) Caisse d'Epargne 0.39
21 Carlos Sastre Candil (Spa) Team CSC
22 Ezequiel Mosquera Miguez (Spa) Karpin Galicia 0.41
23 Gonzalo Rabunal Rios (Spa) Karpin Galicia
24 Juan Jose Cobo Acebo (Spa) Saunier Duval - Scott
25 Mauricio Alberto Ardila Cano (Col) Rabobank
26 Arnaud Coyot (Fra) Caisse d'Epargne 0.42
27 David Cañada Garcia (Spa) Saunier Duval - Scott
28 Inaki Isasi Flores (Spa) Euskaltel - Euskadi 0.43
29 Jason Donald (USA) Slipstream Chipotle Presented By H30
30 Dionisio Galparsoro Martinez (Spa) Euskaltel - Euskadi 0.44
31 Benjamin Noval Gonzalez (Spa) Astana
32 Francisco José Ventoso Alberdi (Spa) Andalucía - Cajasur 0.45
33 Karsten Kroon (Ned) Team CSC 0.46
34 Bauke Mollema (Ned) Rabobank 0.47
35 Jose Ruiz Sanchez (Spa) Andalucía - Cajasur
36 Jaume Rovira Pous (Spa) Extremadura-Gruppo Gallardo
37 Bram De Groot (Ned) Rabobank 0.48
38 Jonathan Patrick Mc Carty (USA) Slipstream Chipotle Presented By H30
39 John-Lee Augustyn (RSA) Barloworld 0.49
40 Eloy Teruel Rovira (Spa) Contentpolis - Murcia
41 Jose Antonio Redondo (Spa) Andalucía - Cajasur 0.53
42 Xabier Zandio Echaide (Spa) Caisse d'Epargne
43 Sergio Miguel Moreira Paulinho (Por) Astana 0.54
44 Iker Camaño (Spa) Saunier Duval - Scott
45 Francesco Bellotti (Ita) Barloworld
46 Félix Rafael Cardenas Ravalo (Col) Barloworld 0.55
47 José Vicente Garcia Acosta (Spa) Caisse d'Epargne 0.56
48 Jose Vicente Toribio (Spa) Burgos Monumental
49 Ivan Melero Coco (Spa) Orbea - Oreka S.D.A 0.57
50 Oleg Chuzhda (Ukr) Contentpolis - Murcia
51 José Rujano Guillen (Ven) Caisse d'Epargne
52 José Luis Rubiera Vigil (Spa) Astana
53 Jonathan Castroviejo (Spa) Orbea - Oreka S.D.A
54 Christian Pfannberger (Aut) Barloworld
55 Daniel Martin (Irl) Slipstream Chipotle Presented By H30 0.58
56 Danail Andonov (Bul) Benfica
57 Aitor Perez Arrieta (Spa) Extremadura-Gruppo Gallardo 0.59
58 Sergio Pardilla Bellon (Spa) Burgos Monumental 1.00
59 David Martin Velasco (Spa) Orbea - Oreka S.D.A 1.01
60 Markel Irizar Aranburu (Spa) Euskaltel - Euskadi
61 Daniel Sesma (Spa) Orbea - Oreka S.D.A
62 José Luis Carrasco Gamiz (Spa) Andalucía - Cajasur 1.02
63 Volodymir Gustov (Ukr) Team CSC
64 Rui Da Costa (Por) Benfica
65 Dmitry Kozontchuk (Rus) Rabobank
66 David De La Fuente Rasilla (Spa) Saunier Duval - Scott 1.03
67 Rafael Serrano Fernandez (Spa) Contentpolis - Murcia
68 Roberto Traficante (Ita) Serramenti PVC Diquigiovanni-Androni Giocattoli 1.06
69 Alberto Fernandez (Spa) Saunier Duval - Scott
70 Koldo Fernandez (Spa) Euskaltel - Euskadi
71 Iban Mayoz (Spa) Karpin Galicia
72 Ramon Troncoso Sobrino (Spa) Karpin Galicia 1.07
73 Jan Boven (Ned) Rabobank 1.08
74 Joan Horrach Rippoll (Spa) Caisse d'Epargne
75 Chris Anker Sørensen (Den) Team CSC
76 Rigoberto Uran (Col) Caisse d'Epargne
77 Juan José Haedo (Arg) Team CSC 1.09
78 Luis Roberto Alvarez Martin (Spa) Burgos Monumental 1.10
79 Manuel Ortega Ocana (Spa) Andalucía - Cajasur
80 Eduard Vorganov (Rus) Karpin Galicia
81 José Azevedo (Por) Benfica
82 Mikel Nieve (Spa) Orbea - Oreka S.D.A
83 Eladio Sanchez (Spa) Orbea - Oreka S.D.A 1.11
84 Giampaolo Cheula (Ita) Barloworld 1.12
85 Julian Sanchez Pimienta (Spa) Contentpolis - Murcia
86 Martin Mata Cabello (Spa) Burgos Monumental
87 Amets Txurruka (Spa) Euskaltel - Euskadi
88 Héctor González (Spa) Saunier Duval - Scott
89 Jesus Rosendo Prado (Spa) Andalucía - Cajasur 1.13
90 Jurgen Van Goolen (Bel) Team CSC 1.14
91 Edgar Pinto (Por) Benfica 1.15
92 José Mendes (Por) Benfica
93 Mikel Pradera Rodriguez (Spa) Benfica
94 Nazareno Rossi (Ita) Serramenti PVC Diquigiovanni-Androni Giocattoli 1.16
95 Enrique Salgueiro (Spa) Extremadura-Gruppo Gallardo 1.17
96 Danielli Nardello (Ita) Serramenti PVC Diquigiovanni-Androni Giocattoli 1.18
97 Javier Moreno Bazan (Spa) Andalucía - Cajasur
98 Gustavo Dominguez Lemos (Spa) Karpin Galicia
99 Andoni Lafuente (Spa) Euskaltel - Euskadi 1.22
100 Ruben Lobato Elvira (Spa) Saunier Duval - Scott
101 Aitor Olano (Spa) Orbea - Oreka S.D.A 1.23
102 Leonardo Moser (Ita) Serramenti PVC Diquigiovanni-Androni Giocattoli 1.24
103 Juan Francisco Mouron Doldan (Spa) Karpin Galicia
104 Israel Perez Rodriguez (Spa) Extremadura-Gruppo Gallardo 1.25
105 Javier Mejías Leal (Spa) Saunier Duval - Scott
106 Yon Bru Pascal (Spa) Euskaltel - Euskadi 1.26
107 Josu Mondelo (Spa) Extremadura-Gruppo Gallardo 1.27
108 Eriz Ruiz d'Erentxun (Spa) Orbea - Oreka S.D.A
109 Danilo Hondo (Ger) Serramenti PVC Diquigiovanni-Androni Giocattoli 1.33
110 Joaquin Sobrino Martinez (Spa) Burgos Monumental 1.38
111 Alberto Fernandez (Spa) Karpin Galicia 1.39
112 Alberto Rodriguez Oliver (Spa) Contentpolis - Murcia
113 José Antonio Lopez Gil (Spa) Andalucía - Cajasur
114 Oscar Pujol (Spa) Burgos Monumental 1.40
115 Hugo Sancho (Por) Benfica 1.41
116 Jesus Ramirez Torres (Spa) Extremadura-Gruppo Gallardo 1.45
117 Marco Corti (Ita) Barloworld 1.46
118 Ruben Reig Conejero (Spa) Contentpolis - Murcia 1.47
119 Diego Gallego Arnaiz (Spa) Burgos Monumental
120 Rafael Rodriguez (Spa) Contentpolis - Murcia 1.50
121 Ignacio Sarabia Diaz (Mex) Extremadura-Gruppo Gallardo 2.00
122 Xabat Otxotorena (Spa) Extremadura-Gruppo Gallardo 2.02
123 Manuel Belletti (Ita) Serramenti PVC Diquigiovanni-Androni Giocattoli 2.04
124 Pedro Gutierrez Alvarez (Spa) Burgos Monumental 2.08
125 Roberto Cobo Gonzalez (Spa) Serramenti PVC Diquigiovanni-Androni Giocattoli 2.09
126 Jorge Sanchez Pimienta (Spa) Contentpolis - Murcia 2.18
127 Denis Bertolini (Ita) Serramenti PVC Diquigiovanni-Androni Giocattoli 2.43
General Classification after stage 1
1 Alberto Contador Velasco (Spa) Astana 11.39
2 Levi Leipheimer (USA) Astana 0.04
3 Thomas Dekker (Ned) Rabobank 0.13
4 Jason McCartney (USA) Team CSC 0.15
5 Samuel Sanchez Gonzalez (Spa) Euskaltel - Euskadi 0.19
6 Christian Vande Velde (USA) Slipstream Chipotle Presented By H30 0.22
7 Steven Cozza (USA) Slipstream Chipotle Presented By H30 0.25
8 Moises Duenas Nevado (Spa) Barloworld 0.28
9 Denis Menchov (Rus) Rabobank
10 Mauricio Soler (Col) Barloworld
11 Tyler Farrar (USA) Slipstream Chipotle Presented By H30 0.30
12 Andreas Klöden (Ger) Astana
13 Chris Horner (USA) Astana 0.32
14 Iñigo Cuesta Lopez De Castro (Spa) Team CSC 0.34
15 Daniel Navarro Garcia (Spa) Astana 0.35
16 Ruben Plaza (Spa) Benfica
17 Huub Duyn (Ned) Slipstream Chipotle Presented By H30 0.36
18 Marlon Alirio Perez Arango (Col) Caisse d'Epargne 0.38
19 Koos Moerenhout (Ned) Rabobank
20 Francisco Perez Sanchez (Spa) Caisse d'Epargne 0.39
21 Carlos Sastre Candil (Spa) Team CSC
22 Ezequiel Mosquera Miguez (Spa) Karpin Galicia 0.41
23 Gonzalo Rabunal Rios (Spa) Karpin Galicia
24 Juan Jose Cobo Acebo (Spa) Saunier Duval - Scott
25 Mauricio Alberto Ardila Cano (Col) Rabobank
26 Arnaud Coyot (Fra) Caisse d'Epargne 0.42
27 David Cañada Garcia (Spa) Saunier Duval - Scott
28 Inaki Isasi Flores (Spa) Euskaltel - Euskadi 0.43
29 Jason Donald (USA) Slipstream Chipotle Presented By H30
30 Dionisio Galparsoro Martinez (Spa) Euskaltel - Euskadi 0.44
31 Benjamin Noval Gonzalez (Spa) Astana
32 Francisco José Ventoso Alberdi (Spa) Andalucía - Cajasur 0.45
33 Karsten Kroon (Ned) Team CSC 0.46
34 Bauke Mollema (Ned) Rabobank 0.47
35 Jose Ruiz Sanchez (Spa) Andalucía - Cajasur
36 Jaume Rovira Pous (Spa) Extremadura-Gruppo Gallardo
37 Bram De Groot (Ned) Rabobank 0.48
38 Jonathan Patrick Mc Carty (USA) Slipstream Chipotle Presented By H30
39 John-Lee Augustyn (RSA) Barloworld 0.49
40 Eloy Teruel Rovira (Spa) Contentpolis - Murcia
41 Jose Antonio Redondo (Spa) Andalucía - Cajasur 0.53
42 Xabier Zandio Echaide (Spa) Caisse d'Epargne
43 Sergio Miguel Moreira Paulinho (Por) Astana 0.54
44 Iker Camaño (Spa) Saunier Duval - Scott
45 Francesco Bellotti (Ita) Barloworld
46 Félix Rafael Cardenas Ravalo (Col) Barloworld 0.55
47 José Vicente Garcia Acosta (Spa) Caisse d'Epargne 0.56
48 Jose Vicente Toribio (Spa) Burgos Monumental
49 Ivan Melero Coco (Spa) Orbea - Oreka S.D.A 0.57
50 Oleg Chuzhda (Ukr) Contentpolis - Murcia
51 José Rujano Guillen (Ven) Caisse d'Epargne
52 José Luis Rubiera Vigil (Spa) Astana
53 Jonathan Castroviejo (Spa) Orbea - Oreka S.D.A
54 Christian Pfannberger (Aut) Barloworld
55 Daniel Martin (Irl) Slipstream Chipotle Presented By H30 0.58
56 Danail Andonov (Bul) Benfica
57 Aitor Perez Arrieta (Spa) Extremadura-Gruppo Gallardo 0.59
58 Sergio Pardilla Bellon (Spa) Burgos Monumental 1.00
59 David Martin Velasco (Spa) Orbea - Oreka S.D.A 1.01
60 Markel Irizar Aranburu (Spa) Euskaltel - Euskadi
61 Daniel Sesma (Spa) Orbea - Oreka S.D.A
62 José Luis Carrasco Gamiz (Spa) Andalucía - Cajasur 1.02
63 Volodymir Gustov (Ukr) Team CSC
64 Rui Da Costa (Por) Benfica
65 Dmitry Kozontchuk (Rus) Rabobank
66 David De La Fuente Rasilla (Spa) Saunier Duval - Scott 1.03
67 Rafael Serrano Fernandez (Spa) Contentpolis - Murcia
68 Roberto Traficante (Ita) Serramenti PVC Diquigiovanni-Androni Giocattoli 1.06
69 Alberto Fernandez (Spa) Saunier Duval - Scott
70 Koldo Fernandez (Spa) Euskaltel - Euskadi
71 Iban Mayoz (Spa) Karpin Galicia
72 Ramon Troncoso Sobrino (Spa) Karpin Galicia 1.07
73 Jan Boven (Ned) Rabobank 1.08
74 Joan Horrach Rippoll (Spa) Caisse d'Epargne
75 Chris Anker Sørensen (Den) Team CSC
76 Rigoberto Uran (Col) Caisse d'Epargne
77 Juan José Haedo (Arg) Team CSC 1.09
78 Luis Roberto Alvarez Martin (Spa) Burgos Monumental 1.10
79 Manuel Ortega Ocana (Spa) Andalucía - Cajasur
80 Eduard Vorganov (Rus) Karpin Galicia
81 José Azevedo (Por) Benfica
82 Mikel Nieve (Spa) Orbea - Oreka S.D.A
83 Eladio Sanchez (Spa) Orbea - Oreka S.D.A 1.11
84 Giampaolo Cheula (Ita) Barloworld 1.12
85 Julian Sanchez Pimienta (Spa) Contentpolis - Murcia
86 Martin Mata Cabello (Spa) Burgos Monumental
87 Amets Txurruka (Spa) Euskaltel - Euskadi
88 Héctor González (Spa) Saunier Duval - Scott
89 Jesus Rosendo Prado (Spa) Andalucía - Cajasur 1.13
90 Jurgen Van Goolen (Bel) Team CSC 1.14
91 Edgar Pinto (Por) Benfica 1.15
92 José Mendes (Por) Benfica
93 Mikel Pradera Rodriguez (Spa) Benfica
94 Nazareno Rossi (Ita) Serramenti PVC Diquigiovanni-Androni Giocattoli 1.16
95 Enrique Salgueiro (Spa) Extremadura-Gruppo Gallardo 1.17
96 Danielli Nardello (Ita) Serramenti PVC Diquigiovanni-Androni Giocattoli 1.18
97 Javier Moreno Bazan (Spa) Andalucía - Cajasur
98 Gustavo Dominguez Lemos (Spa) Karpin Galicia
99 Andoni Lafuente (Spa) Euskaltel - Euskadi 1.22
100 Ruben Lobato Elvira (Spa) Saunier Duval - Scott
101 Aitor Olano (Spa) Orbea - Oreka S.D.A 1.23
102 Leonardo Moser (Ita) Serramenti PVC Diquigiovanni-Androni Giocattoli 1.24
103 Juan Francisco Mouron Doldan (Spa) Karpin Galicia
104 Israel Perez Rodriguez (Spa) Extremadura-Gruppo Gallardo 1.25
105 Javier Mejías Leal (Spa) Saunier Duval - Scott
106 Yon Bru Pascal (Spa) Euskaltel - Euskadi 1.26
107 Josu Mondelo (Spa) Extremadura-Gruppo Gallardo 1.27
108 Eriz Ruiz d'Erentxun (Spa) Orbea - Oreka S.D.A
109 Danilo Hondo (Ger) Serramenti PVC Diquigiovanni-Androni Giocattoli 1.33
110 Joaquin Sobrino Martinez (Spa) Burgos Monumental 1.38
111 Alberto Fernandez (Spa) Karpin Galicia 1.39
112 Alberto Rodriguez Oliver (Spa) Contentpolis - Murcia
113 José Antonio Lopez Gil (Spa) Andalucía - Cajasur
114 Oscar Pujol (Spa) Burgos Monumental 1.40
115 Hugo Sancho (Por) Benfica 1.41
116 Jesus Ramirez Torres (Spa) Extremadura-Gruppo Gallardo 1.45
117 Marco Corti (Ita) Barloworld 1.46
118 Ruben Reig Conejero (Spa) Contentpolis - Murcia 1.47
119 Diego Gallego Arnaiz (Spa) Burgos Monumental
120 Rafael Rodriguez (Spa) Contentpolis - Murcia 1.50
121 Ignacio Sarabia Diaz (Mex) Extremadura-Gruppo Gallardo 2.00
122 Xabat Otxotorena (Spa) Extremadura-Gruppo Gallardo 2.02
123 Manuel Belletti (Ita) Serramenti PVC Diquigiovanni-Androni Giocattoli 2.04
124 Pedro Gutierrez Alvarez (Spa) Burgos Monumental 2.08
125 Roberto Cobo Gonzalez (Spa) Serramenti PVC Diquigiovanni-Androni Giocattoli 2.09
126 Jorge Sanchez Pimienta (Spa) Contentpolis - Murcia 2.18
127 Denis Bertolini (Ita) Serramenti PVC Diquigiovanni-Androni Giocattoli 2.43
Get news and updates of our live coverage calender and the latest information about our new project
www.peloton.tv
. Subscribe to our newsletter: