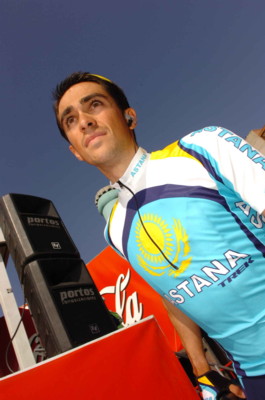 Alberto Contador defended his overall title (© Sirotti)
Stage 5
Astana's Alberto Contador won this years Vuelta a Castilla y Leon today after a strong performannce of his team. The final stage wasn't a 'Tour de Honneur'. Levi Leipheimer broke off with 4 other riders, among them Samuel Sanchez (Euskatel – Euskadi) and Xavier Zandio (Caisse d'Epargne) who attacked again out of this group.
Both riders were caught by the chasing bunch, led by Astana and Saunier Duval. After the mountains in the early part of the stage, the course was mainly flat and the two escapees were caught again. But a wave of attacks forced Astana to organise another chase. Rabobank's Koos Moerenhout and CSC's Chris Sörensen broke off but were caught again.
Koldo Gil Fernandez (Euskatel – Euskadi) opened the mass sprint and won the chase. Thomas Dekker showed he can sprint as well, the young gun came in second. Alberto Contador came in with the bunch and defended his overall title.
Stage 4

The stage and its finale unfolded conform the expectations. Alberto Contador (Astana) was the biggest favorite for the stage victory and the Spanish winner of last year's Tour completely lived up to the expectations. He rode away from an elite group, which included Thomas Dekker, Denis Menchov, Bauke Mollema and Mauricio Ardila (all Rabobank) ), Mauricio Soler (Barloworld) and others with three kilometres to go. No one was able to follow Contador. A bit later, Soler, the mountain king of the 2007 Tour de France, tried to reach the overall leader, but he could not come closer than ten seconds. The chasing group quickly thinned out behind Soler. Dekker, Menchov and Sergio Pardilla were able to protect their position. Menchov then picked up the tempo for teammate Thomas Dekker.

"Denis [Menchov, editor] could have stayed with Contador; that is how well he was riding," explained Thomas Dekker to his sports director Adri van Houwelingen. Nevertheless, the Russian rider decided to continue his support of Dekker in his quest for a good classification. Adri van Houwelingen told rabobank.nl: "At least, Denis was the best rider of our team today, and perhaps even the best rider of the stage. Thomas has had to say 'stop' multiple times during the final kilometer. But, Thomas is also making a good impression. The tests of both men has been more than satisfactory."
Join our forum and discuss the Vuelta a Castilla y Leon 2008
Back to:
Results Vuelta a Castilla y Leon 2008
Stage 4
1 Alberto Contador Velasco (Spa) Astana 3.54.17 (41,181 km/h)
2 Mauricio Soler (Col) Barloworld 0.11
3 Thomas Dekker (Ned) Rabobank 0.33
4 Sergio Pardilla Bellon (Spa) Burgos Monumental
5 Denis Menchov (Rus) Rabobank
6 Bauke Mollema (Ned) Rabobank 0.43
7 Chris Anker Sørensen (Den) Team CSC 0.49
8 David De La Fuente Rasilla (Spa) Saunier Duval - Scott 0.59
9 Danail Andonov (Bul) Benfica 1.03
10 José Rujano Guillen (Ven) Caisse d'Epargne 1.05
11 Levi Leipheimer (USA) Astana
12 Julian Sanchez Pimienta (Spa) Contentpolis - Murcia 1.09
13 Alberto Rodriguez Oliver (Spa) Contentpolis - Murcia 1.12
14 Moises Duenas Nevado (Spa) Barloworld
15 Ezequiel Mosquera Miguez (Spa) Karpin Galicia 1.14
16 Ruben Lobato Elvira (Spa) Saunier Duval - Scott
17 Leonardo Moser (Ita) Serramenti PVC Diquigiovanni-Androni Giocattoli 1.29
18 Christian Vande Velde (USA) Slipstream Chipotle Presented By H30 1.33
19 José Azevedo (Por) Benfica
20 Francisco Perez Sanchez (Spa) Caisse d'Epargne
21 Jaume Rovira Pous (Spa) Extremadura-Gruppo Gallardo
22 Jose Antonio Redondo (Spa) Andalucía - Cajasur 1.36
23 Mikel Nieve (Spa) Orbea - Oreka S.D.A 1.38
24 José Mendes (Por) Benfica 1.44
25 José Luis Carrasco Gamiz (Spa) Andalucía - Cajasur 1.46
26 Francesco Bellotti (Ita) Barloworld 1.56
27 Amets Txurruka (Spa) Euskaltel - Euskadi
28 Alberto Fernandez (Spa) Saunier Duval - Scott
29 Mauricio Alberto Ardila Cano (Col) Rabobank
30 Koos Moerenhout (Ned) Rabobank
31 Daniel Martin (Irl) Slipstream Chipotle Presented By H30 2.02
32 Jose Ruiz Sanchez (Spa) Andalucía - Cajasur 2.10
33 Javier Moreno Bazan (Spa) Andalucía - Cajasur
34 John-Lee Augustyn (RSA) Barloworld 2.13
35 Volodymir Gustov (Ukr) Team CSC
36 Carlos Sastre Candil (Spa) Team CSC
37 Iban Mayoz (Spa) Karpin Galicia 2.21
38 Jonathan Patrick Mc Carty (USA) Slipstream Chipotle Presented By H30 2.30
39 Danielli Nardello (Ita) Serramenti PVC Diquigiovanni-Androni Giocattoli 2.33
40 Inaki Isasi Flores (Spa) Euskaltel - Euskadi
41 Luis Roberto Alvarez Martin (Spa) Burgos Monumental
42 Roberto Traficante (Ita) Serramenti PVC Diquigiovanni-Androni Giocattoli
43 Iker Camaño (Spa) Saunier Duval - Scott
44 Eduard Vorganov (Rus) Karpin Galicia
45 Edgar Pinto (Por) Benfica 2.41
46 Aitor Perez Arrieta (Spa) Extremadura-Gruppo Gallardo 3.34
47 Xabier Zandio Echaide (Spa) Caisse d'Epargne
48 Jesus Rosendo Prado (Spa) Andalucía - Cajasur 3.42
49 Jonathan Castroviejo (Spa) Orbea - Oreka S.D.A 3.43
50 Pedro Gutierrez Alvarez (Spa) Burgos Monumental
51 Steven Cozza (USA) Slipstream Chipotle Presented By H30 3.53
52 Gonzalo Rabunal Rios (Spa) Karpin Galicia 3.55
53 Daniel Sesma (Spa) Orbea - Oreka S.D.A
54 Huub Duyn (Ned) Slipstream Chipotle Presented By H30
55 Yon Bru Pascal (Spa) Euskaltel - Euskadi 4.01
56 David Cañada Garcia (Spa) Saunier Duval - Scott 4.09
57 Manuel Ortega Ocana (Spa) Andalucía - Cajasur
58 Jason Donald (USA) Slipstream Chipotle Presented By H30 4.28
59 Joan Horrach Rippoll (Spa) Caisse d'Epargne
60 Marlon Alirio Perez Arango (Col) Caisse d'Epargne
61 Gustavo Dominguez Lemos (Spa) Karpin Galicia
62 Rafael Serrano Fernandez (Spa) Contentpolis - Murcia
63 Eloy Teruel Rovira (Spa) Contentpolis - Murcia
64 Oleg Chuzhda (Ukr) Contentpolis - Murcia
65 Aitor Olano (Spa) Orbea - Oreka S.D.A
66 Mikel Pradera Rodriguez (Spa) Benfica 4.34
67 Rui Da Costa (Por) Benfica 4.37
68 Markel Irizar Aranburu (Spa) Euskaltel - Euskadi
69 Samuel Sanchez Gonzalez (Spa) Euskaltel - Euskadi
70 Ruben Plaza (Spa) Benfica 4.38
71 Juan Francisco Mouron Doldan (Spa) Karpin Galicia 4.51
72 Diego Gallego Arnaiz (Spa) Burgos Monumental 5.15
73 Marco Corti (Ita) Barloworld 5.27
74 Nazareno Rossi (Ita) Serramenti PVC Diquigiovanni-Androni Giocattoli 5.29
75 Dmitry Kozontchuk (Rus) Rabobank 5.33
76 Rafael Rodriguez (Spa) Contentpolis - Murcia 5.55
77 Javier Mejías Leal (Spa) Saunier Duval - Scott 6.02
78 Daniel Navarro Garcia (Spa) Astana 6.07
79 Chris Horner (USA) Astana
80 Arnaud Coyot (Fra) Caisse d'Epargne 6.08
81 Alberto Fernandez (Spa) Karpin Galicia 7.01
82 Oscar Pujol (Spa) Burgos Monumental 7.05
83 Francisco José Ventoso Alberdi (Spa) Andalucía - Cajasur 7.11
84 Giampaolo Cheula (Ita) Barloworld
85 Dionisio Galparsoro Martinez (Spa) Euskaltel - Euskadi 7.21
86 Koldo Fernandez (Spa) Euskaltel - Euskadi
87 Josu Mondelo (Spa) Extremadura-Gruppo Gallardo
88 Israel Perez Rodriguez (Spa) Extremadura-Gruppo Gallardo
89 Ruben Reig Conejero (Spa) Contentpolis - Murcia
90 Hugo Sancho (Por) Benfica
91 Félix Rafael Cardenas Ravalo (Col) Barloworld
92 Jurgen Van Goolen (Bel) Team CSC
93 Christian Pfannberger (Aut) Barloworld
94 Jesus Ramirez Torres (Spa) Extremadura-Gruppo Gallardo
95 Jose Vicente Toribio (Spa) Burgos Monumental
96 Jan Boven (Ned) Rabobank
97 Bram De Groot (Ned) Rabobank
98 Ivan Melero Coco (Spa) Orbea - Oreka S.D.A
99 Eladio Sanchez (Spa) Orbea - Oreka S.D.A
100 Manuel Belletti (Ita) Serramenti PVC Diquigiovanni-Androni Giocattoli 7.41
101 David Martin Velasco (Spa) Orbea - Oreka S.D.A 7.49
102 Eriz Ruiz d'Erentxun (Spa) Orbea - Oreka S.D.A
103 Héctor González (Spa) Saunier Duval - Scott
104 Rigoberto Uran (Col) Caisse d'Epargne
105 Enrique Salgueiro (Spa) Extremadura-Gruppo Gallardo 8.02
106 Jorge Sanchez Pimienta (Spa) Contentpolis - Murcia 8.13
107 Ramon Troncoso Sobrino (Spa) Karpin Galicia 9.03
108 Danilo Hondo (Ger) Serramenti PVC Diquigiovanni-Androni Giocattoli 10.05
109 Denis Bertolini (Ita) Serramenti PVC Diquigiovanni-Androni Giocattoli
110 Tyler Farrar (USA) Slipstream Chipotle Presented By H30 10.30
111 Karsten Kroon (Ned) Team CSC 11.07
112 José Vicente Garcia Acosta (Spa) Caisse d'Epargne 11.53
113 Juan Jose Cobo Acebo (Spa) Saunier Duval - Scott 12.07
114 Roberto Cobo Gonzalez (Spa) Serramenti PVC Diquigiovanni-Androni Giocattoli
115 Ignacio Sarabia Diaz (Mex) Extremadura-Gruppo Gallardo 12.37
116 Xabat Otxotorena (Spa) Extremadura-Gruppo Gallardo
117 Joaquin Sobrino Martinez (Spa) Burgos Monumental
118 José Antonio Lopez Gil (Spa) Andalucía - Cajasur
119 José Luis Rubiera Vigil (Spa) Astana 12.50
120 Benjamin Noval Gonzalez (Spa) Astana
121 Sergio Miguel Moreira Paulinho (Por) Astana
Stage 5
1 Koldo Gil Fernandez (Spa) Euskaltel - Euskadi 3.58.28 (39.754 km/h)
2 Thomas Dekker (Ned) Rabobank
3 Francisco José Ventoso Alberdi (Spa) Andalucía - Cajasur
4 Danail Andonov (Bul) Benfica
5 Moises Duenas Nevado (Spa) Barloworld
6 Aitor Perez Arrieta (Spa) Extremadura-Gruppo Gallardo
7 David De La Fuente Rasilla (Spa) Saunier Duval - Scott
8 Iban Mayoz (Spa) Karpin Galicia
9 Christian Vande Velde (USA) Slipstream Chipotle Presented By H30
10 Denis Menchov (Rus) Rabobank
11 Levi Leipheimer (USA) Astana
12 Mauricio Soler (Col) Barloworld
13 Julian Sanchez Pimienta (Spa) Contentpolis - Murcia
14 Leonardo Moser (Ita) Serramenti PVC Diquigiovanni-Androni Giocattoli
15 Ezequiel Mosquera Miguez (Spa) Karpin Galicia
16 Inaki Isasi Flores (Spa) Euskaltel - Euskadi
17 Danielli Nardello (Ita) Serramenti PVC Diquigiovanni-Androni Giocattoli
18 Eduard Vorganov (Rus) Karpin Galicia
19 Steven Cozza (USA) Slipstream Chipotle Presented By H30
20 Alberto Contador Velasco (Spa) Astana
21 Mauricio Alberto Ardila Cano (Col) Rabobank
22 Daniel Martin (Irl) Slipstream Chipotle Presented By H30
23 Bauke Mollema (Ned) Rabobank
24 José Luis Carrasco Gamiz (Spa) Andalucía - Cajasur
25 Mikel Nieve (Spa) Orbea - Oreka S.D.A
26 Sergio Pardilla Bellon (Spa) Burgos Monumental
27 Daniel Navarro Garcia (Spa) Astana
28 Rui Da Costa (Por) Benfica
29 David Cañada Garcia (Spa) Saunier Duval - Scott
30 José Azevedo (Spa) Benfica
31 Chris Anker Sørensen (Den) Team CSC
32 Ruben Lobato Elvira (Spa) Saunier Duval - Scott
33 Francisco Perez Sanchez (Spa) Caisse d'Epargne
34 Enrique Salgueiro (Spa) Extremadura-Gruppo Gallardo
35 Bram De Groot (Ned) Rabobank
36 Iker Camaño (Spa) Saunier Duval - Scott
37 Francesco Bellotti (Ita) Barloworld
38 Volodymir Gustov (Ukr) Team CSC
39 Luis Roberto Alvarez Martin (Spa) Burgos Monumental
40 Amets Txurruka (Spa) Euskaltel - Euskadi
41 Ivan Melero Coco (Spa) Orbea - Oreka S.D.A
42 Chris Horner (USA) Astana
43 Jose Ruiz Sanchez (Spa) Andalucía - Cajasur
44 Jaume Rovira Pous (Spa) Extremadura-Gruppo Gallardo
45 Koos Moerenhout (Ned) Rabobank
46 José Rujano Guillen (Ven) Caisse d'Epargne
47 John-Lee Augustyn (RSA) Barloworld
48 Jose Antonio Redondo (Spa) Andalucía - Cajasur
49 Manuel Ortega Ocana (Spa) Andalucía - Cajasur
50 Rafael Serrano Fernandez (Spa) Contentpolis - Murcia
51 Alberto Rodriguez Oliver (Spa) Contentpolis - Murcia
52 Xabier Zandio Echaide (Spa) Caisse d'Epargne
53 Alberto Fernandez (Spa) Saunier Duval - Scott
54 Carlos Sastre Candil (Spa) Team CSC
55 Joan Horrach Rippoll (Spa) Caisse d'Epargne
56 Héctor González (Spa) Saunier Duval - Scott 0.25
57 Javier Moreno Bazan (Spa) Andalucía - Cajasur
58 Jesus Ramirez Torres (Spa) Extremadura-Gruppo Gallardo 0.27
59 José Vicente Garcia Acosta (Spa) Caisse d'Epargne
60 Edgar Pinto (Por) Benfica
61 Christian Pfannberger (Aut) Barloworld
62 José Luis Rubiera Vigil (Spa) Astana 1.03
63 Sergio Miguel Moreira Paulinho (Por) Astana
64 Roberto Traficante (Ita) Serramenti PVC Diquigiovanni-Androni Giocattoli 2.55
65 Danilo Hondo (Ita) Serramenti PVC Diquigiovanni-Androni Giocattoli
66 Nazareno Rossi (Ita) Serramenti PVC Diquigiovanni-Androni Giocattoli
67 Oleg Chuzhda (Ukr) Contentpolis - Murcia
68 Arnaud Coyot (Fra) Caisse d'Epargne
69 Jesus Rosendo Prado (Spa) Andalucía - Cajasur
70 Markel Irizar Aranburu (Spa) Euskaltel - Euskadi
71 Eladio Sanchez (Spa) Orbea - Oreka S.D.A
72 José Mendes (Por) Benfica
73 Gustavo Dominguez Lemos (Spa) Karpin Galicia
74 Xabat Otxotorena (Spa) Extremadura-Gruppo Gallardo
75 Daniel Sesma (Spa) Orbea - Oreka S.D.A
76 Pedro Gutierrez Alvarez (Spa) Burgos Monumental
77 Eriz Ruiz d'Erentxun (Spa) Orbea - Oreka S.D.A
78 Gonzalo Rabunal Rios (Spa) Karpin Galicia
79 Juan Francisco Mouron Doldan (Spa) Karpin Galicia
80 Jonathan Castroviejo (Spa) Orbea - Oreka S.D.A
81 Josu Mondelo (Spa) Extremadura-Gruppo Gallardo
82 Huub Duyn (Ned) Slipstream Chipotle Presented By H30
83 Tyler Farrar (USA) Slipstream Chipotle Presented By H30
84 Jan Boven (Ned) Rabobank
85 Dionisio Galparsoro Martinez (Spa) Euskaltel - Euskadi
86 Mikel Pradera Rodriguez (Spa) Benfica
87 Ramon Troncoso Sobrino (Spa) Karpin Galicia
88 Dmitry Kozontchuk (Rus) Rabobank
89 Ruben Plaza (Spa) Benfica 3.02
90 Jason Donald (USA) Slipstream Chipotle Presented By H30
91 Jonathan Patrick Mc Carty (USA) Slipstream Chipotle Presented By H30
92 Giampaolo Cheula (Ita) Barloworld 3.05
93 Alberto Fernandez (Spa) Karpin Galicia 4.57
94 Marlon Alirio Perez Arango (Col) Caisse d'Epargne 6.41
95 Denis Bertolini (Ita) Serramenti PVC Diquigiovanni-Androni Giocattoli 6.53
96 Manuel Belletti (Ita) Serramenti PVC Diquigiovanni-Androni Giocattoli
97 Jurgen Van Goolen (Bel) Team CSC
98 Hugo Sancho (Por) Benfica 6.55
99 Jorge Sanchez Pimienta (Spa) Contentpolis - Murcia
100 Aitor Olano (Spa) Orbea - Oreka S.D.A
101 Israel Perez Rodriguez (Spa) Extremadura-Gruppo Gallardo
102 Diego Gallego Arnaiz (Spa) Burgos Monumental
103 Ruben Reig Conejero (Spa) Contentpolis - Murcia
104 Benjamin Noval Gonzalez (Spa) Astana
105 Yon Bru Pascal (Spa) Euskaltel - Euskadi
106 Rigoberto Uran (Col) Caisse d'Epargne 7.01
107 Eloy Teruel Rovira (Spa) Contentpolis - Murcia
108 Rafael Rodriguez (Spa) Contentpolis - Murcia
109 Ignacio Sarabia Diaz (Mex) Extremadura-Gruppo Gallardo
110 Jose Vicente Toribio (Spa) Burgos Monumental
111 Oscar Pujol (Spa) Burgos Monumental 7.06
112 Samuel Sanchez Gonzalez (Spa) Euskaltel - Euskadi
Final General Classification
1 Alberto Contador Velasco (Spa) Astana 15.57.37
2 Mauricio Soler (Col) Barloworld 0.39
3 Thomas Dekker (Ned) Rabobank 0.46
4 Levi Leipheimer (USA) Astana 1.09
5 Denis Menchov (Rus) Rabobank 1.23
6 Bauke Mollema (Ned) Rabobank 1.30
7 Moises Duenas Nevado (Spa) Barloworld 1.40
8 Sergio Pardilla Bellon (Spa) Burgos Monumental 1.42
9 Ezequiel Mosquera Miguez (Spa) Karpin Galicia 1.55
10 Christian Vande Velde (USA) Slipstream Chipotle Presented By H30
11 Chris Anker Sørensen (Den) Team CSC 1.57
12 Danail Andonov (Bul) Benfica 2.01
13 David De La Fuente Rasilla (Spa) Saunier Duval - Scott 2.02
14 Francisco Perez Sanchez (Spa) Caisse d'Epargne 2.12
15 Jaume Rovira Pous (Spa) Extremadura-Gruppo Gallardo 2.20
16 Julian Sanchez Pimienta (Spa) Contentpolis - Murcia 2.30
17 Ruben Lobato Elvira (Spa) Saunier Duval - Scott 2.36
18 Mauricio Alberto Ardila Cano (Col) Rabobank 2.37
19 José Azevedo (Spa) Benfica 2.43
20 Koos Moerenhout (Ned) Rabobank
21 José Luis Carrasco Gamiz (Spa) Andalucía - Cajasur 2.48
22 José Rujano Guillen (Ven) Caisse d'Epargne 2.50
23 Francesco Bellotti (Ita) Barloworld
24 Jose Antonio Redondo (Spa) Andalucía - Cajasur 2.51
25 Carlos Sastre Candil (Spa) Team CSC 2.52
26 Leonardo Moser (Ita) Serramenti PVC Diquigiovanni-Androni Giocattoli 2.53
27 Jose Ruiz Sanchez (Spa) Andalucía - Cajasur 2.57
28 Mikel Nieve (Spa) Orbea - Oreka S.D.A
29 Daniel Martin (Irl) Slipstream Chipotle Presented By H30 3.09
30 Volodymir Gustov (Ukr) Team CSC 3.15
31 Inaki Isasi Flores (Spa) Euskaltel - Euskadi 3.16
32 John-Lee Augustyn (RSA) Barloworld 3.24
33 Iker Camaño (Spa) Saunier Duval - Scott 3.27
34 Iban Mayoz (Spa) Karpin Galicia
35 Amets Txurruka (Spa) Euskaltel - Euskadi 3.37
36 Javier Moreno Bazan (Spa) Andalucía - Cajasur
37 Alberto Fernandez (Spa) Saunier Duval - Scott 3.39
38 Eduard Vorganov (Rus) Karpin Galicia 3.43
39 Danielli Nardello (Ita) Serramenti PVC Diquigiovanni-Androni Giocattoli 3.51
40 Luis Roberto Alvarez Martin (Spa) Burgos Monumental 3.52
41 Edgar Pinto (Por) Benfica 3.56
42 Steven Cozza (USA) Slipstream Chipotle Presented By H30 4.18
43 Xabier Zandio Echaide (Spa) Caisse d'Epargne 4.27
44 Aitor Perez Arrieta (Spa) Extremadura-Gruppo Gallardo 4.33
45 David Cañada Garcia (Spa) Saunier Duval - Scott 4.51
46 Manuel Ortega Ocana (Spa) Andalucía - Cajasur 5.28
47 Rui Da Costa (Por) Benfica 5.39
48 Rafael Serrano Fernandez (Spa) Contentpolis - Murcia 5.40
49 Joan Horrach Rippoll (Spa) Caisse d'Epargne 5.45
50 José Mendes (Por) Benfica 6.16
51 Jonathan Patrick Mc Carty (USA) Slipstream Chipotle Presented By H30 6.20
52 Huub Duyn (Ned) Slipstream Chipotle Presented By H30 7.26
53 Daniel Navarro Garcia (Spa) Astana 7.27
54 Gonzalo Rabunal Rios (Spa) Karpin Galicia 7.31
55 Chris Horner (USA) Astana 7.32
56 Francisco José Ventoso Alberdi (Spa) Andalucía - Cajasur 7.56
57 Jesus Rosendo Prado (Spa) Andalucía - Cajasur 8.19
58 Jonathan Castroviejo (Spa) Orbea - Oreka S.D.A 8.20
59 Jason Donald (USA) Slipstream Chipotle Presented By H30 8.22
60 Ruben Plaza (Spa) Benfica 8.24
61 Koldo Fernandez (Spa) Euskaltel - Euskadi 8.27
62 Daniel Sesma (Spa) Orbea - Oreka S.D.A 8.28
63 Mikel Pradera Rodriguez (Spa) Benfica 8.44
64 Christian Pfannberger (Aut) Barloworld 8.47
65 Ivan Melero Coco (Spa) Orbea - Oreka S.D.A 8.55
66 Markel Irizar Aranburu (Spa) Euskaltel - Euskadi 9.02
67 Enrique Salgueiro (Spa) Extremadura-Gruppo Gallardo 9.19
68 Gustavo Dominguez Lemos (Spa) Karpin Galicia 9.26
69 Juan Francisco Mouron Doldan (Spa) Karpin Galicia 9.32
70 Arnaud Coyot (Fra) Caisse d'Epargne 9.45
71 Pedro Gutierrez Alvarez (Spa) Burgos Monumental 10.25
72 Dmitry Kozontchuk (Rus) Rabobank 10.47
73 Dionisio Galparsoro Martinez (Spa) Euskaltel - Euskadi 11.00
74 Bram De Groot (Ned) Rabobank 11.17
75 Giampaolo Cheula (Ita) Barloworld 11.37
76 Samuel Sanchez Gonzalez (Spa) Euskaltel - Euskadi 12.02
77 Alberto Rodriguez Oliver (Spa) Contentpolis - Murcia 12.06
78 Nazareno Rossi (Ita) Serramenti PVC Diquigiovanni-Androni Giocattoli 12.08
79 Marlon Alirio Perez Arango (Col) Caisse d'Epargne 12.09
80 Héctor González (Spa) Saunier Duval - Scott 12.20
81 Eriz Ruiz d'Erentxun (Spa) Orbea - Oreka S.D.A 12.33
82 Eladio Sanchez (Spa) Orbea - Oreka S.D.A 12.40
83 Jesus Ramirez Torres (Spa) Extremadura-Gruppo Gallardo
84 Eloy Teruel Rovira (Spa) Contentpolis - Murcia
85 Josu Mondelo (Spa) Extremadura-Gruppo Gallardo 12.45
86 Yon Bru Pascal (Spa) Euskaltel - Euskadi 12.51
87 José Vicente Garcia Acosta (Spa) Caisse d'Epargne 12.58
88 Jan Boven (Ned) Rabobank 13.32
89 Tyler Farrar (USA) Slipstream Chipotle Presented By H30 13.55
90 Ramon Troncoso Sobrino (Spa) Karpin Galicia 14.19
91 Aitor Olano (Spa) Orbea - Oreka S.D.A 14.28
92 Danilo Hondo (Ita) Serramenti PVC Diquigiovanni-Androni Giocattoli 15.05
93 Jose Vicente Toribio (Spa) Burgos Monumental 15.18
94 Rafael Rodriguez (Spa) Contentpolis - Murcia 15.23
95 Oscar Pujol (Spa) Burgos Monumental 16.13
96 Rigoberto Uran (Col) Caisse d'Epargne 16.20
97 Hugo Sancho (Por) Benfica 16.34
98 Ruben Reig Conejero (Spa) Contentpolis - Murcia 16.40
99 Jurgen Van Goolen (Bel) Team CSC 17.04
100 Diego Gallego Arnaiz (Spa) Burgos Monumental 17.11
101 Israel Perez Rodriguez (Spa) Extremadura-Gruppo Gallardo 17.12
102 Xabat Otxotorena (Spa) Extremadura-Gruppo Gallardo 17.34
103 Alberto Fernandez (Spa) Karpin Galicia 17.42
104 Manuel Belletti (Ita) Serramenti PVC Diquigiovanni-Androni Giocattoli 17.46
105 Roberto Traficante (Ita) Serramenti PVC Diquigiovanni-Androni Giocattoli 18.09
106 Oleg Chuzhda (Ukr) Contentpolis - Murcia 18.19
107 José Luis Rubiera Vigil (Spa) Astana 19.05
108 Sergio Miguel Moreira Paulinho (Por) Astana 19.07
109 Jorge Sanchez Pimienta (Spa) Contentpolis - Murcia 19.34
110 Ignacio Sarabia Diaz (Mex) Extremadura-Gruppo Gallardo 21.38
111 Benjamin Noval Gonzalez (Spa) Astana 23.22
112 Denis Bertolini (Ita) Serramenti PVC Diquigiovanni-Androni Giocattoli 23.33
Get news and updates of our live coverage calender and the latest information about our new project
www.peloton.tv
. Subscribe to our newsletter: