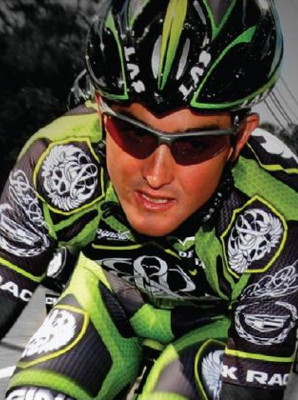 Oscar Sevilla won yesterdays mountain time trial (© Team Rock Racing)
The 3.8 miles (6.1 kilometres) long time trial was won by the Spanish climber although Sevilla had a shifting problem with his rear derailleur. The mechanical problem forced the Rock Racing rider to get off his bike and remount his chain in the final half-mile of the uphill Glendora Chevrolet Mountain Time Trial.
Peter Stetina (VMG-Felt-RGM) came in seconds, eight seconds behind stage winner Sevilla and third-place finisher Ben Day (Toyota-United Pro Cycling) lost 16 seconds on Sevilla's winning time of 13 minutes and five seconds.
"He lost at least 35 seconds – or even more by having to stop," Rock Racing's team owner Michael Ball said. "To have him pull off this victory today is very gratifying. Our original track was to see Oscar at the top of the GC at any given race, especially domestically. So we're back on track."
Sevilla was one of three Rock Racing riders excluded by race organizers from competing at the Amgen Tour of California last month. The former T-Mobile and Relax-GAM rider scored his first victory since winning last years edition of the Route de Sud and is allegedly involved in the Fuentes doping scandal, however the 31 year old was cleared by the Spanish Cycling Federation after investigating judge Antonio Serrano of the court of Madrid ruled that the Spanish Cycling Federation was not allowed to use court documents in sports disciplinary proceedings.
"I was very nervous before the start, but I was motivated to do well today," Sevilla said. "I haven't been able to race in so long that I had a lot of butterflies."
Sevilla just came from his home country and said his biggest concern was jet lag following a 10-hour flight from Madrid to Los Angeles.
"Last week I was feeling pretty good but with all the traveling, I didn't know if I would have my racing legs today," Sevilla said.
Rock Racing's sports director Mariano Friedick is now a familiar position – having to help defend the race lead. In 2006, he was racing in San Dimas in support of former Toyota-United teammate Heath Blackgrove, who won the race overall.
"I know exactly what this race is like and I have complete faith in these guys," Friedick said.
Toyota-United's Ben Day came in third. "There is a huge mix of talent and understanding of racing in San Dimas this weekend, and we will try and figure it out over the next two days and respond to the race conditions," said Toyota – Uniteds sports director Len Pettyjohn.
The race continues today with the 2nd stage: the San Dimas Hospital Road Race.
Join our forum and discuss San Dimas Stage Race 2008
Back to:
Results San Dimas Stage Race 2008
Stage 1
1 Osca Sevilla Rivera (Rock Racing) 13.06 (28.009 km/h)
2 Peter Stetina (VMG/Felt/RGM) 0.08
3 Ben Day (Toyota-United) 0.16
4 Neil Shirley (Jittery Joe's Pro Cycling) 0.19
5 Justin England (Toyota-United) 0.19
6 Chris Baldwin (Toyota-United) 0.20
7 Tyler Wren (Colavita Sutter Homes presente) 0.20
8 Jeremy Vennell (Bissell Pro Cycling Team) 0.26
9 Michael Creed (Rock Racing) 0.26
10 Anthony Colby (Colavita Sutter Homes presente) 0.29
11 Tom Zirbel (Bissell Pro Cycling Team) 0.33
12 Trent Wilson (Jittery Joe's Pro Cycling) 0.34
13 Luis Amaran (Colavita Sutter Homes presente) 0.34
14 Benjamin Sonntag (Kahala/ LaGrange) 0.35
15 Morgan Schmitt (Bissell Pro Cycling Team) 0.35
16 Heath Blackgrove (Toyota-United) 0.36
17 Cameron Evans (Symmetrics Cycling) 0.37
18 Jonathan Chodroff (Empire Cycling Team) 0.37
19 Michael Grabinger (Successfull Living Pro Cycling) 0.39
20 Francois Parisien (Symmetrics Cycling) 0.39
21 Christopher Jones (Team Type 1) 0.40
22 Stefano Barberi (THF Racing) 0.40
23 Tyler Hamilton (Rock Racing) 0.41
24 Mike Lange (Jelly Belly Pro Cycling Team) 0.44
25 Justin Spinelli (Kelly Benefit Strategies/Medif) 0.45
26 Rory Sutherland (Health Net/Maxxis) 0.45
27 Christian Meier (Symmetrics Cycling) 0.47
28 Brad White (Successfull Living Pro Cycling) 0.49
29 Jacob Erker (Symmetrics Cycling) 0.50
30 Dan Ramsey (Time Pro Cycling) 0.51
31 Ian Macgregor (Team Type 1) 0.52
32 Omer Kem (Bissell Pro Cycling Team) 0.53
33 Moises Aldape (Team Type 1) 0.54
34 Aaron Tuckerman (Jelly Belly Pro Cycling Team) 0.55
35 Chris Wherry (Toyota-United) 0.55
36 Matt Shriver (Jittery Joe's Pro Cycling) 0.56
37 Shawn Milne (Team Type 1) 1.00
38 Kiel Reijnen (Team Waste Management) 1.00
39 Jared Barrilleaux (Jittery Joe's Pro Cycling) 1.01
40 Will Routley (Symmetrics Cycling) 1.03
41 Ben Brooks (Team Type 1) 1.03
42 Javier Zapata (CAICO Cycling Team) 1.05
43 Nicholas Waite (Kelly Benefit Strategies/Medif) 1.06
44 Mark Santurbane (California Giant Berry Farms) 1.07
45 Nick Reistad (Jelly Belly Pro Cycling Team) 1.07
46 Jorge Martinez (CAICO Cycling Team) 1.07
47 Burke Swindlehurst (Bissell Pro Cycling Team) 1.08
48 Davide Frattini (Colavita Sutter Homes presente) 1.08
49 Alejandro Barrajo (Colavita Sutter Homes presente) 1.09
50 Jeremiah Wiscovich (Rock Racing) 1.10
51 Scott Zwizanski (Bissell Pro Cycling Team) 1.11
52 Allessandro Bazzana (Successfull Living Pro Cycling) 1.12
53 Graham Howard (Bissell Pro Cycling Team) 1.13
54 Walker Savidge (VMG/Felt/RGM) 1.14
55 Karl Menzies (Health Net/Maxxis) 1.15
56 Edward C. King (Bissell Pro Cycling Team) 1.16
57 Andrew Pinfold (Symmetrics Cycling) 1.16
58 Kirk Carlson (VMG/Felt/RGM) 1.16
59 Frank Pipp (Health Net/Maxxis) 1.18
60 Evan Elken (Jittery Joe's Pro Cycling) 1.19
61 David Veilleux (Kelly Benefit Strategies/Medif) 1.21
62 Adam Livingston (Team Five Star WVO) 1.23
63 Vincent Owens (Sierra Pacific Racing) 1.24
64 Andrew Guptill (Colavita Sutter Homes presente) 1.28
65 Nic Sanderson (Jelly Belly Pro Cycling Team) 1.31
66 Anibal Barrajo (Colavita Sutter Homes presente) 1.33
67 Peter Dawson (Rock Racing) 1.33
68 Joseph Wiley () 1.34
69 Markus Weinberg (Kahala La Grange) 1.34
70 Brandon Gritters (Team 5 Star WVO) 1.34
71 Jonny Sundt (Kelly Benefit Strategies/Medif) 1.34
72 Adrian Gerrits (Kahala Lagrange) 1.36
73 Jeremy Powers (Jelly Belly Pro Cycling Team) 1.37
74 Lucas Sebasti Haedo (Colavita Sutter Homes presente) 1.39
75 Matt Seagrave (Kahala La Grange) 1.40
76 Andrew Randell (Symmetrics Cycling) 1.40
77 David Clinger (Team Rock) 1.44
78 Tony Cruz (BMC Pro Cycling Team) 1.44
79 Matty Rice (Jelly Belly Pro Cycling Team) 1.45
80 Alexi Martinez (Successfull Living Pro Cycling) 1.45
81 Ben King (Kelly Benefit Strategies/Medif) 1.50
82 Cody Stevenson (Jittery Joe's Pro Cycling) 1.51
83 Kyle Gritters (Health Net/Maxxis) 1.52
84 Kayle Leogrande (Rock Racing) 1.52
85 Alexander Gonzalez (CAICO Cycling Team) 1.53
86 Alejandro Cortes (CAICO Cycling Team) 1.54
87 Jonathan Parrish (Team Waste Management) 1.54
88 Austin Carroll (Team Rock) 1.54
89 Tom Soladay (Time Pro Cycling) 1.55
90 Adam Switters (Rock Racing) 1.56
91 Jared Gruber (Time Pro Cycling) 1.59
92 Ronald Jensen (Team Waste Management) 2.00
93 David Andrew Quist (Team Clif Bar Cycling) 2.01
94 Kevin Klein (Team Rock) 2.03
95 Josh Horowitz (Liquid Fitness) 2.05
96 Rudolph Napolitano (Team Rock) 2.06
97 Erik Barlevav (Time Pro Cycling) 2.07
98 Michael Cody (Jelly Belly Pro Cycling Team) 2.09
99 Alex Candelario (Kelly Benefit Strategies/Medif) 2.11
100 Michael Telega (California Giant Berry Farms) 2.12
101 Rigoberto Meza (Coates/Freedom2doit/Felt) 2.14
102 Jonathan Cantwell (Jittery Joe's Pro Cycling) 2.14
103 Michael Mathis (Empire Cycling Team/CRCA) 2.17
104 Bryce Mead (Jelly Belly Pro Cycling Team) 2.19
105 Emile Abraham (Team Type 1) 2.19
106 Caleb Manion (Toyota-United) 2.20
107 Philip Mooney (Davis Bike Club) 2.23
108 Timothy Doud (Team Waste Management) 2.29
109 A Sanchez Beriguete (CAICO Cycling Team) 2.30
110 Wendy Cruz (CAICO Cycling Team) 2.33
111 Sheldon Deeny (Empire Cycling Team) 2.33
112 Jorge Alvarado (Kahala La Grange) 2.38
113 Curtis Gunn (Successfull Living Pro Cycling) 2.39
114 Ivan Dominguez (Toyota-United) 2.40
115 Henk Vogels (Toyota-United) 2.41
116 Lacombe Keven (Kelly Benefit Strategies/Medif) 2.43
117 David Guttenplan (Time Pro Cycling) 2.47
118 Cody Oreilly (Successfull Living Pro Cycling) 2.49
119 Gustavo-Adol Mendez (Kahala La Grange) 2.50
120 Eric Bennett (Successfull Living Pro Cycling) 2.53
121 Edgar Parra (Kahala La Grange) 2.55
122 Adam Myerson (Time Pro Cycling) 3.02
123 Gregory Anderson (Davis Bike Club) 3.08
124 Andy Bestwick (Allegiant Air Team Pain MD) 3.17
125 Christia Valenzuela (Successfull Living Pro Cycling) 3.19
126 Rahsaan Bahati (Rock Racing) 3.26
127 Chad Hartley (Jittery Joe's Pro Cycling) 3.27
128 Sean Mazich (Team Waste Management) 3.56
129 Michael Ebert (ABD/Geargrinder Cycling Team) 3.59
130 Nathaniel Deibler (Team 5 Star WVO) 4.03
131 Victor Ayala (Kahala La Grange) 4.23
132 Brian Alfermann (THF Racing) 4.24
133 Ruben Meza (Coates/Freedom2doit/Felt) 4.53
134 H. Phil Southerland (Team Type 1) 5.32
DNS Mark Hinnen (Kelly Benefit Strategies/Medif)
DNS Alexander Sharon (ABD/Geargrinder Cycling Team)
DNS Euris Vidal (CAICO Cycling Team)
Get news and updates of our live coverage calender and the latest information about our new project
www.peloton.tv
. Subscribe to our newsletter: