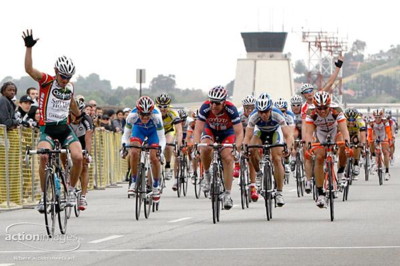 Barrajo took the stage, Vogels came in second (©: Kurt Jambretz /www.actionimages.cc)
Alejandro Barrajo took the stage which was decided by a mass sprint. Toyota's Henk Vogels came in second.
Vogels, a former lead-out man for Robbie McEwen, said: "We had a little bad luck on the last few laps, with Chris Baldwin getting a puncture and Caleb Manion staying back with him and the two never made it back."
Vogels continued by saying: "Chris Wherry busted through a hull, but Justin England stayed with me on the final climb of 1500 m and took me from the 50th wheel to the 4th, right as they were making the final sprint."
"Borrajo went early and we all fired with him, but he was just too strong and finished the race with me on his wheel in 2nd" concluded Vogels.
Some extraordinary work by his Rock Racing teammates helped Sevilla finished comfortably in the lead group of Saturday's 84-mile (135 km) San Dimas Hospital Road Race to retain his eight-second advantage over Peter Stetina (VMG/Felt/RGM). Ben Day (Toyota-United Pro Cycling) remains third, 17 seconds behind.

"It was a great team effort," Rock Racing Team Director Marino Friedick said. "We knew from the beginning that there would be attacking from the gun and that's exactly what happened. But we were ready for it."

Several times, Rock Racing worked to bring back small breakaways that escaped during the 12-lap race along a rolling, seven-mile course. But the task of chasing down attacks – and counterattacks – began to take its toll and the front group began to shrink. Still, Rock Racing's Tyler Hamilton, Kayle Leogrande and Jeremiah Wiscovitch remained with Sevilla to defend his yellow leader's jersey.

"Jeremiah and Tyler were doing an incredible amount of work for me the last two laps," Sevilla said. "It is nice to have Tyler as a teammate while being the race leader. He has so much experience and knowledge that it has taken a lot of pressure off me."

Sevilla also let his own legs do the talking during a pivotal point late in the race. When a rider initiated an attack up the final climb, Sevilla purposely let a gap open up. When it was clear no one else was going to counter the move, Sevilla used a burst of speed to bridge up to the escapee and quickly extinguish any chance the move would put his lead in jeopardy.

"We're not celebrating overall victory yet, but Oscar is obviously riding super strongly," Friedick said.

Sunday's final stage is a six-corner criterium in the city center of San Dimas, beginning at 3 p.m. PST.

Sevilla convincingly won Friday's Stage 1 Glendora Chevrolet Mountain Time Trial despite a mechanical mishap in the final hundred meters of the 3.8-mile (6.1 km) race. Rock Racing Team Mechanic Chris Hunter said the hub on Sevilla's rear wheel separated, causing the cassette to lock up. With the rear wheel unable to turn and no follow vehicles allowed for support, Sevilla could only run with his bike to the finish, Hunter said.
Join our forum and discuss San Dimas Stage Race 2008
Back to:
Results San Dimas Stage Race 2008
Stage 2
1 Alejandro Barrajo (Colavita Sutter Homes presente) 3.13.21
2 Henk Vogels (Toyota-United)
3 Jonathan Cantwell (Jittery Joe's Pro Cycling)
4 Emile Abraham (Team Type 1)
5 Allessandro Bazzana (Successfull Living Pro Cycling)
6 Tony Cruz (BMC Pro Cycling Team)
7 Andrew Pinfold (Symmetrics Cycling)
8 Nic Sanderson (Jelly Belly Pro Cycling Team)
9 Francois Parisien (Symmetrics Cycling)
10 Shawn Milne (Team Type 1)
11 Kiel Reijnen (Team Waste Management)
12 Davide Frattini (Colavita Sutter Homes presente)
13 Chad Hartley (Jittery Joe's Pro Cycling)
14 Lucas Sebasti Haedo (Colavita Sutter Homes presente)
15 Osca Sevilla Rivera (Rock Racing)
16 Matty Rice (Jelly Belly Pro Cycling Team)
17 Peter Stetina (VMG/Felt/RGM)
18 Ben Day (Toyota-United)
19 Andrew Randell (Symmetrics Cycling)
20 Tyler Wren (Colavita Sutter Homes presente)
21 Jared Barrilleaux (Jittery Joe's Pro Cycling)
22 Ian Macgregor (Team Type 1)
23 Ben King (Kelly Benefit Strategies/Medif)
24 Anibal Barrajo (Colavita Sutter Homes presente)
25 Christopher Jones (Team Type 1)
26 Omer Kem (Bissell Pro Cycling Team)
27 Alexi Martinez (Successfull Living Pro Cycling)
28 Neil Shirley (Jittery Joe's Pro Cycling)
29 Nick Reistad (Jelly Belly Pro Cycling Team)
30 Jeremy Vennell (Bissell Pro Cycling Team)
31 Michael Grabinger (Successfull Living Pro Cycling)
32 Justin England (Toyota-United)
33 Christian Meier (Symmetrics Cycling)
34 Karl Menzies (Health Net/Maxxis)
35 Cameron Evans (Symmetrics Cycling)
36 Will Routley (Symmetrics Cycling)
37 Aaron Tuckerman (Jelly Belly Pro Cycling Team)
38 Andrew Guptill (Colavita Sutter Homes presente)
39 Tom Zirbel (Bissell Pro Cycling Team)
40 Anthony Colby (Colavita Sutter Homes presente)
41 Trent Wilson (Jittery Joe's Pro Cycling)
42 Burke Swindlehurst (Bissell Pro Cycling Team)
43 Mike Lange (Jelly Belly Pro Cycling Team)
44 Rory Sutherland (Health Net/Maxxis)
45 Moises Aldape (Team Type 1)
46 Ben Brooks (Team Type 1)
47 Scott Zwizanski (Bissell Pro Cycling Team)
48 Frank Pipp (Health Net/Maxxis)
49 Ronald Jensen (Team Waste Management) 0.26
50 Stefano Barberi (THF Racing)
51 Kirk Carlson (VMG/Felt/RGM)
52 David Guttenplan (Time Pro Cycling)
53 Kayle Leogrande (Rock Racing)
54 Alexander Gonzalez (CAICO Cycling Team) 0.26
55 Tyler Hamilton (Rock Racing)
56 Heath Blackgrove (Toyota-United)
57 Justin Spinelli (Kelly Benefit Strategies/Medif)
58 Dan Ramsey (Time Pro Cycling)
59 Javier Zapata (CAICO Cycling Team)
60 Alex Candelario (Kelly Benefit Strategies/Medif)
61 Jeremiah Wiscovitch (Rock Racing)
62 Luis Romero Amaran (Colavita Sutter Homes presente)
63 Adam Myerson (Time Pro Cycling)
64 Jacob Erker (Symmetrics Cycling)
65 Wendy Cruz (CAICO Cycling Team)
66 Adam Livingston (Team Five Star WVO)
67 Kyle Gritters (Health Net/Maxxis)
68 Rudolph Napolitano (Team Rock) 0.37
69 Jorge Martinez (CAICO Cycling Team) 0.41
70 Michael Telega (California Giant Berry Farms) 0.57
71 Cody Stevenson (Jittery Joe's Pro Cycling)
72 Tom Soladay (Time Pro Cycling) 1.21
73 Nicholas Waite (Kelly Benefit Strategies/Medif)
74 Sheldon Deeny (Empire Cycling Team) 1.26
75 Curtis Gunn (Successfull Living Pro Cycling) 1.30
76 Brad White (Successfull Living Pro Cycling)
77 Cody Oreilly (Successfull Living Pro Cycling)
78 Jonathan Parrish (Team Waste Management)
79 Matt Shriver (Jittery Joe's Pro Cycling)
80 David Clinger (Team Rock) 1.37
81 Jeremy Powers (Jelly Belly Pro Cycling Team) 2.12
82 Evan Elken (Jittery Joe's Pro Cycling) 2.24
83 Lacombe Keven (Kelly Benefit Strategies/Medif) 2.34
84 Joseph Wiley 2.57
85 Morgan Schmitt (Bissell Pro Cycling Team)
86 Alejandro Cortes (CAICO Cycling Team)
87 Edward C. King (Bissell Pro Cycling Team)
88 Caleb Manion (Toyota-United) 4.35
89 Chris Wherry (Toyota-United)
90 Erik Barlevav (Time Pro Cycling)
91 Chris Baldwin (Toyota-United)
92 Austin Carroll (Team Rock)
93 Graham Howard (Bissell Pro Cycling Team)
94 Michael Creed (Rock Racing)
95 Jonny Sundt (Kelly Benefit Strategies/Medif) 5.44
96 David Andrew Quist (Team Clif Bar Cycling) 8.31
97 Timothy Doud (Team Waste Management)
98 Vincent Owens (Sierra Pacific Racing)
99 Bryce Mead (Jelly Belly Pro Cycling Team)
100 A Sanchez Beriguete (CAICO Cycling Team)
HD Matt Seagrave (Kahala La Grange)
HD Adrian Gerrits (Kahala Lagrange)
HD Benjamin Sonntag (Kahala/ LaGrange)
HD Walker Savidge (VMG/Felt/RGM)
HD Christia Valenzuela (Successfull Living Pro Cycling)
HD David Veilleux (Kelly Benefit Strategies/Medif)
HD Josh Horowitz (Liquid Fitness)
HD Jared Gruber (Time Pro Cycling)
HD Jorge Alvarado (Kahala La Grange)
HD Markus Weinberg (Kahala La Grange)
HD Kevin Klein (Team Rock)
HD Adam Switters (Rock Racing)
HD Michael Cody (Jelly Belly Pro Cycling Team)
HD Brandon Gritters (Team 5 Star WVO)
HD Ivan Dominguez (Toyota-United)
HD Rahsaan Bahati (Rock Racing)
HD Peter Dawson (Rock Racing)
General Classification after stage 2
1 Oscar Sevilla Rivera (Rock Racing) 3.26.26
2 Peter Stetina (VMG/Felt/RGM) 0.08
3 Ben Day (Toyota-United) 0.17
4 Neil Shirley (Jittery Joe's Pro Cycling) 0.19
5 Tyler Wren (Colavita Sutter Homes presente) 0.20
6 Justin England (Toyota-United)
7 Jeremy Vennell (Bissell Pro Cycling Team) 0.27
8 Anthony Colby (Colavita Sutter Homes presente) 0.29
9 Tom Zirbel (Bissell Pro Cycling Team) 0.33
10 Trent Wilson (Jittery Joe's Pro Cycling) 0.34
11 Cameron Evans (Symmetrics Cycling) 0.37
12 Francois Parisien (Symmetrics Cycling) 0.39
13 Michael Grabinger (Successfull Living Pro Cycling)
14 Christopher Jones (Team Type 1) 0.40
15 Mike Lange (Jelly Belly Pro Cycling Team) 0.44
16 Rory Sutherland (Health Net/Maxxis) 0.45
17 Christian Meier (Symmetrics Cycling) 0.47
18 Alejandro Barrajo (Colavita Sutter Homes presente) 0.50
19 Ian Macgregor (Team Type 1) 0.53
20 Omer Kem (Bissell Pro Cycling Team)
21 Aaron Tuckerman (Jelly Belly Pro Cycling Team) 0.55
22 Moises Aldape (Team Type 1)
23 Shawn Milne (Team Type 1) 1.00
24 Kiel Reijnen (Team Waste Management)
25 Luis Alb Romero Amaran (Colavita Sutter Homes presente)
26 Jared Barrilleaux (Jittery Joe's Pro Cycling) 1.01
27 Heath Blackgrove (Toyota-United) 1.02
28 Stefano Barberi (THF Racing) 1.03
29 Will Routley (Symmetrics Cycling)
30 Ben Brooks (Team Type 1) 1.04
31 Nick Reistad (Jelly Belly Pro Cycling Team) 1.07
32 Tyler Hamilton (Rock Racing)
33 Davide Frattini (Colavita Sutter Homes presente) 1.08
34 Burke Swindlehurst (Bissell Pro Cycling Team)
35 Justin Spinelli (Kelly Benefit Strategies/Medif) 1.11
36 Scott Zwizanski (Bissell Pro Cycling Team)
37 Allessandro Bazzana (Successfull Living Pro Cycling) 1.12
38 Andrew Pinfold (Symmetrics Cycling) 1.16
39 Karl Menzies (Health Net/Maxxis)
40 Jacob Erker (Symmetrics Cycling)
41 Dan Ramsey (Time Pro Cycling) 1.18
42 Frank Pipp (Health Net/Maxxis)
43 Andrew Guptill (Colavita Sutter Homes presente) 1.28
44 Nic Sanderson (Jelly Belly Pro Cycling Team) 1.31
45 Javier Zapata (CAICO Cycling Team)
46 Anibal Barrajo (Colavita Sutter Homes presente) 1.33
47 Jeremiah Wiscovitch (Rock Racing) 1.36
48 Jorge Martinez (CAICO Cycling Team)
49 Lucas Sebastian Haedo (Colavita Sutter Homes presente) 1.39
50 Andrew Randell (Symmetrics Cycling) 1.40
51 Kirk Carlson (VMG/Felt/RGM) 1.42
52 Ben King (Kelly Benefit Strategies/Medif) 1.44
53 Tony Cruz (BMC Pro Cycling Team) 1.45
54 Matty Rice (Jelly Belly Pro Cycling Team)
55 Alexi Martinez (Successfull Living Pro Cycling)
56 Adam Livingston (Team Five Star WVO) 1.49
57 Jonathan Cantwell (Jittery Joe's Pro Cycling) 2.09
58 Kayle Leogrande (Rock Racing) 2.15
59 Kyle Gritters (Health Net/Maxxis) 2.18
60 Brad White (Successfull Living Pro Cycling) 2.19
61 Emile Abraham (Team Type 1)
62 Alexander Gonzalez (CAICO Cycling Team)
63 Ronald Jensen (Team Waste Management) 2.26
64 Matt Shriver (Jittery Joe's Pro Cycling) 2.27
65 Nicholas Waite (Kelly Benefit Strategies/Medif)
66 Henk Vogels (Toyota-United) 2.31
67 Alex Candelario (Kelly Benefit Strategies/Medif) 2.38
68 Rudolph Napolitano (Team Rock) 2.43
69 Cody Stevenson (Jittery Joe's Pro Cycling) 2.48
70 Wendy Cruz (CAICO Cycling Team) 2.59
71 Michael Telega (California Giant Berry Farms) 3.09
72 David Guttenplan (Time Pro Cycling) 3.14
73 Tom Soladay (Time Pro Cycling) 3.17
74 David Clinger (Team Rock) 3.21
75 Jonathan Parrish (Team Waste Management) 3.24
76 Chad Hartley (Jittery Joe's Pro Cycling) 3.28
77 Adam Myerson (Time Pro Cycling)
78 Morgan Schmitt (Bissell Pro Cycling Team) 3.33
79 Evan Elken (Jittery Joe's Pro Cycling) 3.44
80 Jeremy Powers (Jelly Belly Pro Cycling Team) 3.49
81 Edward C. King (Bissell Pro Cycling Team) 3.51
82 Sheldon Deeny (Empire Cycling Team) 3.59
83 Curtis Gunn (Successfull Living Pro Cycling) 4.10
84 Cody Oreilly (Successfull Living Pro Cycling) 4.19
85 Joseph Wiley 4.31
86 Chris Baldwin (Toyota-United) 4.45
87 Alejandro Cortes (CAICO Cycling Team) 4.51
88 Michael Creed (Rock Racing) 5.02
89 Lacombe Keven (Kelly Benefit Strategies/Medif) 5.17
90 Chris Wherry (Toyota-United) 5.30
91 Graham Howard (Bissell Pro Cycling Team) 5.48
92 Austin Carroll (Team Rock) 6.30
93 Erik Barlevav (Time Pro Cycling) 6.42
94 Caleb Manion (Toyota-United) 6.56
95 Jonny Sundt (Kelly Benefit Strategies/Medif) 7.18
96 Vincent Owens (Sierra Pacific Racing) 9.55
97 David Andrew Quist (Team Clif Bar Cycling) 10.32
98 Bryce Mead (Jelly Belly Pro Cycling Team) 10.50
99 Timothy Doud (Team Waste Management) 11.00
100 Augu Sanchez Beriguete (CAICO Cycling Team) 11.01
Get news and updates of our live coverage calender and the latest information about our new project
www.peloton.tv
. Subscribe to our newsletter: