01.09.2008/The Tinkoff Credit Systems cycling team officially announced some of the new signings for the 2009 season. Aussie Robbie McEwen is one of the riders who signed with the team, McEwen will be re-united with Gert Steegmans. The Russian team will start under the name Katusha in 2009.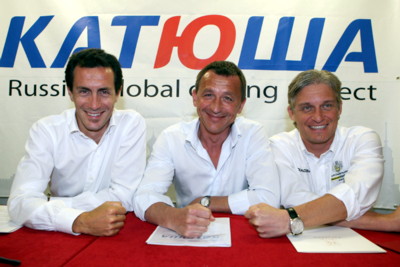 Stefano Feltrin, Andre Tchmil and Oleg Tinkov. (© Tinkoff Credit Systems)
The Tinkoff Credit Systems squad, founded by Oleg Tinkov, as of 2009 will be known as "Katusha" co-sponsored by Gazprom, Itera, and Rostechnologii for the further development and promotion of Russian cycling. Other team developments will be announced later during the Vuelta a España.
New Signings for 2009:
Botcharov Alexander (Rus)
Colom Antonio Mas (Esp)
De Haes Kenny (Bel)
Horrach Ripoll Joan (Esp)
Karpets Vladimir (Rus)
Mc Ewen Robert (Aus)
Pozzato Filippo (Ita)
Steegmans Geert (Bel)
Vandenbergh Stijn (Bel)
Back to:



Benutzerdefinierte Suche
By clicking to an outside link from our website, you automatically release us from any and all liability. Cyclingheroes has no control over the content of outside links, or sites linked from there, nor do we endorse anything that may be of a illegal and/or vulgar nature. Cyclingheroes provides outside links only as a free service to our readers.