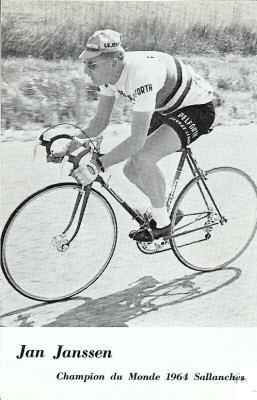 Jan Janssen 1964 World Champion (© Pelforth-Sauvage-Lejeune)
Cyclingheroes: What do you remember from the 1968 Tour de France and how was your reception in the Netherlands?
Jan Janssen: In cycling winning the Tour is the greatest victory of all. The reception in the Netherlands was great but all those receptions after the Tour weren't that important to me. It was nice to receive so many compliments but I was an athlete, for me it was more important to prepare for the next race. To be honest... After the Tour I was only thinking about the next race.
Cyclingheroes: The Tour was much longer in the sixties...

Jan Janssen: Yes it was about 1200 kilometres longer. We had to race a route which was about 4500 – 4700 kilometres. The Tour was three days longer and the stages were also much longer. Sometimes the roads were really bad. Everything has changed. Me, Anquetil and Poulidor had bikes of the same quality.

Cyclingheroes: Did riders already specialize on specific races like the Tour in the sixties?

Jan Janssen: No we didn't specialize at all. We raced from February 1 until the end of October. We started with races at the Cote d'Azur, then we did the spring classics and after that we did stage races like Midi Libre, Tour de Suisse and of course the Tour de france and the Vuelta. After that the fall classics and the World Championships. Many riders have about 60 racing days nowadays, we raced between 110 and 115 days. Additionally I did between 40 and 45 crits after the Tour de france. I raced for a French team so one day I had a crit near Brest [France, editor] and then I drove 1000 kilometres by car during the night and started the next day at the 8 van Chaam [Nethrlands, editor].

Nowadays a team is actually having two teams, one for the classics and one for the major stage races. In the old days that was impossible. The budgets were much smaller so we had to race everything. I had to quit as I was 32 years old, I had enough, just couldn't do it anymore. Nowadays a lot of riders can race much longer.

Cyclingheroes: Your palmares are quiete impressive but most people only remember your Tour victory...

Jan Janssen: In Belgium people often say, 'hé that's Jan Janssen he was world champion'. But of course my Tour win is something people remember most. The Tour is THE race. Most people don't care that I also won races like Paris-Roubaix or the Vuelta. In the Netherlands there are only two riders who won the Tour [Jan Janssen in 1968, Joop Zoetemelk in 1980, editor]. For most people in the Netherlands the other victories don't count but as a Tour winner you are a celebrity for all times.
Cyclingheroes: There where a lot of problems in the last couple of years...
Jan Janssen: You mean doping... I think there are two reasons for this. One is that the riders are under an tremendous pressure to deliver results. The second reason is that there is too much money involved. You don't have to try and visit Dr. Ferrari or Dr. Fuentes without paying at least 40.000 Euro. They are the pioneers of modern performance enhancing drugs in sports. There is a kind of armsrace between sports medicine and top sports. But one thing has to be clear, you always have to train hard and take care of your body, if you don't do that you won't make it. There were excesses like Simpson. I believe the first doping control was in 1962 and ofcourse the Tour did a lot. They shortened the route to 3500 kilometres and they introduced the rest days.
Cyclingheroes: This summer 50 riders will ride the Tour de Jan Janssen. What do you think of this initiative?

Jan Janssen: The organisers came to me with the idea and I really liked it. Its a great initiative, in my heart there is a big place for cycling. I feel like a kind of ambassador of cycling. I enjoy to support the Tour de Jan Janssen, to stimulate cycling in general.

Cyclingheroes: There is also the anual Jan Janssen Classic...

Jan Janssen: Its a beautiful event at the Veluwe [region in the Netherlands]. The son of a school teacher in a nearby village asked me if I would give my name to the race. Until then it was called 'Hell of Wageningen'. Between 2500 and 3000 cycling enthousiasts participate at the race. It has good sponsors and its good for my business as well. Its very well organised and I like to do it.

Cyclingheroes: After your career you started your own bike brand...

Jan Janssen: Yes I started it after I retired as a professional rider. I sold it to Union in 1990 but I bought it back in 1995. My sons Jan and Pierre are taking care of daily business now but my wife and I are supporting them. We had a lot of experience and goodwill. My sons are doing their job very good, they have a lot of creativity. We are very proud of them. I am still doing pr work and do a lot of presentations. I still like to ride my bike. I ride about two – three times a week. My wife is doing office work for our sons.
My daughter works in the tourism industry in France. Apart form the pr work I do I still have alot of contact with former pro riders. One of them is Johnny Schleck, and as his sons are professionals now [Andy and Fränk Schleck, editor] I still hear whats going on in the peloton.
Join our forum and discuss the Tour de Jan Janssen
Read also:
Jan Janssen
Birthdate: May 19, 1940
Place of Birth: Nootdorp, Netherlands
Pro: 1963 - 1972
Teams:
1963 - 1968 Pelforth-Sauvage-Lejeune
1969 - 1971 Bic
1972 Flandria-Beaulieu
Palmares
1962 (as independent rider without team)
Zürich Metzgete
1963
Stage 3A Tour of Belgium
Stage 3 Midi Libre
Stage 6 Midi Libre
Stage 7 Tour de France
1964
UCI Road World Champion
Overall Paris-Nice
Points Classification Paris-Nice
Stage 7 Tour de France
Stage 10A Tour de France
Points Classification Tour de France
1965
Stage 3 Paris-Nice
Stage 1 Midi Libre
Stage 8 Dauphine Libere
Points Classification Dauphine Libere
Stage 3 Tour of Netherlands
Overall Tour of Netherlands
Stage 12 Tour de France
Points Classification Tour de France
1966
Bordeaux - Paris
Brabantse Pijl
1967
Stage 1B Vuelta a Espana
Overall Vuelta a Espana
Points Classification Vuelta a Espana
Paris-Roubaix
Stage 1 Paris Luxembourg
Overall Paris - Luxembourg
Stage 13 Tour de France
Points Classification Tour de France
Stage 4B Volta a Catalunya
Stage 6 Volta a Catalunya
Stage 7A Volta a Catalunya
Super Prestige Trophee
1968
Stage 14 Tour de France
Stage 22B Tour de France
Overall Tour de France
Stage 5 Paris - Nice
Stage 1A Vuelta a Espana
Stage 1B Vuelta a Espana
Points Classification Vuelta Espana
1969
GP d'Isbergues
Stage 5 Paris - Nice
Points Classification Tour de Suisse
Stage 3 Dauphine Libere
Points Classification Dauphine Libere
1970
Stage 6A Paris - Nice
1972
Stage 2 Tour of Luxembourg