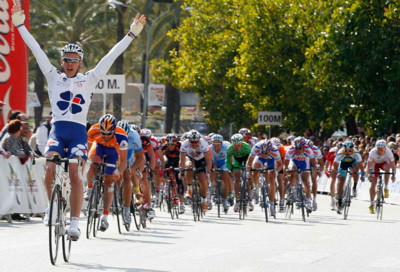 Philippe Gilbert took the Trofeo Mallorca (© Alex Macià)
Philippe Gilbert won the 100 kilometres long Trofeo Mallorca after the Francaise des Jeux rider attacked with only 1 kilometre to go. Rabobank's Australian sprinter Graeme Brown won the bunch sprint but failed to catch Gilbert. Robert Förster (Gerolsteiner) came in third.
"Gilbert accelerated 1400 meters before the finish line, was never 30 meters ahead, but persisted bravely," Rabobank's sports director Adri van Houwelingen said. Philippe Gilbert was happy with his first win in the 2008 season. The Belgian rider said: "I am very happy with this victory. I attacked with little more than a kilometer from the finish, I saw an opportunity and I did not look back. I caught a few metres and I was able to win."
The five day race at Mallorca has different riders each day. Teams are allowed to pick different riders for each race. For the ten rounds of ten kilometers on the boulevard of Palma de Mallorca Rabobank's sports director Van Houwelingen has, next to Brown, selected Bram Tankink (Rabo-debut), Marc de Maar, Sébastian Langeveld, Tom Leezer (ProTeam-debut), Michiel Elijzen, Rick Flens, Grischa Niermann, Laurens ten Dam and Koos Moerenhout. The last three will race each day. "But we do not focus entirely on the end classification. I look at this week more as a series of six chances to win something," said Van Houwelingen.
Van Houweling has already made a plan which riders he will select for the upcoming days, "but that does not mean that we are going to stick with it." On Monday, half of the team from Sunday will continue riding, the other half will get a day (or more than one) to rest. These five riders will not need this, because the track was quite hard, but not extremely hard. "Besides, there have not been any serious escapes."
It wasn't until the last two and a half kilometer that the Rabo ProTeam got involved, just like many other teams. Caisse d'Epargne had already been doing this. Team efforts, but also the attempts by unorganized individuals could not prevent Gilbert's successful surprise attack. "And that's a pity, because Graeme was the best sprinter, even though there are many good sprinters here," were the final words of Van Houwelingen.
Join our forum and discuss Mallorca Challenge 2008
Picture gallery: Trofeo Mallorca, February 10, 2008.*
Read also:
Results Mallorca Challenge 2008
Trofeo Mallorca
1 Philippe Gilbert (Bel) Francaise des Jeux 2.03.04 (48.75 km/h)
2 Graeme Brown (Aus) Rabobank
3 Robert Förster (Ger) Gerolsteiner
4 Gert Steegmans (Bel) Quick Step
5 Denis Flahaut (Fra) Saunier Duval-Scott
6 Jose J. Rojas (Spa) Caisse D'Epargne
7 Fco.José Ventoso (Spa) Andalucia-Cajasur
8 Rodrigo Garcia (Spa) Extremadura-G. Galla
9 Andre Schulze (Ger) PSK Whirlpool-Author
10 Robert Wagner (Ger) Skil-Shimano
11 Fumiyuki Beppu (Jpn) Skil-Shimano
12 Aitor Perez (Spa) Extremadura-G. Galla
13 Alejandro Valverde (Spa) Caisse D'Epargne
14 Aitor Galdos (Spa) Euskaltel-Euskadi
15 Javier Aramendia (Spa) Euskaltel-Euskadi
16 Christophe Mengin (Fra) Francaise des Jeux
17 Benat Albizuri (Spa) Euskaltel-Euskadi
18 Thomas Fothen (Ger) Gerolsteiner
19 Yoann Ofredo (Fra) Francaise des Jeux
20 René Haselbacher (Aut) Astana
21 Xabat Ochotorena (Spa) Extremadura-G. Galla
22 Bram Schmitz (Ned) Van Vliet Ebh Elshof
23 Tom Veelers (Ned) Skil-Shimano
24 Antonio Miguel (Spa) Seleccion Española
25 Sebastian Langeveld (Ned) Rabobank
26 Jaime Garcia (Spa) Extremadura-G. Galla
27 Fabien Bacquet (Fra) Skil-Shimano
28 Martin Mata (Spa) Burgos Monumental
29 Johnny Hoogerland (Ned) Van Vliet Ebh Elshof
30 Staf Scheirlinckx (Bel) Cofidis Credit P.Tel
31 Bram Tankink (Ned) Rabobank
32 Iban Mayoz (Spa) Karpin Galicia
33 Haimar Zubeldia (Spa) Euskaltel-Euskadi
34 Yon Bru (Spa) Euskaltel-Euskadi
35 Markus Fothen (Ger) Gerolsteiner
36 Gorka Verdugo (Spa) Euskaltel-Euskadi
37 Jesus Rosendo (Spa) Andalucia-Cajasur
38 Ezequiel Mosquera (Spa) Karpin Galicia
39 Francisco Perez (Spa) Caisse D'Epargne
40 Rafael Valls (Spa) Seleccion Española
41 Alberto Losada (Spa) Caisse D'Epargne
42 Benjamin Noval (Spa) Astana
43 Koen De Kortr (Ned) Astana
44 Laurens Ten Dam (Ned) Rabobank
45 Matteo Carrara (Ita) Quick Step
46 Joan Llaneras (Spa) Seleccion Española
47 Antonio Colom (Spa) Astana
48 Roel Egelmeers (Ned) Van Vliet Ebh Elshof
49 Gonzalo Rabuñal. (Spa) Karpin Galicia
50 Rick Flens (Ned) Rabobank
51 Vojtech Dlouhy (Cze) PSK Whirlpool-Author
52 Javier Iriarte (Spa) Burgos Monumental
53 Enrique Salgueiro (Spa) Extremadura-G. Galla
54 Gustavo Domingez (Spa) Karpin Galicia
55 Ignacio Sarabia (Mex) Extremadura-G. Galla
56 Mathieu Heijboer (Ned) Cofidis Credit P.Tel
57 Roy Curvers (Ned) Skil-Shimano
58 Luis L. Sanchez (Spa) Caisse D'Epargne
59 Manuel Ortega (Spa) Andalucia-Cajasur
60 Ruben Martinez (Spa) Seleccion Española
61 Oscar Pujol (Spa) Burgos Monumental
62 David De La Fuente (Spa) Saunier Duval-Scott
63 José I. Gutierrez (Spa) Caisse D'Epargne
64 Eduard Vorganov (Rus) Karpin Galicia
65 Javier Moreno (Spa) Andalucia-Cajasur
66 Andres Avelino (Spa) Burgos Monumental
67 Juan Olmo (Spa) Andalucia-Cajasur
68 Delio Fernandez (Spa) Karpin Galicia
69 Koos Moerenhout (Ned) Rabobank
70 Michel Elijzen (Ned) Rabobank
71 Sébastien Minard (Fra) Cofidis Credit P.Tel
72 Lander Aperribay (Spa) Euskaltel-Euskadi
73 Michal Skvarka (Svk) PSK Whirlpool-Author
74 Grischa Niermann (Ger) Rabobank
75 Stijn Devolder (Bel) Quick Step
76 Thierry Hupond (Fra) Skil-Shimano
77 Mimanol Erviti (Spa) Caisse D'Epargne
78 Clement Lhotellerie (Fra) Skil-Shimano
79 Gonzalo Zambrano (Spa) Extremadura-G. Galla
80 Fco. David Delgado (Spa) Burgos Monumental
81 Josu Mondelo (Spa) Extremadura-G. Galla
82 Jose L. Carrasco (Spa) Andalucia-Cajasur
83 Israel Perez (Spa) Extremadura-G. Galla
84 Pedro Gutierrez (Spa) Burgos Monumental
85 Volker Ordowski (Ger) Gerolsteiner
86 Hubert Schwab (Swi) Quick Step
87 Maurice Vrijmoed (Ned) Van Vliet Ebh Elshof
88 Andoni Lafuente (Spa) Euskaltel-Euskadi
89 David Deroo (Fra) Skil-Shimano
90 Tristan Valentin (Fra) Cofidis Credit P.Tel
91 Tom Leezer (Ned) Rabobank
92 Serafin Martinez (Spa) Karpin Galicia
93 Gorka Izaguirre (Spa) Seleccion Española
94 Thomas Frei (Swi) Astana 0.18
95 Mickael Delage (Fra) Francaise des Jeux
96 Steve Morabito (Swi) Astana
97 Jakub Danacik (Cze) PSK Whirlpool-Author
98 Pedro Mereno (Spa) Seleccion Española
99 Marc De Maar (Ned) Rabobank
100 Addy Engels (Ned) Quick Step
101 Jose V. Toribio (Spa) Burgos Monumental
102 Kevin De Weert (Bel) Cofidis Credit P.Tel
103 Emmanuel Ruitenbeek (Ned) Van Vliet Ebh Elshof
104 Aitor Hernandez (Spa) Euskaltel-Euskadi
105 José A. Lopez (Spa) Andalucia-Cajasur
106 Julien Mazet (Fra) Astana
107 Benoit Joachin (Lux) Astana
108 Alberto Fernandez (Spa) Karpin Galicia
109 Joost Van Leijen (Ned) Van Vliet Ebh Elshof
110 Nick Nuyens (Bel) Cofidis Credit P.Tel
111 Tom Stamsnijder (Ned) Gerolsteiner
112 Albert Timmer (Ned) Skil-Shimano
113 Matthias Russ (Ger) Gerolsteiner
114 Jose A. Carrasco (Spa) Andalucia-Cajasur
115 Luis R. Alvarez (Spa) Burgos Monumental
116 Mauro Facci (Ita) Quick Step
117 Sandy Casar (Fra) Francaise des Jeux
118 Radek Becka (Cze) PSK Whirlpool-Author
119 Sebastian Lang (Ger) Gerolsteiner
120 Jérémy Roy (Fra) Francaise des Jeux
121 Dennis Kreder (Ned) Van Vliet Ebh Elshof
122 David Herrero (Spa) Karpin Galicia
123 Sergio Paulinho (Por) Astana
124 René Andrle (Cze) PSK Whirlpool-Author
125 Lars Vierbergen (Ned) Van Vliet Ebh Elshof
126 Sergio Pardilla (Spa) Burgos Monumental
127 Frank Hoj (Den) Cofidis Credit P.Tel
128 Toni Tauler (Spa) Seleccion Española
129 Asier Maeztu (Spa) Seleccion Española
130 Petr Kubias (Cze) PSK Whirlpool-Author
131 Frantisek Kloucek (Cze) PSK Whirlpool-Author
132 Sergio Herrero (Spa) Extremadura-G. Galla
133 Arnaud Coyot (Fra) Caisse D'Epargne
134 Stephan Schreck (Ger) Gerolsteiner
135 Petr Bencik (Cze) PSK Whirlpool-Author
136 Alessandro Proni (Ita) Quick Step
137 Jelle Vanendert (Bel) Francaise des Jeux
138 Leopold Konig (Cze) PSK Whirlpool-Author
139 Carlo Westphal (Ger) Gerolsteiner
140 Rik Verbrugghe (Bel) Cofidis Credit P.Tel
141 Sven Krauss (Ger) Gerolsteiner
142 Rein Taarahae (Est) Cofidis Credit P.Tel
143 Miguel Alzamora (Spa) Seleccion Española
144 Ruben Lobato (Spa) Saunier Duval-Scott
145 Angel Gomez M J. (Spa) Saunier Duval-Scott
146 Alberto Fernandez (Spa) Saunier Duval-Scott
147 Benat Intxausti. (Spa) Saunier Duval-Scott
148 Tomas Vaitkus (Kaz) Astana
149 Davide Vigano (Ita) Quick Step 0.34
150 Anthony Charteau (Fra) Caisse D'Epargne 0.44
151 Oscar Pereiro (Spa) Caisse D'Epargne
152 Stefan Vreugdenhil (Ned) Van Vliet Ebh Elshof
153 Kenny Van Hummel (Ned) Skil-Shimano
154 Jesus Cobelo (Spa) Karpin Galicia
155 Hector Gonzalez (Spa) Saunier Duval-Scott
156 Maarten Wynants (Bel) Quick Step 0.51
157 Kevin Van Impe (Bel) Quick Step 0.57
158 Ivan Velasco (Spa) Euskaltel-Euskadi 1.35
159 Tom Stubbe (Bel) Francaise des Jeux 1.48
160 Sébastien Joly (Fra) Francaise des Jeux 3.02
161 Timotky Gudsell (NZl) Francaise des Jeux 3.49
General Classification after stage 1
1 Philippe Gilbert (Bel) Francaise des Jeux 2.03.04
2 Graeme Brown (Aus) Rabobank
3 Robert Förster (Ger) Gerolsteiner
4 Gert Steegmans (Bel) Quick Step
5 Denis Flahaut (Fra) Saunier Duval-Scott
6 Jose J. Rojas (Spa) Caisse D'Epargne
7 Fco.José Ventoso (Spa) Andalucia-Cajasur
8 Rodrigo Garcia (Spa) Extremadura-G. Galla
9 Andre Schulze (Ger) PSK Whirlpool-Author
10 Robert Wagner (Ger) Skil-Shimano
11 Fumiyuki Beppu (Jpn) Skil-Shimano
12 Aitor Perez (Spa) Extremadura-G. Galla
13 Alejandro Valverde (Spa) Caisse D'Epargne
14 Aitor Galdos (Spa) Euskaltel-Euskadi
15 Javier Aramendia (Spa) Euskaltel-Euskadi
16 Christophe Mengin (Fra) Francaise des Jeux
17 Benat Albizuri (Spa) Euskaltel-Euskadi
18 Thomas Fothen (Ger) Gerolsteiner
19 Yoann Ofredo (Fra) Francaise des Jeux
20 René Haselbacher (Aut) Astana
21 Xabat Ochotorena (Spa) Extremadura-G. Galla
22 Bram Schmitz (Ned) Van Vliet Ebh Elshof
23 Tom Veelers (Ned) Skil-Shimano
24 Antonio Miguel (Spa) Seleccion Española
25 Sebastian Langeveld (Ned) Rabobank
26 Jaime Garcia (Spa) Extremadura-G. Galla
27 Fabien Bacquet (Fra) Skil-Shimano
28 Martin Mata (Spa) Burgos Monumental
29 Johnny Hoogerland (Ned) Van Vliet Ebh Elshof
30 Staf Scheirlinckx (Bel) Cofidis Credit P.Tel
31 Bram Tankink (Ned) Rabobank
32 Iban Mayoz (Spa) Karpin Galicia
33 Haimar Zubeldia (Spa) Euskaltel-Euskadi
34 Yon Bru (Spa) Euskaltel-Euskadi
35 Markus Fothen (Ger) Gerolsteiner
36 Gorka Verdugo (Spa) Euskaltel-Euskadi
37 Jesus Rosendo (Spa) Andalucia-Cajasur
38 Ezequiel Mosquera (Spa) Karpin Galicia
39 Francisco Perez (Spa) Caisse D'Epargne
40 Rafael Valls (Spa) Seleccion Española
41 Alberto Losada (Spa) Caisse D'Epargne
42 Benjamin Noval (Spa) Astana
43 Koen De Kortr (Ned) Astana
44 Laurens Ten Dam (Ned) Rabobank
45 Matteo Carrara (Ita) Quick Step
46 Joan Llaneras (Spa) Seleccion Española
47 Antonio Colom (Spa) Astana
48 Roel Egelmeers (Ned) Van Vliet Ebh Elshof
49 Gonzalo Rabuñal. (Spa) Karpin Galicia
50 Rick Flens (Ned) Rabobank
51 Vojtech Dlouhy (Cze) PSK Whirlpool-Author
52 Javier Iriarte (Spa) Burgos Monumental
53 Enrique Salgueiro (Spa) Extremadura-G. Galla
54 Gustavo Domingez (Spa) Karpin Galicia
55 Ignacio Sarabia (Mex) Extremadura-G. Galla
56 Mathieu Heijboer (Ned) Cofidis Credit P.Tel
57 Roy Curvers (Ned) Skil-Shimano
58 Luis L. Sanchez (Spa) Caisse D'Epargne
59 Manuel Ortega (Spa) Andalucia-Cajasur
60 Ruben Martinez (Spa) Seleccion Española
61 Oscar Pujol (Spa) Burgos Monumental
62 David De La Fuente (Spa) Saunier Duval-Scott
63 José I. Gutierrez (Spa) Caisse D'Epargne
64 Eduard Vorganov (Rus) Karpin Galicia
65 Javier Moreno (Spa) Andalucia-Cajasur
66 Andres Avelino (Spa) Burgos Monumental
67 Juan Olmo (Spa) Andalucia-Cajasur
68 Delio Fernandez (Spa) Karpin Galicia
69 Koos Moerenhout (Ned) Rabobank
70 Michel Elijzen (Ned) Rabobank
71 Sébastien Minard (Fra) Cofidis Credit P.Tel
72 Lander Aperribay (Spa) Euskaltel-Euskadi
73 Michal Skvarka (Svk) PSK Whirlpool-Author
74 Grischa Niermann (Ger) Rabobank
75 Stijn Devolder (Bel) Quick Step
76 Thierry Hupond (Fra) Skil-Shimano
77 Mimanol Erviti (Spa) Caisse D'Epargne
78 Clement Lhotellerie (Fra) Skil-Shimano
79 Gonzalo Zambrano (Spa) Extremadura-G. Galla
80 Fco. David Delgado (Spa) Burgos Monumental
81 Josu Mondelo (Spa) Extremadura-G. Galla
82 Jose L. Carrasco (Spa) Andalucia-Cajasur
83 Israel Perez (Spa) Extremadura-G. Galla
84 Pedro Gutierrez (Spa) Burgos Monumental
85 Volker Ordowski (Ger) Gerolsteiner
86 Hubert Schwab (Swi) Quick Step
87 Maurice Vrijmoed (Ned) Van Vliet Ebh Elshof
88 Andoni Lafuente (Spa) Euskaltel-Euskadi
89 David Deroo (Fra) Skil-Shimano
90 Tristan Valentin (Fra) Cofidis Credit P.Tel
91 Tom Leezer (Ned) Rabobank
92 Serafin Martinez (Spa) Karpin Galicia
93 Gorka Izaguirre (Spa) Seleccion Española
94 Thomas Frei (Swi) Astana 0.18
95 Mickael Delage (Fra) Francaise des Jeux
96 Steve Morabito (Swi) Astana
97 Jakub Danacik (Cze) PSK Whirlpool-Author
98 Pedro Mereno (Spa) Seleccion Española
99 Marc De Maar (Ned) Rabobank
100 Addy Engels (Ned) Quick Step
101 Jose V. Toribio (Spa) Burgos Monumental
102 Kevin De Weert (Bel) Cofidis Credit P.Tel
103 Emmanuel Ruitenbeek (Ned) Van Vliet Ebh Elshof
104 Aitor Hernandez (Spa) Euskaltel-Euskadi
105 José A. Lopez (Spa) Andalucia-Cajasur
106 Julien Mazet (Fra) Astana
107 Benoit Joachin (Lux) Astana
108 Alberto Fernandez (Spa) Karpin Galicia
109 Joost Van Leijen (Ned) Van Vliet Ebh Elshof
110 Nick Nuyens (Bel) Cofidis Credit P.Tel
111 Tom Stamsnijder (Ned) Gerolsteiner
112 Albert Timmer (Ned) Skil-Shimano
113 Matthias Russ (Ger) Gerolsteiner
114 Jose A. Carrasco (Spa) Andalucia-Cajasur
115 Luis R. Alvarez (Spa) Burgos Monumental
116 Mauro Facci (Ita) Quick Step
117 Sandy Casar (Fra) Francaise des Jeux
118 Radek Becka (Cze) PSK Whirlpool-Author
119 Sebastian Lang (Ger) Gerolsteiner
120 Jérémy Roy (Fra) Francaise des Jeux
121 Dennis Kreder (Ned) Van Vliet Ebh Elshof
122 David Herrero (Spa) Karpin Galicia
123 Sergio Paulinho (Por) Astana
124 René Andrle (Cze) PSK Whirlpool-Author
125 Lars Vierbergen (Ned) Van Vliet Ebh Elshof
126 Sergio Pardilla (Spa) Burgos Monumental
127 Frank Hoj (Den) Cofidis Credit P.Tel
128 Toni Tauler (Spa) Seleccion Española
129 Asier Maeztu (Spa) Seleccion Española
130 Petr Kubias (Cze) PSK Whirlpool-Author
131 Frantisek Kloucek (Cze) PSK Whirlpool-Author
132 Sergio Herrero (Spa) Extremadura-G. Galla
133 Arnaud Coyot (Fra) Caisse D'Epargne
134 Stephan Schreck (Ger) Gerolsteiner
135 Petr Bencik (Cze) PSK Whirlpool-Author
136 Alessandro Proni (Ita) Quick Step
137 Jelle Vanendert (Bel) Francaise des Jeux
138 Leopold Konig (Cze) PSK Whirlpool-Author
139 Carlo Westphal (Ger) Gerolsteiner
140 Rik Verbrugghe (Bel) Cofidis Credit P.Tel
141 Sven Krauss (Ger) Gerolsteiner
142 Rein Taarahae (Est) Cofidis Credit P.Tel
143 Miguel Alzamora (Spa) Seleccion Española
144 Ruben Lobato (Spa) Saunier Duval-Scott
145 Angel Gomez M J. (Spa) Saunier Duval-Scott
146 Alberto Fernandez (Spa) Saunier Duval-Scott
147 Benat Intxausti. (Spa) Saunier Duval-Scott
148 Tomas Vaitkus (Kaz) Astana
149 Davide Vigano (Ita) Quick Step 0.34
150 Anthony Charteau (Fra) Caisse D'Epargne 0.44
151 Oscar Pereiro (Spa) Caisse D'Epargne
152 Stefan Vreugdenhil (Ned) Van Vliet Ebh Elshof
153 Kenny Van Hummel (Ned) Skil-Shimano
154 Jesus Cobelo (Spa) Karpin Galicia
155 Hector Gonzalez (Spa) Saunier Duval-Scott
156 Maarten Wynants (Bel) Quick Step 0.51
157 Kevin Van Impe (Bel) Quick Step 0.57
158 Ivan Velasco (Spa) Euskaltel-Euskadi 1.35
159 Tom Stubbe (Bel) Francaise des Jeux 1.48
160 Sébastien Joly (Fra) Francaise des Jeux 3.02
161 Timotky Gudsell (NZl) Francaise des Jeux 3.49