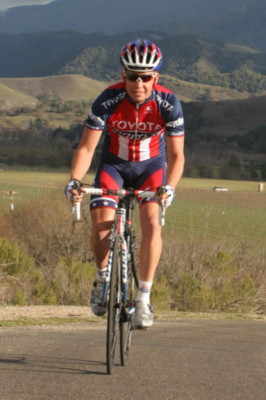 Jonny Clarke during the Solvang training camp (© Kathleen Poulos)
Cyclingheroes: Jonny, you had a great start at Toyota - United with a podium place at the San Diego Boulevard Road Race....
Jonny Clarke: Yes to finish on the Podium in my first race with Toyota-United was great. But I think it is only natural to rise to the occasion when you are
surounded buy the high caliber of riders on Toyota-United.

Cyclingheroes: How was the Toyota training camp at Solvang?
Jonny Clarke: I have one word to say about the first week and that is rain !!! The second week turned out really well, with some solid training and some great bonding with the riders/staff.

Cyclingheroes: You were born in a racing family, was it somehow logical that you started racing as well ?
Jonny Clarke: To tell you the truth, I dont even know why I started cycling, I just did, there was no question about it and I have never looked back since. My Father went to the Olympics/Commenwealth Games and was Australian Champion more times then I can count. Obviouslly one of my brothers (Hilton) rides for Toyota-United and his results speak for himself in America. Also my older brother (Troy) used to race and spent a little bit of time in America but he has chosen the more normal lifestyle. He lives back in Melbourne with his wife, three little girls and a stabble job ........ Unlike cycling, haha !!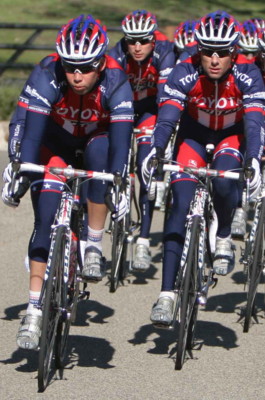 Jonny Clarke training with his teammates (© Kathleen Poulos)
Cyclingheroes: What do you expect from your first full US season?
Jonny Clarke: With the team I'am on, I expect to do a lot of learning. I'am by far the youngest guy on the team so I need to sit back and learn how to still be a pro in 10 years time. But that also doesn't mean I want take my chance when it comes.

Cyclingheroes: Is racing in the US very different from racing in Australia?
Jonny Clarke: Racing in Australia is similar to America, we also love our crit racing. Domestically the stantard is much higher here and boy the American's know how to put on a show.

Cyclingheroes: What will be your role in the team in general and more specific during the Tour of California?
Jonny Clarke: I think mainly I'am there to suppurt our GC guys, Blackgrove and Day. Also doing anything I can to help with the sprints. Of course the young riders jersey is in the back of my mind but I will see where I stand with that
after the first few days.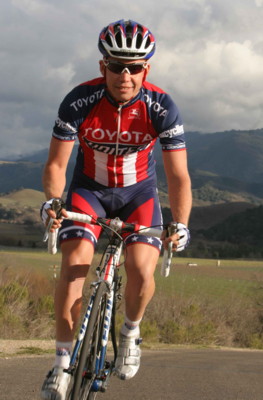 A future Australian champion ? (© Kathleen Poulos)
Cyclingheroes: What are your main goals for the 2008 season?
Jonny Clarke: As I said before, I'am here to learn but I also have my goals set in a few of the smaller tour throughout the year.
Cyclingheroes: Last year you won the first stage of the U23 stage race Tour of Thüringen (Germany). Is the competition at U23 races harder in Europe?
Jonny Clarke: It was actually in 2006 and it was A Teams TT, I did'nt hit the wind to much but I will take it anyway. I think racing in Europe is definitely harder but that doesn't mean that it is easier to win in America !! Just because you take a strong tour rider out of Europe, doesn't mean he cam come here and win Downers Grove.

Cyclingheroes: If you would have to describe what kind of rider you are, what would you tell us...
Jonny Clarke: I would say I'am in the allrounder department at the moment and with being my age ..... I'am still trying to figure it out. I'am sure with riding with
Toyota-United this year, I will figure that out.

Cyclingheroes: Is there a specific race you want to win in your career?
Jonny Clarke: Australian National Championship, Bunningyong, Victoria. I dream of winning that race.
Join our forum and discuss the career and interview with Jonny Clarke
Read also:
http://www.toyota-united.com/index.php?option=com_content&task=view&id=1004&Itemid=46
Jonathan (Jonny) Clarke
Birtdate: December 18, 1984
Place of birth: Melbourne, Australia
Residence: Melbourne
Turned Pro: 2006
Teams:
2006 - 2007: South Australia.com - A.I.S (until July 18)
2007 : Colavita Sutter Home Presented by Cooking Light
2008 : Toyota - United
Palmares
2003
Stage 6 Cascade - Lounge Bar Northern Tour
2004
Stage 1 Canberra Tour
Stage 1 Tour of Sunraysia
2006
Karak Classic
Stage 3 International Cycling Classic
2007
Stage 1 Jayco Bay Classic Series