22.11.2006/ From the heart-stopping excitement of The Tour of California, to a riveting performance at the USPRO Championships culminating in a trip to the UCI World Championships, Toyota-United Pro Cycling set a fast pace to become a dominant force in U.S. Cycling in its first season.
Recognized as one of the best teams on the US domestic circuit with more wins than any other domestic pro cycling team, Toyota-United rode away with 24 NRC (National Racing Calendar) wins and a second place ranking in its first season, finishing 702 points behind the defending NRC champion, Health Net presented by Maxxis. Cyclingheroes editor René Schuijlenburg spoke with team owner Sean P. Tucker about the Toyota-United team.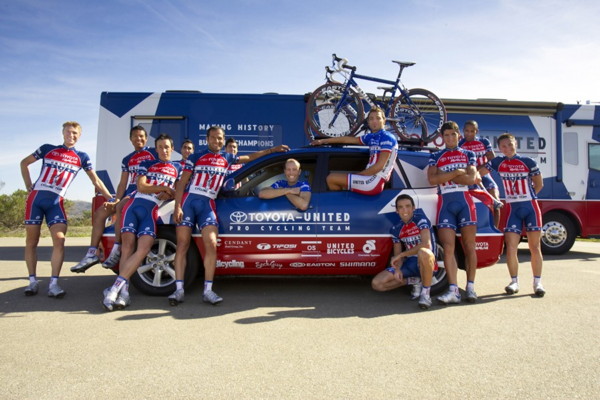 Toyota-United: amazing 55 wins in their first season.
Cyclingheroes: What were the highlights of the first season for the Toyota-United team?
Sean P. Tucker: Signing Toyota on as our Title Sponsor, the excitement of our launch in New York City, the craziness of training camp, winning Stage One of the Amgen Tour of California in Santa Rosa, spending time on the road with the team, the first time I saw a recreational cyclist I didn't know riding his bike in our team kit, selling our first United Bicycle, signing up our first paid member to our team membership program, and winning the overall title at the Cascade Classic by a tie-breaker.
Cyclingheroes: What kind of business model does the team have and is the future of the team secured?
Sean P. Tucker: Our business model is a hybrid of traditional support from large sponsors such as Toyota and revenue generated by paid memberships, merchandise sales and bike sales.
Cyclingheroes: Can you tell us something about the United cycling foundation?
Sean P. Tucker: My wife Leslie and I have always donated time and money to various charitable causes and we felt that we should setaside a percentage of all membership sales from the team to the Foundation in order to raise money to help homeless people in America. There are over 750,000 homeless people in America and we want to help these folks. We will be doing an inaugural event in 2007 to raise money and awareness.
Cyclingheroes: In Europe cycling had one of it's biggest crises because of the Fuentes affaire. Do you have an opinion what could be done to tackle the doping problem?
Sean P. Tucker: Absolutely. Since the motivating factor is for athletes to maximize performance which in turn allows them to make more money, I would have a 12 month rolling window in which the UCI sets aside 50% of the riders salaries or some mechanism/sliding scale whereby each rider gets a minimum salary and when the 12 months is up and all of their drug tests have tested negative, then the remaining funds that have been held in a third party escrow account will be released.
In addition, I would have very harsh penalties based on the type of drug they tested positive for. Ie. EPO a four year ban, testosterone a two year ban and some minor drug a one year. Then if someone is a repeat offender of any of these in any combination a lifetime ban or something to this effect.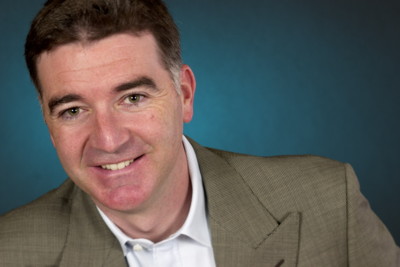 Sean P. Tucker was a Bronze Medalist in the U.S. National Criterium Championships in 1985.
Cyclingheroes: The Tour of California had it's first edition in 2006. Are there more new races on the US calendar?
Sean P. Tucker: Yes, there are quite a few new ones such as the Tour of Missouri, Austin Men's International and USA Cycling Open.
Cyclingheroes: How important were Lance Armstrong's 7 Tour de France victories for US cycling?
Sean P. Tucker: Critical. When Greg LeMond retired, most American's thought ok there goes cycling in the US. Then Lance came along and rocked the world of cycling and gave US cycling a huge boost.
Cyclingheroes: The Toyota-United team has a continental status at the moment.Does the team has the ambition of getting a pro continental or even pro-tour status in the future?
Sean P. Tucker: As of now, there are no measurable benefits to being Continental Pro for us in 2007 but we do anticipate being Continental Pro in 2008 by default since our riders will all be over the age limit to stay Continental.
Cyclingheroes: J.J. Haedo signed with the Danish CSC team, can you tell us something about the 2007 roster of Toyota-United?
Sean P. Tucker: Yes, JJ came to me in the summer and expressed that he really wanted to try his hand at the Pro Tour level in 2007 to build on his successes from this year with Toyota-United. Although, we had him under contract and made him a larger offer than all of the other Pro Tour teams, we honored his request to release him to go to the Pro Tour and we wish him well. With respect to our 2007 roster, we have made some significant improvements and balanced the team out more but we haven't released the names yet officially other than Henk Vogels.
Cyclingheroes: What are the main goals of the Toyota-United team for the 2007 season?
Sean P. Tucker: To win stages in the US Pro Cycling Tour races and the overall team title for both the US Pro Cycling Tour and NRC.