Cyclingheroes: Welcome back to the peloton and Jesus congratulations with this strong team: How are you?
Relax: Gracias-Thanks, we are doing fine, thank you very much!.
Cyclingheroes: Are you satisfied with todays result? [Paco Mancebo came in seventh at the GP Indurain]
Relax: Yes actually we are. It was a hard race constantly going up and down. The final kilometer was really hard [The finbal kilometer with 15% gradient until the finish, the editor]. We used the race as prelude for the Tour of Basque country and the Primavera on Sunday who finish the Basque races in April.
Paco: I am very satisfied with my seventh place in this strong field, a lot of Pro-Tour teams started
Cyclingheroes: How are you doing in the peloton? How are relations with other riders in the peloton, are there tensions?
Paco: I would like to speak for myself. I am glad to be allowed and able to work as a cyclist again. I am glad that Jesus gave me a chance and I will use it and I hope that I can help the team to get on a high level by good performances. For me it is not important to ride in a Pro-Tour team, it is important to ride at all. I am still pretty young with 31 years old and I still feel fresh. I would like to race another 5 or 6 years.
Santi: Similar here! The last 2 years [Santiago Perez was suspended after testing positive at the 2004 Vuelta Espana] were very hard for me. Even before destiny wasn't very good with me, my girlfriend died after a traffic accident. With Phonak I had my best results: 3 stage wins at the Vuelta and the second place at the overrall in 2004. I am happy that I found a new home at Relax, the atmosphere is very cozy and family-like . Ofcourse we have less equipment as the Pro-Tour teams but I love cycling with my heaert and soul. I can't imagine to be active in an other sports.
Oscar: I was very happy as well to have found another sporting home after the whole drama last year. The situation in the peloton is very normal and relaxed, there is no animosity. Of course when you are succesful you have many friends but when the success stays away than there are only a few left, I had to experience that by myself. But I also love cycling and want to spend a few more years with it.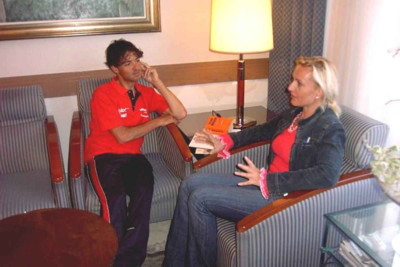 Paco Mancebo with our reporter Susanne Götz (picture: Cyclingheroes)
Cyclingheroes: What are your objectives this season??
Jesus Cueva: We want to start at Spanish races and Tours like the Classica Primavera, Volta Catalunya, Euskal Bisikleta and the Vuleta Asturia. On top of that we will do some foreign races like Route Du Sud in France, The Tour of Austria and China in this summer. But our main goal will be the Vuelta Espana.
Oscar: After I won last year I will try to race at the front of the Vuelta Asturia again and than I will come to the Tour of Austria.
Cyclingheroes: That's great. You have a lot of fans outside of Spain who will be happy to hear that.
Paco, you could give it a go for a top 3 spot at the Vuelta...
Paco: Yes that is my goal.
Cyclingheroes: Does cycling have a future in its current format? What do you think about the Pro-Tour? Would it be worthwhile to be in the first league for Relax? After all you are three guys who already achieved a lot in their career.
Jesus Cueva: Well look it has pros and cons, it is an expensive undertaking and sometimes we have to be at 3 places at the same time. That demands such a tremendous financial, personell and logistic complexity.. I don't know if that is desirable. At the moment it is not possible. We don't have such a immense budget we barely have 2 mechanics, 3 masseur not more, With that and our riders, two team managers (including me) our budget is fully valued but we are not a bad team.
Paco: I believe the Pro-Tour has no future. It seems to me that only the French teams are interested to keep it. For the Pro-Tour leader, who is obliged to wear the white jersey there isn't even a ceremony, where is the respect for the riders? It is a hunt for the whole year. Many races are at the same time, actually I am happy to have a bit more rest now and because of it also a bit more time for my family. When I want to race first league again than surely with this team. I feel very well here.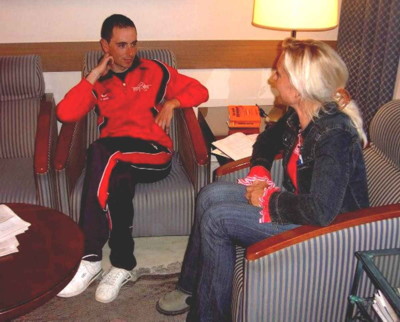 Santi Perez talks with reporter Sussanne Götz (picture: Cyclingheroes)
Cyclingheroes: By the way family... Do you have children? ? Where are you coming from?
Santi and Oscar: No we are 29 and don not have children yet..
Oscar: I come from a city close to Albacete.
Santi: Like Samu Sanchez and Chechu Rubiera I come from a city close to Oviedo.
Paco: I have a 5 months old little daughter
Cyclingheroes: Would it be interesting to start at the world championships for the Spanish national team?
Paco: Yes it woulf be an honour but it is not compulsory. I was present at Hamilton and Madrid. But I think we have enough people for races like that, like Freire and Valverde. In Spain they don't depend on me to take part. I am more a stage race type.
Cyclingheroes: When you would have children, would you animate them to ride a bike later or rather not?
Oscar: I would welcome it when she would be interested in sports .. just like me. I like to watch all kind of sports from formula one till downhill skiing but most of all cycling. I was sitting on the edge of my chair during last years Tour and cheered my [former] team. If cycling is on tv and I am not taking part than I watch it. I came to cycling that way. More than Miguel Indurain my idol was Pedro "Perico" Delgado. This spring I followed the complete Paris-Nice stage race on TV.
I would suggest my children in general to do sports. I find it a great enrichment in our life. But I can't do much with soccer.
Cyclingheroes: What do you say to Alberto Contador who won that race [Paris-Nice] ?
Oscar: I am thrilled vy him. He is young, can do everything. Good climbing, very good time trailer. Hopefully he can be a great tour rider when he keeps control over his health problems with his head. He is very friendly not aloof and most of all very young.
Cyclingheroes: When you could decide what ought or maybe even must be changed at cycling, what would that be? Maybe the abolishment of the compulsory wearing of a helmet or the radios... the streets... especially at the finish?
Santi: Well the helmet saves lifes I am in favour of wearing one. Sure if the finish is on a mountain top and it is really hot one should consider it, one should make arrangements who make it easier for the riders. The radios is another story. If you are in a breakaway group you are depending on information. But that also has the disadvantage that the peloton becomes the information as well. In the last couple of years a breakaway group with strong riders rarely had a chance to come through because the sport directors at the back of the race in their cars, timely give the command to start the chase
Oscar: When I had something to say I would explicitly insist on the unity of cycling. These arguments are completly going on the accounts of the riders, the teams and their employees. Just because the gentlemen of the UCI have a powerstruggle with the race organizers. I can't understand at all why our governing body - the UCI - is not acting in behalf of us but rather regulary against us. We have a hard profession: During heat, cold, rain, snow, bad streets short nights [because of long transfers], lots of crashes, injuries and than also our own governing body against us? Why? I would try to change that! The Pro-Tour has no future in my opinion. Not even all teams are allowed to take part at all races that belong to the series. What for should it exist any longer?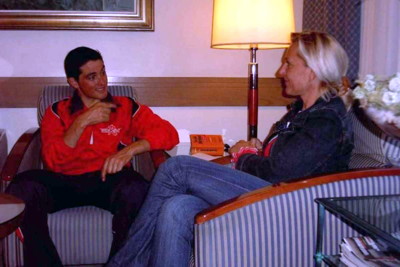 Oscar Sevilla talks with Susanne Götz (Picture: Cyclingheroes)
Cyclingheroes: With whom are you training? Together inside the team or everyone of you with his own training partners?
Relax: When we are at home everyone for himself, often with friends but they don't have to be professional riders like we are. When we are on the road with the team tahn ofcourse with the team but still we have our own trainer at home.
Cyclingheroes: Oscar you come from a big German team. How was your time with T-Mobiel and do you actually speak a little bit German?
Oscar: Yes I speak a little bit German: Guten Morgen [good morning], Guten Abend [good evening], Wie geht's [How are you - Oscar is laughing]. My time with T-Mobile was actually very nice. With some I had a very good relation, with others to a lesser extend.
Cyclingheroes: Because you started with it yourself.. During last years Dauphiné I had a feeling that you were not entirely happy with the team. I was especially amazed when you were dropped from a breakaway group... Oscar Pereiro, Alejandro Valverde and Iban Mayo were also part of that group and from behind a group with Levi Leipheimer and Bernhard Kohl came.. Wasn't there any teamwork between Bernhard Kohl and you? You would have been able to ride to the front as a team.
Oscar: Yeah for example that was really strange. Kohl is still young, I am not blaming him, but he was one of the guys with whom I did not have close contact. In contrast the team which started at the 2006 Tour or should have started was first class. The time with Ulle [Jan Ullrich], Hilde [Andreas Klöden], Matze [Matthias Kessler] but also with Mario Kummer was unforgettable. I really felt well there.
Cyclingheroes: Did one of you visited the recently unveiled monument which honours José Maria "Chaba" Jiminez?
Santi: Not yet but maybe I will do that as a tourist.
Cyclingheroes: Santo you look so slim, how much do you weight?
Santi: Well only about 60 kilos.
Cyclingheroes: I wish you and the team a succesfull season and all the best!
Relax: Thank you very much and goodbye!
Back to: