06.09.2007/ Rabobank's Kai Reus was kept in an artificial coma, after he crashed during a traing ride in the French Alps on July 12. Yesterday Reus held a press conference. Reus told reporters he will return to racing and is already riding his bike again.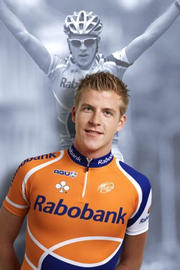 Kai Reus (picture:Rabobank Team)
"When I woke up from my coma it was just like I had ended up in a horror movie." On Wednesday, Rabobank's young gun Kai Reus told his story about the events on July 12 and its aftermath for the first time. Reus crasehd on July 12 during a training ride when he wanted to overtake a car while descending the Col d'IsÚran (France). One of the things he suffered was a hemorrhage in his head that required immediate surgery. " A Dutch doctor explained everything to me and that startled me. It was also strange to hear that it was July 23 instead of July 13, like I thought."
Reus said beforehand that he would not get into too much detail because that would be too emotional, but he did that anyway. "I forgot to put my helmet on but I did not find that out until I was already cycling. The IsÚran is a nice climb. I enjoyed the spectators who had already lined up alongside the road for the Tour de France. And some people were lighting candles for their families on top of the mountain. A few Italians recognized me so I chatted with them for a minute. Then I started my descent. The rest is only a black image, which is a good thing I think."
Eleven days in a coma in a hospital in Grenoble were to follow. "You cannot describe it, a long time. I had many coma dreams. My parents, girlfriend, and the team that was supporting me were all in it. That really helped me. And I dreamt that a team mate aborted a morning stage in Spain only to come to me. We were aiming for a good fall anyway, he told me. He got me a bike and we went for a ride together. And yet another time I was climbing to the IsÚran and fans were cheering me on."
Once Reus woke up from his coma, he was not immediately the man those around him remembered him to be. "I was not the Kai from before the accident. I was aggressive, a side-effect from the medication. That is not fun, but it was obviously necessary." That is one of the reasons he was tied to his bed. "Naturally, I wanted to be released. And after five days I wanted to do things one my own, like wash myself and walk a little. But everyone kept telling me to take it easy, that I had to realize that what I had been through was very serious. At the time I was planning to ride in the fall, but now I know that at that time it was already impossible."
Reus did not fully realize the impact his fall had had until he was brought back to the Netherlands. "The paramedics told me they knew everything. And I was startled by that too. You would rather be in the news because of your performances in the sport you love than with this. I received really good care both here and in Grenoble, but you always really want to be in your familiar environment." That is why Reus went back to his parents in Winkel [Netherlands], where he was showered with flowers, cards, and phone calls, also from his Rabo colleagues and the management. "The support has been massive and that really helps you."
The events confirmed what he already knew. "That I am riding for a really beautiful cycling team. I do not know if things would have went the way they did if I had been on another team. The management explicitly said that I will get all the time I need to recover and that I will be on the team next year, even though my contract is expiring. That is quite a relief. I will definitely return to the pack, and I am not worried about getting back to my old level." But as mentioned, Reus received declarations of support from around the country from both people he did and did not know. "It is beyond description and also quite the stimulant to not let those people down."
At the moment, Reus still sleeps much, but he has already taken some rides on his bike. "I ride a few kilometers every other day. After all, I have to move on." And at the moment the cyclist is also enjoying the Vuelta where Oscar Freire and Denis Menchov are performing strongly. "The Tour of Germany, especially Uran's crash, and the Eneco Tour were really hard to watch, but I am over that now." Also, he has not emptied his post office box in Lanaken. "That will probably also be bulging by now."
Related stories: