Click at the picture to view it in a larger size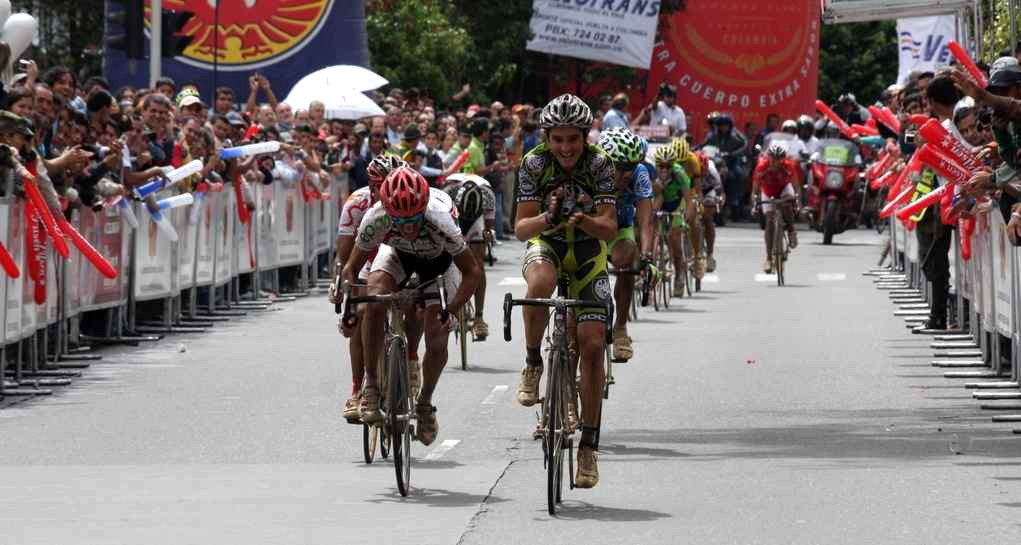 Oscar Sevilla took stage 9 in Colombia (Š Hector L. Urrego, www.revistamundociclistico.com)
Picture Gallery Oscar Sevilla 2008: Oscar Rocks The American Continent
Cyclingheroes: You signed with Rock Racing this year. Is racing with a US team very different from racing with an European team?

Oscar Sevilla: Yes, I'm truly happy about signing with Rock Racing. There are some differences from racing with a European team, but this team has great hopes and is very driven. I feel very pleased to be part of it.

Cyclingheroes: You were very successful at the Vuelta a Colombia. Was it a hard race?

Oscar Sevilla: It was a hard race. There were so many mountains and the altitude made it particularly difficult. I was constantly out of air. But I battled hard every day, and the fans were great. They were constantly showing us their affection, which made it all worthwhile and easier to endure.

Cyclingheroes: At the Vuelta a Colombia you finished in the top ten overall, you won a stage and you also won the points classification. Are you satisfied with your performance in Colombia?
Oscar Sevilla: I was very satisfied because it was such a difficult race. Fifteen hard days. The riders there are very good climbers, but our team worked really hard, and we had a great race. I won a stage, and the points. I wish I had finished a littler higher, but considering the shape I was in when I arrived -- I was not 100 percent well -- I'm very satisfied with my performance.

Cyclingheroes: How important was the role of Tyler Hamilton (as captain of the road) in Colombia?
Oscar Sevilla: His role was very important. There is great camaraderie among the guys in the team, not only with Tyler, but with Santi [Santiago Botero, editor], Victor [Victor Hugo Peņa, editor], and the younger guys as well. We have Mariano, who is a great team director, a young director, who just last year was competing, but who is very knowledgeable, and who shows respect for our opinion. There is great team spirit, and at the end of the day, that is the key of success. We are a wonderful 'family' and I believe we have a great future because of that.

Cyclingheroes: You must have been disappointed that you and some of your teammates were not allowed to start at this year's Tour of California. Was it difficult to stay focused on racing at that moment?

Oscar Sevilla: Yes, of course it was difficult, because you feel frustrated and you feel like you're not able to contribute. It was unfair and humiliating. I have a clean conscience, and tried to keep my head held high. Sometimes you canšt help but feel bad about it, but you have to keep going.

Cyclingheroes: Many riders of the so-called Fuentes list were never convicted or banned by any official organization. Still a lot of these riders cannot race at the moment. If you look back to what happened in the past two years... Do you think justice has been done?

Oscar Sevilla: No, not at all. It has hurt a lot of people, a lot of families and a lot of teams. And has hurt cycling in general. I think justice has not been done, I think things have been mishandled, there have been accusations without reasons or evidence, and without taking peoplešs lives and careers into account.

Cyclingheroes: Back to the Vuelta a Colombia. Is the South - American stage race very different from stage races in the US or Europe? In terms of the level of performance and the organisation of the race?

Oscar Sevilla: This is the first time I've raced in Colombia and everything was very well organized, everything was great, no complaints. And, in regards to the race itself, it was very, very hard. There are races here [in the U.S., editor] where you climb, but it is not like in Colombia. I think what made it particularly hard was the altitude.

Cyclingheroes: Is there something special you will remember of the Vuelta a Colombia?
Oscar Sevilla: I have to tell you, the fans there treated us so amazingly well. They left a lasting impression on me, and the rest of my teammates. Even though the race was very difficult, it was very joyous because you felt loved by the fans. They followed us everywhere, and lined up along the road and at the finish line with signs and cheered us on. It was unbelievable, and inspiring, and it was a great morale booster for us.

Cyclingheroes: Will you race in Europe with Rock Racing this year and what races are on your programm for the rest of the season?

Oscar Sevilla: Yes, after Philadelphia ['Philly Week', editor] I'm going to Spain to compete for the national championship, which is on June 20. There are two races - a stage and a time trial. After that we are going to China, after that I believe we race in Colorado. We have been invited to race in Spain at the Vuelta a Burgos, Urquiola, etc., but I'm not sure if our schedule will allow us to compete this year. Our team has a great image in Europe and Spain, and we are constantly invited by race organizers to compete there, so perhaps next year.
Join forum and discuss the career and interview with Oscar Sevilla
Picture Gallery Oscar Sevilla 2008: Oscar Rocks The American Continent
Archive: Read also our interview with Oscar Sevilla, Francisco Mancebo and Santi Perez from 2007
Peloton TV: Vuelta a Colombia 2008
Back to:
Oscar Sevilla Ribera
Birthdate: September 29, 1976
Place of Birth: Osa de Montiel, Albacete, Spain
Height: 5'9" (175,2 cm)
Weight: 138 lbs (62.5 kg)
Turned Pro at: 1998
Teams:
1998 . 2003 Kelme - Costa Blanca
2004 Phonak Hearing Systems
2005 - 2006 T-Mobile (until 22.07.2007)
2007 Relax - GAM
2008 - ? Rock Racing
Palmares
1999
Stage 1 Tour de Romandie
Young Riders Classification Tour de Romandie
2000
Trofeo Luis Ocana
Memorial Manuel Galera
2001
Sector 2 Escalada Mont Juich (ITT)
Young Riders Classification Tour de France (and seventh overall)
Second Overall Vuelta a Espana
2002
Escalada Sector Mont Juich
2005
Marcoles
2006
Stage 2 Vuelta Ciclista Asturias
Overall Vuelta Asturias
Memorial Manuel Sanroma
2007
Stage 4 Volta a Ciclista a Catalunya
Stage 2 Route du Sud
Overall Route du Sud
Mountain Classification Route du Sud
2008
Stage 1 San Dimas Stage Race
Stage 9 Vuelta a Colombia
Points Classification Vuelta a Colombia
Get news and updates of our live coverage calender and the latest information about our new project
www.peloton.tv
. Subscribe to our newsletter: